Leicester recently made headlines by being the first local authority in the UK to install pop cycle lanes. Our East Midlands Partnership Manager, Dave Clasby, looks at what makes the city of Leicester such a success when it comes to delivering active travel projects.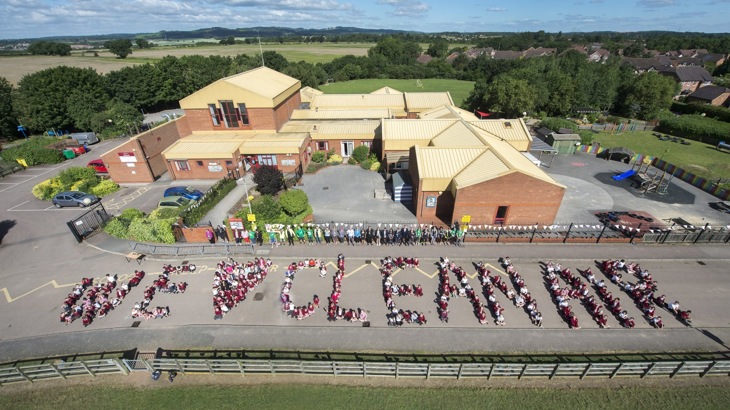 Initiatives supporting active travel in Leicester in the last two decades include:
a fully permeable city centre
the removal of roads and car parks to create public space
an ambitious road space reallocation programme with segregated cycle routes
significant year on year growth in cycling
a two-week-long Ride Leicester festival each year
and an extensive programme of behaviour change interventions.
Leicester has become the place to visit for professionals from the UK and internationally.
Dave Clasby, Sustrans Partnership Manager for the East Midlands has worked with Leicester City Council for the last 16 years. 
He looks at what makes the city a beacon of active travel initiatives.


Strong political leadership
The ingredients that have gone into Leicester's success are rooted in its traditions and culture. In 1990 Leicester became the UK's first environment city.
Today that translates to the most important ingredient of Leicester's success which is strong political leadership based on a powerful mandate from the voters.
This comes from the top with the Mayor, Sir Peter Soulsby and the Cabinet Member for Transport, Cllr Adam Clarke.
They want a city focused on how to move people.


A city focussed on how we move
The Mayors 2019 manifesto said, "Our Connecting Leicester programme will continue to transform Leicester into a city where every citizen feels like there is a sustainable way of making any journey within the city".
A directly elected mayor means that challenging decisions can be taken quickly if the mayor supports them.


The Connecting Leicester vision
A stand out feature from this political leadership is the willingness to trial ideas and to learn from mistakes. This has partly been achieved by the selling of a vision called Connecting Leicester.
People have bought into the vision through engagement and then experiencing the benefits. This has often been through the use of pop up temporary interventions.
With the vision accepted the sometimes more painful individual steps are easier to take. Election results show the Mayor and current administration to be both popular and highly competent.
To deliver the vision you have a stable officer core that is not only talented but is on board with the Connecting Leicester agenda.
The strong political leadership wins over officers for whom a change to people over cars is more challenging.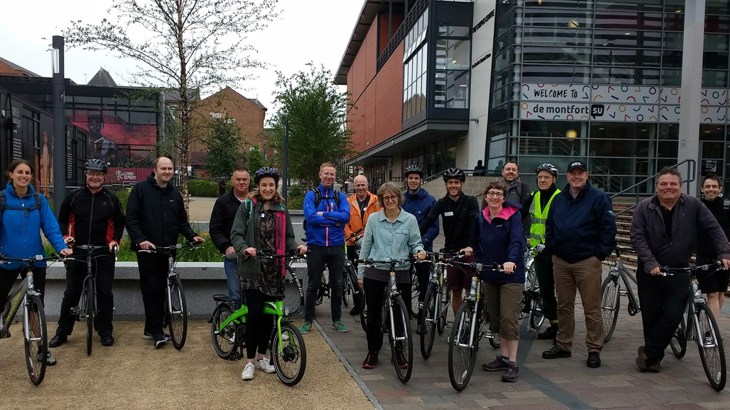 Last year we organised a national event in Leicester with the Department of Transport, to look at the city's walking and cycling infrastructure. This is on Mill Lane which is a newly pedestrianised street at the heart of Leicester De Montfort University.
Working together to get more done
There is a strong ethos of partnership working with external organisations including Sustrans, British Cycling, Living Streets, Ramblers and Cycling Uk.
This helps bring in new ideas and opinions which nurture the vision.
Leicester has a strong and healthy civic society which encourages and supports a cycling culture. And this is exemplified by the monthly Cycle City workshops.
These draw together politicians, officers, partnership organisations, bike shops, community groups, businesses, social enterprises, cycling clubs and campaigners.
One simple but highly effective element has been that groups can apply to the council for £300 bike challenge to support initiatives they are delivering around cycling.
This combination of political support, officers, partners and civic society have helped to drive a culture of change that is delivering a sustainable and active Leicester.
Sustrans is proud to have supported the work Leicester is doing through our engagement with schools, workplaces and communities.
We supported the establishment of the first Ride Leicester festival. And the ongoing development of the National Cycle Network and other active travel infrastructure.


Learning from Leicester
The lessons that can be learnt from Leicester are the critical need for strong political leadership, being prepared to take risks, a committed officer core, partnership working and positive regular engagement with stakeholders.
Sustrans believes that with these elements in place we can see a transformation of active travel in this country.
The establishment of low traffic neighbourhoods, segregated cycle lanes, strong community engagement and the use of pop up temporary interventions to test and gauge public support.