We have received over £95k funding from the Road Safety Trust to evaluate the impact of school streets on the safety of surrounding roads.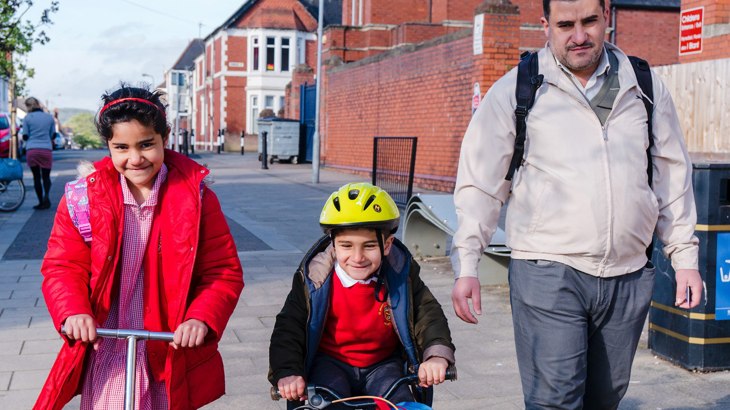 The Road Safety Trust, a charity dedicated to making the UK's roads the safest in the world, has awarded £837,900 funding to a total of six organisations across the UK.
The grants are aimed at improving road safety under the theme 'innovative traffic calming and provision of vulnerable road users'.
We will be teaming up with Birmingham City Council to investigate the impact of school streets – streets that are open to pedestrians and people on cycles but closed to cars at drop-off and pick-up times – for children's safety.
What does the project involve?
Researchers will survey pupils, parents and local residents to explore the effect of the car-free streets on people's travel behaviour, perceptions, and experiences.
They will also use video technology to capture footage of school streets in order to evaluate safety, conflict and traffic flows on surrounding streets.
This project follows a survey on school streets commissioned by Sustrans in 2019, which found nearly two-thirds (63%) of UK teachers would support car-free roads outside schools during drop-off and pickup times.
When did the project begin?
Since September 2019, roads outside 6 schools in Birmingham have been closed to motor traffic at the start and end of the school day to reduce congestion and improve air quality at the school gates, as well as making it easier and safer to walk or cycle to school.
Following a successful pilot, the council is expanding the scheme to include more schools across Birmingham, as well as considering temporary school streets measures as part of its Emergency Transport Plan, in response to the COVID-19 pandemic.
What does the project aim to achieve?
Data from this research will help inform local authorities and schools on how to respond more effectively to concerns about road traffic in areas surrounding schools.
The UK Government recently announced £250 million funding to support local authorities in England to reallocate road space to make more space for people walking and cycling as we move out of lockdown.
Recommended measures included widening pavements, creating pop-up cycle lanes and temporarily closing streets near schools.
The benefits of a cleaner, more active school run
Clare Maltby, Director of England, Midlands and East at Sustrans said:
"We're delighted to have been granted this funding by The Road Safety Trust, and very much look forward to working with Birmingham City Council on the next phase of this project.
"Whilst we look ahead to life after lockdown and schools returning, it is important that we do not return to high levels of car use to ensure physical distancing, but look for more active ways of travelling, such as walking and cycling.
"We're hopeful that this initiative will highlight the benefits of a cleaner and more active school run, and inspire future transport planning".
Putting children and families first
Cllr Waseem Zaffar MBE, Cabinet Member for Transport & Environment at Birmingham City Council said:
"In Birmingham school streets are places where we put children and families first, encourage walking, scooting and cycling, and keep people safe and healthy.
"Our Car Free School Streets pilot with 6 schools has proven very popular with local communities, and we look forward to working with Sustrans to further demonstrate the impact this approach has on improving people's health and the environment."
The Road Safety Trust is the largest independent road safety grant giver in the UK and funds vital research and practical interventions committed to reducing the number of people killed or injured on UK roads.
Since it was established in 2014, the Road Safety Trust has awarded grants worth £3.7m to 49 different projects. 
Making roads safer to vulnerable users
Sally Lines, Chief Executive of Road Safety Trust said:
"The standard of applications was really high in 2019 with over 20 applications received under the theme 'Innovative traffic calming and provision for vulnerable road users'.
"We are pleased to be able to provide Sustrans with funding to help achieve our vision of zero deaths and serious injuries on UK roads.
"We want to make the roads safer for all users particularly vulnerable road users which includes pedestrians, cyclists and motorcyclists".