Travelling in an environment with no congestion or air pollution may seem like a far-fetched desire but at Sustrans, we believe that many of us can enjoy and benefit from a car-free lifestyle. Read our top tips and go car-free today.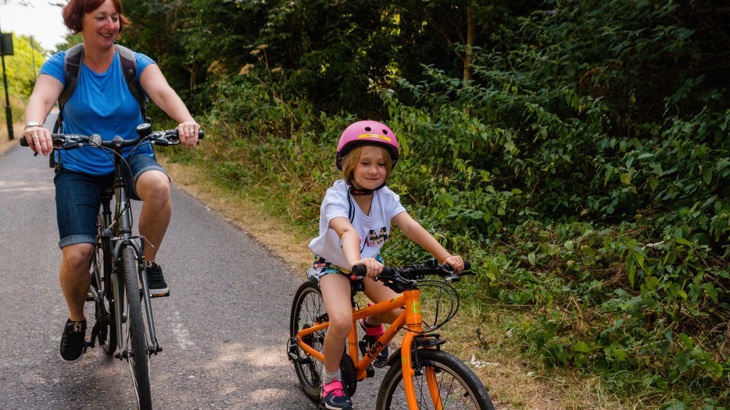 Walking, cycling or scooting to school, improves children's learning and ability to concentrate, makes them feel good, and can build their confidence and social skills.
Switching to a car-free lifestyle reduces pollution, improves health, and more often than not, saves money.
Whilst going car-free might not be feasible for everyone, replacing car trips wherever possible with walking, cycling and public transport can make a huge difference.
Make a positive impact
Our Bike Life report found that by people choosing cycling instead of driving for daily functional trips – to work, school or to the shops – 270,000 cars are taken off the road each day across 12 major towns and cities.*
Evidence shows that an average commute in the UK is five miles – a distance that can be easily cycled in less than 30 minutes.
By ensuring we have the right infrastructure in place, we can make it easier for people to choose walking and cycling for their regular journeys.
Making the choice to cycle or walk rather than drive can have a positive impact on not just your everyday life, health and wallet, but for public health, urban spaces and local economies across our towns and cities.
It's good for your family's health
For parents of young children, making the switch to a car-free lifestyle can seem like more hassle than it's worth.
However, active travel not only improves children's physical health, but it is also great for their social and mental development.
Walking, cycling or scooting to school, improves children's learning and ability to concentrate, makes them feel good, and can build their confidence and social skills – all things essential to the school day ahead.
With the above in mind, this World Car Free Day we're sharing with you some top tips for reducing your car use or going totally car-free.
Our five top tips to help you go car-free
1. Plan and practise
Planning ahead will save time and unnecessary stress.
Finding quieter roads and cycle paths wherever possible will help make the journey easier and more enjoyable.
When planning a big journey, once you have decided your route, try out a practice run when the roads are quieter. Knowing what to expect from the journey will help you feel more confident.
2. Take part in some cycle training
Cycle training is an excellent way to develop the skills, knowledge and confidence to enjoy cycling safely for adults and children.
Bikeability offers a range of training modules to help both adults and children learn to cycle safely and in confidence on the roads.
3. Do your research
Deciding which cycling or walking kit to purchase can seem like a challenge when there is so much on offer.
However, investing some time to research the range of options available will pay off in the long run.
From cargo bikes to wheelchair tandems, there is bound to be a design to suit you or your family's needs and price range.
4. Use public transport
Going car-free doesn't mean you have to cycle or walk every journey.
Public transport networks in major towns and cities can be a great way to get around your local area or to make those longer trips out of town for which you previously relied on a car.
5. Have fun and feel the benefits
The benefits of going car-free are enormous, so enjoy it!
Going car-free can help to lower air pollution in your neighbourhood (and your lungs), improve your mental and physical health, save you money, and boost your confidence.
Make sure to recognise your achievement and the positive impact of car-free travel on your everyday life.
Want more information?
We've got loads more tips and info to help you get started on a car-free life: