The number of children cycling to school alone has rapidly decreased over the past few decades, largely because parents worry about traffic danger. But teach them about road safety, and there's no reason why children can't enjoy the freedom of cycling.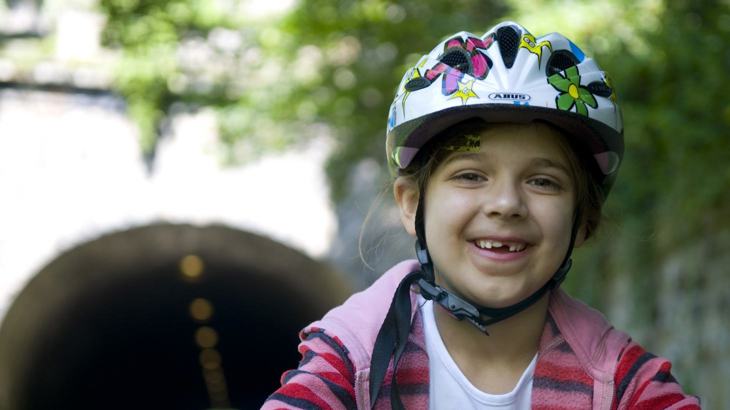 The biggest concern of adults when it comes to children walking and cycling to school is traffic danger. 
This fear has driven children into the backseat to be ferried around, with 42% of primary school children now being driven to school.
Once your child is confident on their bike, getting them used to cycling on the roads will develop them in many ways.
Not only will they gain a sense of freedom and independence, but they'll also improve their confidence and fitness.
How to teach road safety to your children
Follow these basics to help you and your child stay safe when cycling:
make sure your

 

child's bike fits

 

and that all your bikes are roadworthy;
if you're on the road with children, take up a position behind them. If there are two adults in your group, it's a good idea to have one at the back and one in front of the children;
helmets are particularly recommended for young children. Ultimately, wearing a helmet is a question of individual choice and parents need to make that choice for their children;
set a good example, follow the Highway Code and teach children road safety and awareness.
Road safety rules for kids
don't jump red lights or cycle on the pavement unless it's a designated cycle path;
signal clearly at all times;
ride in a position where you can see and be seen;
make eye contact with other road users, especially at junctions, then you know they've seen you;
when riding at night always use a working white front light and red backlight, plus a red rear reflector - it's the law.
If you're cycling on paths shared by walkers, wheelchair users, and horse riders:
don't go too fast - it can intimidate others;
use your bell to let others know you are approaching, but don't assume they can hear or see you;
give way to others and always be prepared to slow down and stop if necessary;
keep left or on your side of any dividing line;
be careful at junctions, bends or entrances.
Road safety training
Cycle training is available for children and adults to help develop skills and increase confidence.
To find out about courses that help your child gain the confidence to cycle to school, contact your local authority.
Or find out if your child's school offers Bikeability or Bike It - if your school doesn't have either, pester them!
Bikeability is 'cycling proficiency' for the 21st century. There are three levels to teach your child control, road sense, and confidence - and give you peace of mind.
Please bear in mind current restrictions due to Covid-19.
Would you like more information to help you get started?