From the age of around three, there are plenty of ways for your child to develop and gain confidence before going solo on two wheels. To make sure your child gets the most out of cycling it's important to get their bike right. Choosing the right model, size and kit for them will make for a comfortable and confident ride.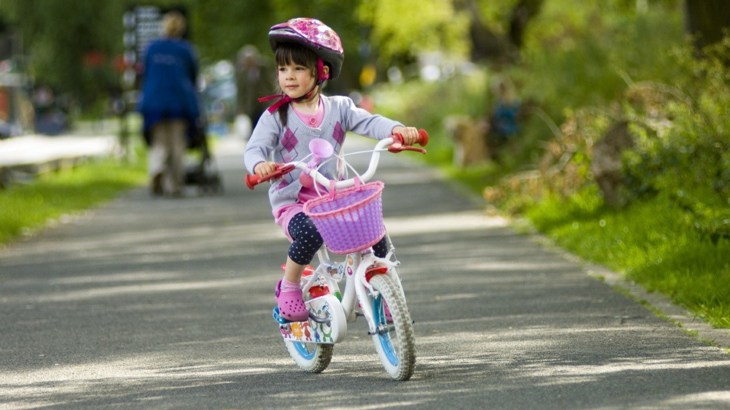 Toddler and child bikes
When it comes to your child's first bike, there are several options to choose from:
Balance bikes
With no pedals to master, this is a great way for children to learn to balance, steer and build up their confidence on two wheels while being able to place their feet firmly on the ground.
Tag-alongs
The back half of a child's bike is attached to the back of an adult one, offering your child the chance to 'ride' without worrying about keeping up.
Your child can add some of their own pedal power, or just freewheel and enjoy the ride.
Trikes
Trikes, or tricycles, allow your child to master pedals without falling off.
Kids enjoy all the fun of getting around independently without having to worry about balancing.
Training wheels
Stabilisers provide support to the rear of the bike. They are an easy way for your child to learn to ride, but potentially the slowest as they won't be mastering their balance.
If you do use them, gradually lift the stabilisers off the ground to provide less and less support so they develop their balance.
Bikes with stabilisers should lean a little because if the bike doesn't lean, the rear wheel isn't on the ground and the brakes will be ineffective.
Adapted cycles
There is a wide range of bikes and trikes available for children with disabilities and special needs. Visit Living Made Easy for more information.
Top tips for choosing a kid's bike and kit
When buying a bike for your child you'll want to spend your money wisely.
Children's bikes generally fall into age categories, but as long as your child can reach the brakes safely and change gear easily, there is nothing to prevent you from buying a bigger bike from a different age category.
The most important thing is to buy your child a bike which fits them now, rather than one they can grow into. 
This will make the whole experience of learning to ride and gaining confidence that much more enjoyable.
Ask your local bike shop for advice and take your child along to try out different sizes.
Helmet
A helmet won't prevent accidents from happening but it can provide protection if you do fall off your bike. They are particularly recommended for young children.
Ultimately, wearing a helmet is a question of individual choice and parents need to make that choice for their children. 
Always buy a new helmet that conforms to one of the recognised safety standards such as BS or CE, fits well, and is comfortable.
If your helmet takes a bash, always replace it as it won't offer the same protection.
When putting a helmet on your child, be careful not to pinch their skin; just place your forefinger between the clip and the chin.
Lock
Important if you are leaving your bikes unattended, particularly in a town or city.
Bell
A must for any considerate cyclist, and there are lots of fun designs that appeal to children.
Make sure your child understands that using a bell doesn't always mean that people have heard you.
Bags
You may find it's better to carry things for your child until they get a bit older.
Rucksacks are fine for short journeys and lighter loads but can make you hot. For longer journeys, panniers are a good idea.
Lights
When cycling in the dark, you're required by law to have a white light on the front and a red light on the rear, so make sure your child's bike has these fitted.
Pump
It's a good idea to take a pump so that you can fix a flat tyre – you can teach older children how to pump up their bike's tyres themselves.
Bling
Kids love personalising their bikes, and there are loads of fun stickers and accessories they can use to do this.
Bike maintenance
Like any machine, a bike will work better and last longer if you care for it properly.
Get in the habit of checking your family's bikes regularly - simple checks and maintenance can help you have hassle-free riding and avoid repairs. 
Make sure you involve your child too - they will love helping and seeing how a bike works by teaching them to do the M-Check.
If in doubt, though, leave it to the professionals: luckily bike mechanics are much more affordable than car mechanics.
Graduating to road cycling
When your child starts school they will probably want to cycle.
They can cycle on the pavement for now, as long as they pay attention to people walking and cars coming out of driveways.
But from about age seven they may want to cycle with you on the road – at this stage, it's a good idea to sign them up for Bikeability training.
There are three levels to teach your child control, road sense, and confidence - and give you peace of mind.
Our cycling safety for children article offers more useful advice on how to help your children stay safe cycling on the roads.