Earlier this year, we were delighted to join Yorkshire-based charity Open Country on one of their regular tandem rides on the National Cycle Network. Here, they tell us all about cycling with a disability and how organisations are helping people to enjoy the pleasures of riding a bike.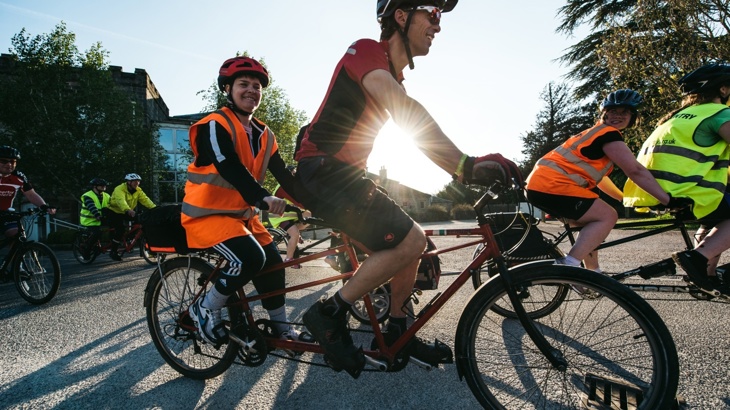 John F. Kennedy once said: "Nothing compares to the simple pleasures of riding a bike," a sentiment that is felt across the cycling community in the UK.
But, for people with a disability, the act of riding a bike can be a different experience as it can come with both physical and emotional barriers. 
Most of the physical barriers can be addressed by getting the right bike, equipment and the availability of safe cycling infrastructure.
But the emotional barriers, such as trust and confidence, take time to develop and depend on the right support.
Choosing the right bike for you
Luckily there are a whole host of people who have the knowledge and experience of mechanics to enable many people to ride a bike.
Many designers and manufacturers adapt cycles to suit different needs and abilities.
Bikes can be adapted for those who have limited or no use of their arms or legs, have balance issues or are recovering from a stroke.
The rise of e-bikes are enabling people to cycle for longer than they would be able to on a manual cycle. 
Tandems
Tandems can have two, three or four wheels with different configurations.
In some cases, one rider sits in front of the other.
In three or four-wheeled designs, riders sit side-by-side.
Tandems can be perfect for people with a visual impairment or learning disability who lack the confidence to ride a solo bike.
A standard tandem is reliant on having a relatively confident able-bodied front rider (or pilot) who deals with the steering, gear changing and braking.
They share the pedalling with the back rider (or stoker).
Wheelchair tandems
Wheelchair tandems are the perfect way to enjoy the feeling of riding a bike for those who are unable to get involved in the propulsion.
They are ideal for those with more profound disabilities and conditions that would otherwise prevent them from cycling.
These bikes usually rely on having a pilot (usually a friend or volunteer) to do the pedalling while the stoker enjoys a front-row view of the ride.
These heavy bikes often have a power-assist option to provide a bit of support to the pilot.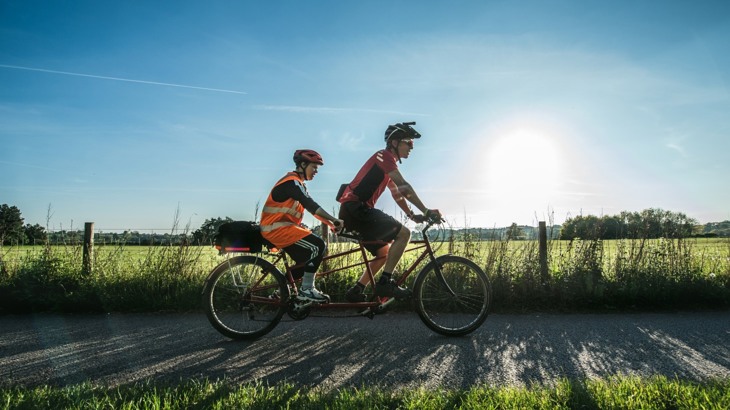 Tandems can be perfect for people with a visual impairment or learning disability who lack the confidence to ride a solo bike.
e-bikes
The rise in e-bikes and the ability to add a battery to most adapted bikes means that more people can ride for longer, or along paths, they wouldn't normally be able to access.
e-bikes also enable older people to cycle beyond the age they might normally be able to on a manual cycle.
Trikes
Trikes are ideal for people whose disabilities cause balance issues or for those who lack the confidence to ride on two wheels.
A trike has two wheels at the back to provide extra stability to a rider.
Many designers and retailers can adapt the basic version of a trike to suit most disabilities by adding extra features including backrests, lumbar support, seatbelts and parent control.
As with most bikes, trikes can also be fitted with an electric motor.
Handcycles
Designed for those who have lower limb disabilities, handcycles rely on upper body strength.
Most handcycles are in tricycle form, with two fixed rear wheels and one steerable front wheel.
Handcycles tend to be in an upright position, but some are available with a low stance and recumbent position.
There are also attachments for wheelchairs to turn them into a handcycle, which allows the user to adapt the way they propel themselves along using their chair.
It is important to note that while these bikes offer fantastic opportunities for people of all abilities, individuals should seek advice from their local bike shop or disability organisation to ensure personal safety.
Cycling infrastructure
Barriers to cycling also come in the form of actual physical barriers.
Physical barriers which exist to prohibit motorcyclists from using the paths can also prevent adapted bikes that are wider or have a larger turning circle to get through. 
Find out how you can get barriers removed or redesigned with our step-by-step guide.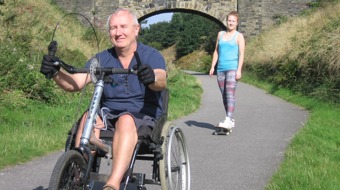 Paths For Everyone
We are committed to removing or redesigning all 16,000 barriers on the National Cycle Network to make it accessible to everyone, with no barriers in place for continuous travel. 
Paths for Everyone
Benefits of cycling
Cycling can have huge social benefits on people's wellbeing, helping to tackle the emotional barriers for those with a disability.
Many might not be able to ride without the support of a friend or volunteer and some may lack the confidence to ride alone.
At Open Country, the pub stop on our weekly tandem rides is as important as the bike ride itself, enabling members and volunteers to socialise, discuss the ride and enjoy each other's company.
Cycling volunteers take pride in the fact that they are making a real difference to the lives of people who wouldn't normally get to ride a bike.
Charities helping people of all abilities to cycle
Cycling Without Age is a great movement that is popping up in towns and cities across the UK.
Volunteers pilot a 'trishaw' – a bike with two seats at the front designed to take older people out on gentle rides.
This allows them to experience the freedom, joy and adventure of riding a bike.
Charities such as Get Cycling in York and UK-wide Wheels for All are dedicated to helping anyone ride a bike by using clever adaptations to address different disabilities.
Local groups across the UK are also helping people develop the confidence to ride, often with the support of able-bodied volunteers who are keen to share the pleasures of riding a bike.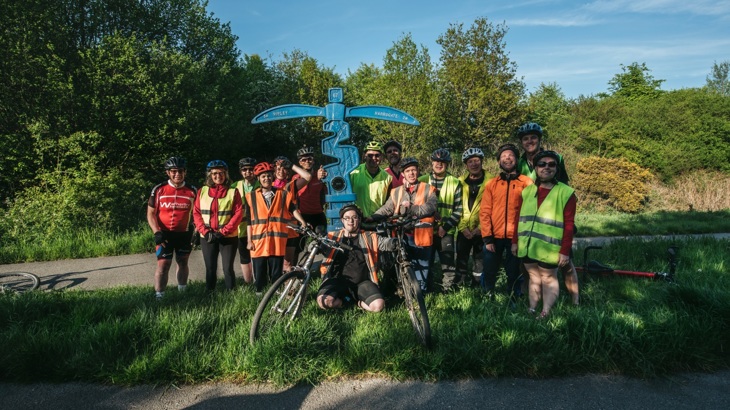 In Yorkshire, there has been a huge resurgence in cycling since the Tour de France in 2014 and since the county hosted the UCI Road World Championships in 2019.
With an increase in the number of dedicated cycling lanes and new routes being launched across the UK, there's never been a better time for people of all abilities to enjoy the pleasures of riding a bike.
This blog was written by Lizzie Hughes, Communications Officer at Open Country.
Yorkshire-based Open Country gives people with a disability the chance to access and enjoy the countryside by providing a variety of activities including walking, cycling, conservation, nature study and outings. Its five tandem clubs in Harrogate, Ripon, Wetherby, York and Wakefield enjoy weekly rides throughout the spring and summer months enabling people with a sensory or learning disability to enjoy the pleasures of riding a bike. The charity also has a fleet of adapted bikes including an electric-assisted wheelchair tandem to enable people with more physical disabilities to get involved. For more information visit www.opencountry.org.uk