A report in 2019 published by Sustrans and Arup revealed that one third (33%) of disabled people in UK cities and towns would like to start cycling but 84% never do due to a number barriers preventing them. These include heightened safety concerns, lack of dedicated cycle infrastructure and the high cost of adapted cycles.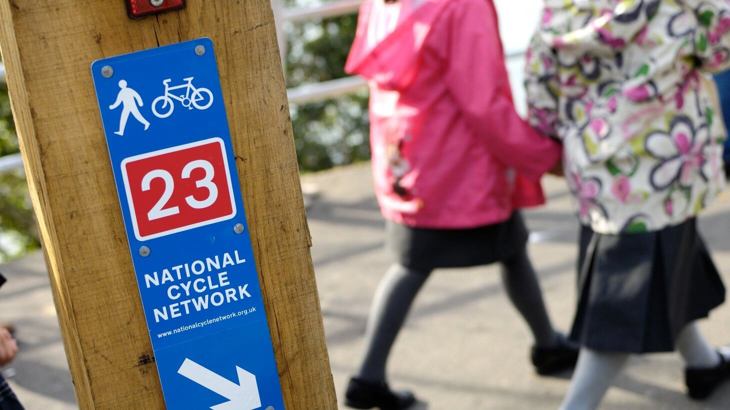 Tina Evans was first diagnosed with Friedreich's Ataxia at 16 year's old, a recessive genetic condition that affects balance and coordination and gradually deteriorates the body. Having always had a passion for the outdoors, Tina hasn't allowed her condition to get the best of her and has continued to take part in activities such as skiing, surfing and cycling to help retain muscle strength and keep fit.
Living with Friedreich's Ataxia
Tina said: "At the age of 16 I noticed something wasn't quite right with my balance. Sometimes I would walk into my friends and I found it difficult to keep my balance while my eyes were closed. After a few doctor's appointments and medical tests, I was diagnosed with a rare condition called Friedreich's Ataxia.
"By the age of 21, I had to battle with my pride and give into the wheelchair. But I quickly came to realise that it was the best decision I had ever made. Doing small things like going to town or walking with friends became hard work due to tiredness and my confidence slowly dropped. The wheelchair gave me back the freedom to move around freely and actually made me feel more able."
Taking on a challenge
"I'm the type of person who always looks for the solution in life and my diagnosis hasn't stopped me from doing the things I love. I'm an adrenaline junkie at heart and still go on skiing holidays, surf and cycle. I purchased a recumbent handcycle a few years ago and since then have taken part in the Swansea 10k and cycled the length of a half marathon. I like having the challenge to keep my motivation up. It is a huge sense of achievement when I finish a race or travel a long distance and makes me feel like I'm beating my condition.
"A friend and I are taking on another challenge later this year and are planning to cycle from Bangor to Cardiff over seven days. We hope to complete the 250-mile journey on an adapted tandem, which has a handcycle at the front. I feel such an awesome sense of freedom when I am out on my bike and love testing my limits. This is why we are thinking of going even bigger for our next challenge ride.
"In the lead up to the event, I've been training on a mixture of cycle paths and roads. People tend to speed on rural roads in the Gwendraeth Valley, so I stick to main roads and a quiet cycle path near my house when training. I think it's great to have cycling paths so near, as when I train in the evening after work, I feel safer and much more confident. During our ride down the country, we will be using paths as often as possible in respect for traffic that we would be holding up on roads."
Making cycling more accessible 
"I think that it's so important to have cycling infrastructure in place, and as the popularity of cycling continues to escalate, it will lead to a greater need to ensure everyone can enjoy riding a bike safely.
"I think more people with disabilities would start cycling if they had more faith in their abilities and if they saw people like myself out on my handcycle. There needs to be more information available to demonstrate the options there are for people with neurological conditions. I had no idea a recumbent handcycle even existed until I looked into it more.
"I've never let my disability hold me back and riding a bike is just one of the many outdoor activities and sports I take part in. There's so much out there. It's just a case of finding it.
"I look forward to future developments, which will see more paths running through rural areas, encouraging people from all abilities to ride together. I get a real sense of belonging when other cyclists pass me on the path and say hello.
"As a disabled person it's easy to fall into the belief that I am different which can make me feel isolated, but when you cycle you're automatically a part of the 'family' and it's a wonderful feeling."