Wayne Lewis, 34, is a Sustrans volunteer and studies engineering and manufacturing at college in Consett. He regularly uses his local National Cycle Network routes for cycling and walking, and here he tells us how it has helped him manage his depression and anxiety.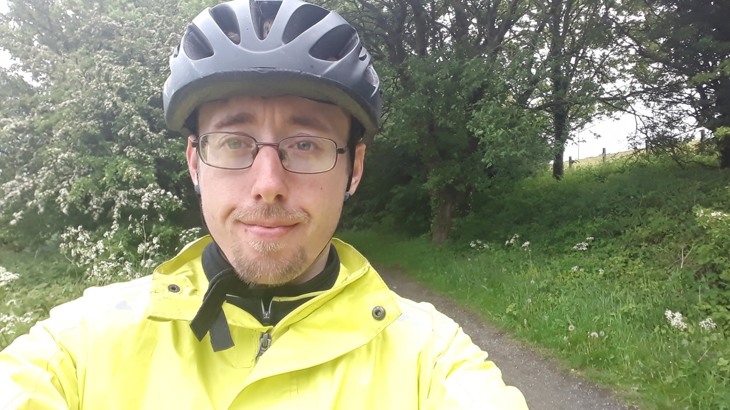 Wayne on the Derwent Walk, Route 14.
Wayne said: "I started using the Network in 2016 when I also became a volunteer for Sustrans, as I love cycling. In Yorkshire before I relocated to the North East I regularly used Route 66 in Heckmondwike and Cleckheaton. I now live within one mile of the C2C (Sea to Sea).
"I first started with anxiety and panic attacks back in 2007, so I've suffered with anxiety and depression for 12 years. I've had counselling with psychotherapists, used to take medication to control my anxiety and received CBT (cognitive behavioural therapy).
"I use the Network to cycle, to help manage my mental health, depression and anxiety and reduce stress.
"I use it every day. I use Route 7 from Consett and I'll cycle over Waskerley Way, or I'll follow the Network to Sunderland. I'll also cycle Route 14 to Rowlands Gill or to Durham, so it's great that there are so many routes you can choose from.
"Being able to cycle or walk with no worries of traffic and feeling the freedom you have, and also seeing other smiling faces on the Network is very mood-lifting. Also reducing stress and decreasing my anxiety, my depression eases too and I feel better in myself after a good ride out."
Seeing other smiling faces on the Network is very mood-lifting.
The traffic-free Network
Wayne enjoys using nearby traffic-free sections of the Network as they allow him to feel closer to nature.
"I love being out in the open air and the Network is a great escape, either by bicycle or on foot, due to it being traffic-free and having the nature all around you as well. I see red kites, rabbits and swallows mainly.
"Traffic-free sections allow us the freedom of being able to cycle or walk without any worries, it's safer and is a great use for people who are not confident cyclists or children learning to ride. Also the green corridors on some of the Network are nice for a leisurely stroll or ride.
"The Network is a great escape on foot. The quietness enables you to take a calm walk, clear your head and gives you the ability to think about things more clearly, also reducing stress that you may be experiencing."