Enjoy 12 miles along the length of the Borough of Havering.
You'll see signs of estates, farms and villages that were here long before the city, find clues of previous use as quarries, a landfill site and an airfield from which Spitfires defended the capital, and see where the city expanded after World War 2.
The Thames' most eastern tributary within London provides some lovely green places to explore. 
For relaxed family cycling and all-ability wheeling, we recommend the Ingreborne Valley between Rainham and Upminster. 
Information on this page
Places to see and explore
Rainham Hall is a National Trust property with a community garden and cafe.

 

Ingreborne Hill has five miles of walking, cycling and horse-riding trails, a picnic site, two play areas and 2km of mountain biking trails.

 

Hornchurch Country Park and Ingreborne Valley local nature reserve is on the site of a former airbase.  It is now one of the largest areas of freshwater marshland in Greater London (visitors centre, café, play area).

 

Upminster Windmill is a short detour from Upminster Park and one of 7 remaining windmills in London.  Volunteers host regular open days throughout the year.

 

Upminster Tithe Barn Museum of Nostalgia is a thatched barn housing agricultural and household objects dating from Roman times to the present.  Regular open days throughout the year.

 

Pages Wood, part of the Thames Chase Community Forest has 4 miles of trails and paths to explore.

 

Dagnam Park local nature reserve.

 
Local amenities
Rainham Village local shops and services

 

Café and toilets at Hornchurch Country Park

 

Upminster local shops and services

 

Harold Wood and Harold Hill local shops and services

 

Café at Central Park, Harold Hill.
Public transport
By train: Rainham (c2c services to Barking, West Ham, Fenchurch St, Grays), Upminster (c2c services to Fenchurch St, Southend. TfL rail services to Romford), Harold Wood (TfL rail services to Paddington, Heathrow, Shenfield).
By tube: Hornchurch, Upminster Bridge, Upminster (District line) 
Find out more about using public transport to get to the National Cycle Network on our Get started on London's National Cycle Network page.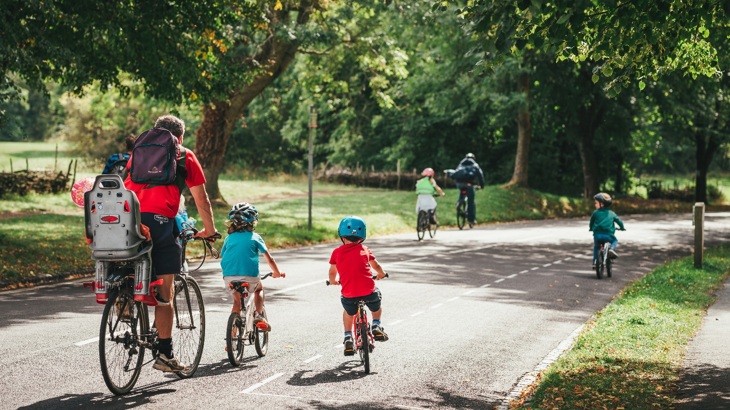 Local loops
We recommend these local routes for family-friendly, traffic-free and accessible adventures:
Continue on the National Cycle Network
Want to explore more of the National Cycle Network from this route? 
Follow these directions to find other National Cycle Network routes near here: 
Continue walking
Want to explore more of London's walking network from this route?     
Find out which other routes you can join from Route 136:   
The London Loop also takes walkers through the Ingreborne Valley and shares alignment with this route in some sections.

Continue northeast on the London Loop from Central Park, Harold Hill.

 

Continue southbound on the London Loop from Rainham. 

 
Find more useful information about walking in London on our Get started on Londons National Cycle Network page.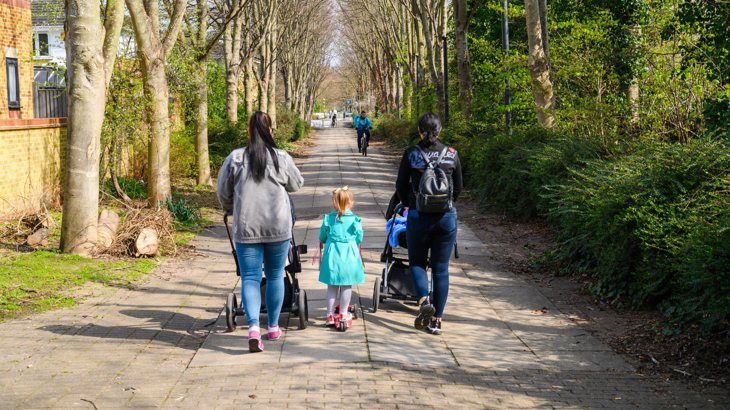 Accessibility information
Flooding
In winter following heavy rain, the path at Hacton Parkway and the north end of Hornchurch Country Park may flood. 
Barriers
At the Rainham Road entrance to Ingreborne Hill, there is a narrow chicane barrier.  It can be avoided by using the vehicle entrance to the car park. 
There are A-frame barriers at the entrance and exit to Dagnam Park. 
Surface
At Ingreborne Hill and Pages Woods, the path surface is unsealed hard-packed gravel. 
At Dagnam Park the path is partly hard-packed woodland path and unsealed hard-packed gravel.  
At Ivy Lodge Lane the path is narrow and uneven for 400m. 
Steeps and steps
The whole route gradually climbs upstream from Rainham to Noak Hill.
Ingreborne Hill, Pages Wood and Dagnam Park have gentle climbs. 
Take care
This route has these busier on-road sections.  
At Rainham for 250m the route uses busy local Broadway/Bridge Road.  
In Upminster, for 1km this route uses the busy local road Hall Lane.
For a quieter alternative route take Howard Road, footpath 199 (please wheel cycles, chicane barriers), Deyncourt Gardens, Claremont Gardens, Holden Way, through Upminster Hall playing fields back to Hall Lane.
Please note
We have taken all responsible steps to ensure that these routes are safe and achievable by people with a reasonable level of fitness.
However, all outdoor activities involve a degree of risk. To the extent permitted by law, Sustrans accepts no responsibility for any accidents or injury resulting from following these routes.
Walking and cycling routes change over time. Weather conditions may also affect path surfaces.
Please use your own judgement when using the routes based upon the weather and the ability, experience and confidence levels of those in your group.