In this unexpected corner of London, internationally important marshland habitat sits alongside industry, flood defences, a landfill site and an old military firing range.
It's a great place to enjoy wild and dramatic views of the Thames.
This whole section of Route 13 is recommended for relaxed family cycling.
Information on this page
Places to see and explore
Rainham Hall, a National Trust Property with community garden and café
Rainham, Wennington and Avebury Marshes, London's largest area of marshland, changed little since mediaeval times
16 concrete barges, beached here since 1953
The Diver sculpture, submerged at high tide
London's only lighthouse at Coldharbour Point
Views to Erith Deep Wharf, the Dartford Creek Flood Barrier and Queen Elizabeth II bridge
RSPB Rainham Marshes, a nature reserve with visitors centre and café
Purfleet Heritage Museum, housed in a 1759 Gunpowder Magazine
Local amenities
Rainham village local shops and services
Toilets at Rainham station
Benches at frequent intervals along the riverside
Visitor centre and café at RSPB Rainham Marshes
Purfleet local shops and services
Public transport
By train: Rainham, Purfleet (c2c services to Barking, West Ham, Fenchurch St, Grays).
Find out more about using public transport in London to get to the National Cycle Network.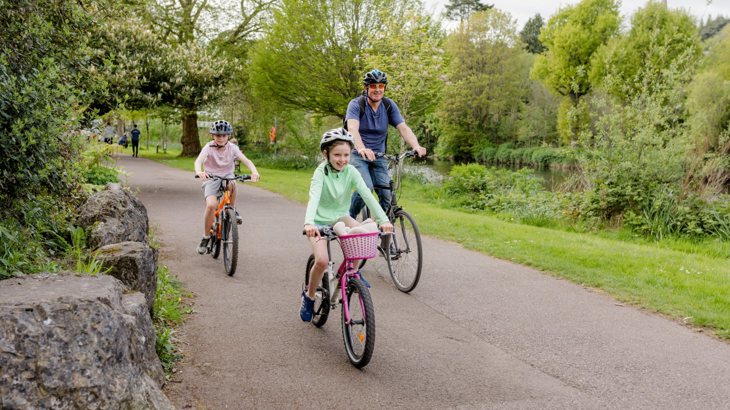 Traffic-free routes like Rainham to Purfleet on the National Cycle Network are perfect for all ages. Photo credit: Sarah Kate
Local loops
We recommend this whole route for family-friendly, traffic-free adventures.
A number of A-frame barriers on the route mean this route may not be accessible for those using wider mobility aids.
For a 6-mile circular loop try the Rainham marshes local loop from either Rainham or Purfleet.
Continue on the National Cycle Network
Want to explore more of the National Cycle Network from this route? 
From Rainham, take the Ingreborne Valley Way north to Upminster and Noak Hill on Route 136. 
From Rainham continue west on Route 13 to Beckton and Tower Bridge.
Look south across the Thames and you will see Erith and Route 1.
Between 1199 and 1854, a ferry ran here for pilgrims on their way to Canterbury.
More recently in the 1980s, Ford operated a ferry for workers at their Dagenham factory.
Currently the nearest crossing points to Route 1 are the QEII bridge (vehicle access only) and the Woolwich foot tunnel and ferry.
Continue on London's walking network  
You can continue walking on routes across London from National Route 13.
For example, the 150-mile London LOOP starts and ends at Purfleet, crossing over with this route.
Continue northbound on the London Loop at Rainham.
Find more useful information about walking in London on our Get started on London's National Cycle Network page.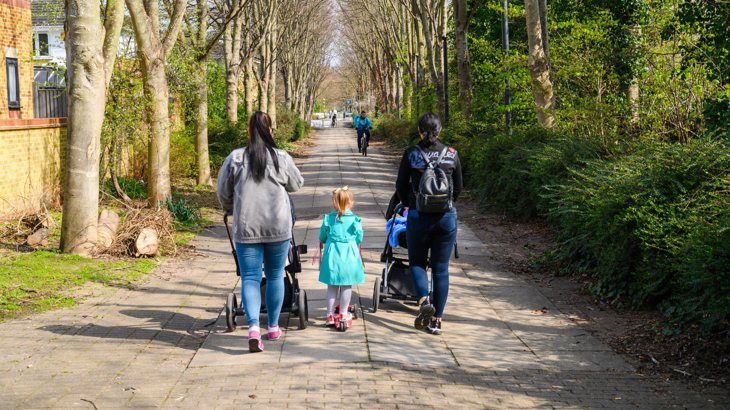 Accessibility information
Barriers
There are A-frame barriers on the traffic-free paths in this section.
At Coldharbour point there are chicane barriers either side of the pier access road.
Steeps and steps
At Rainham station the route crosses the railway on a series of ramps with tight corners.
A long ramp with gentle gradient drops down to the marshes.
Take care
This route has these busier on road sections.
At Rainham for 250m the route uses busy local Broadway/Bridge Road.
At Coldharbour lane there is no formal crossing.
Take care when crossing as the traffic is mostly heavy goods vehicles.
At Purfleet access to Purfleet station is via 250m on busy London Road.
Please note
We have taken all responsible steps to ensure that these routes are safe and achievable by people with a reasonable level of fitness.
However, all outdoor activities involve a degree of risk. To the extent permitted by law, Sustrans accepts no responsibility for any accidents or injury resulting from following these routes.
Walking and cycling routes change over time. Weather conditions may also affect path surfaces.
Please use your own judgement when using the routes based upon the weather and the ability, experience and confidence levels of those in your group.
To make sure everyone gets the most out of their time by the water, please ensure that you follow the Towpath Code.