This route takes you through the busy heart of tourist London, but you will also find quiet green spaces off the beaten track on the Rotherhithe peninsula. 
For a relaxed family cycle ride or if you use a wheelchair, handcycle or pushchair we recommend the section of this route between Greenwich and Rotherhithe.
Information on this page
Places to see and explore
Historic Maritime Greenwich including the Cutty Sark, the Royal Naval College and the Greenwich meridian

Trading and engineering history on the Rotherhithe peninsula at the old Surrey docks and the Brunel Museum (paid entry), and new green spaces made from old docks

Tower Bridge and the Tower of London

London's South Bank, including Southwark Cathedral, Borough Market, the Golden Hinde, the Globe Theatre, Tate Modern and the London Eye

Big Ben and the Houses of Parliament

Tate Britain Art Gallery

From Chelsea Embankment see Battersea Power Station, Battersea Park, the Chelsea Physic garden (paid entry) the National Army Museum and Carlyle's house (National Trust)

Mudlarkers can access the Thames foreshore at low tide from a number of places.
Local amenities
There are frequent local shops, cafes and pubs along this central London route.
Public transport
By train: Greenwich, Surrey Quays, Canada Water, Rotherhithe, London Bridge, Blackfriars, Waterloo, Imperial Wharf, Putney. 
By tube: Greenwich, Canada Water, Bermondsey, London Bridge, Blackfriars, Waterloo, Lambeth North, Pimlico, Putney Bridge. 
Docklands Light Railway (DLR): Greenwich, Cutty Sark for Maritime Greenwich 
By river: Greenwich, Greenland (Surrey Quays), London Bridge City, Bankside, London Eye (Waterloo), Millbank, Cadogan, Chelsea Harbour, Putney. 
Find out more about using public transport to get to the National Cycle Network on our Get started on London's National Cycle Network page.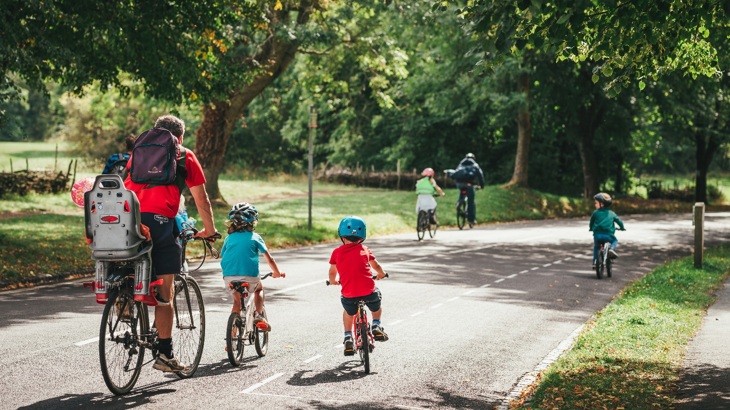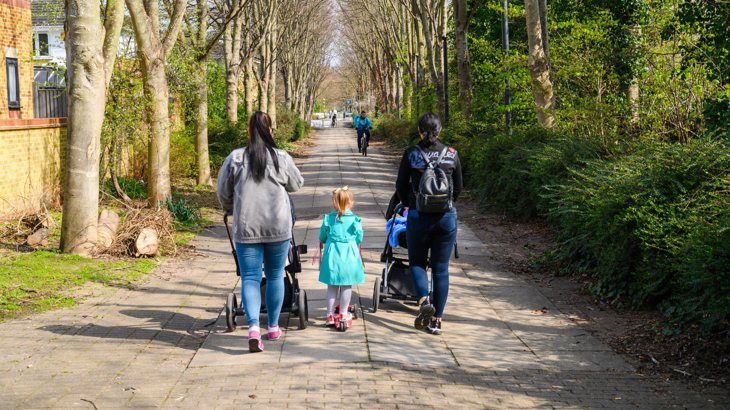 Accessibility information
Barriers
At Greenwich Reach swing bridge there are staggered bollards with a 1m gap.
An alternative crossing is 150m to the south at Creek Road. 
In Deptford, there is a chicane barrier between Glaisher Street and Borthwick Street. 
At South Dock, Surrey Quays the crossing over the lock is 1m wide.
There is an alternative route around the dock. 
In Stave Hill Ecological Park there are chicane barriers at the entrance. 
The entrance to the western section of Belvedere Road has barriers, bollards and kerbs.
Use the vehicle gate if you require a wider gap. 
The western end of the shared pavement at Chelsea Embankment is narrow in places where there are mature trees. 
In Fulham, there is a traffic barrier at Elswick Street which has a gap of less than 1.5m on the road. 
Surface 
In Deptford, there are cobbles on Sayes Court Street (80m) and Borthwick Street (120m). 
At Southwark Cathedral there are cobbles on Montague Close (150m). 
At Waterloo, the surface of Upper Ground is uneven in places. 
Steeps and steps
There are 12 steps (with a wheeling ramp) in Pepys Park.
These can be avoided by taking quiet parallel streets Millard Road, Bowditch, and Barfleur Lane back to the Thames path. 
Take care
This route has these busier on-road sections. 
At London Bridge, this route uses the very busy Tooley Street for 600m.
At Blackfriars Bridge this route uses very busy Southwark Street (A3200) for 150m. 
At Waterloo, this route uses Upper Ground and Belvedere Road for half a mile. These streets can be busy with coaches and taxis. 
At Waterloo, this route uses the very busy Lambeth Palace Road (A3036), Lambeth Bridge and Horseferry Road for a mile. 
In Pimlico, this route uses the busy local road Lupus Street for half a mile. 
In Fulham, this route uses the busy local Hurlingham Road for 300m. 
If crossing Putney Bridge take great care.  Cyclists are only permitted to cycle on the road with traffic. 
Pedestrian priority 
Between London Bridge and Waterloo, some streets are narrow and can be extremely busy with pedestrians.
Please give way.
If you are in a hurry consider taking a different route. 
Please note
We have taken all responsible steps to ensure that these routes are safe and achievable by people with a reasonable level of fitness.
However, all outdoor activities involve a degree of risk. To the extent permitted by law, Sustrans accepts no responsibility for any accidents or injury resulting from following these routes.
Walking and cycling routes change over time. Weather conditions may also affect path surfaces.
Please use your own judgement when using the routes based upon the weather and the ability, experience and confidence levels of those in your group.