Our Active Travel School Planning project is here to help you create happier, healthier places in your school community. We're offering you all the support and guidance you need to create a bespoke active travel plan for your school.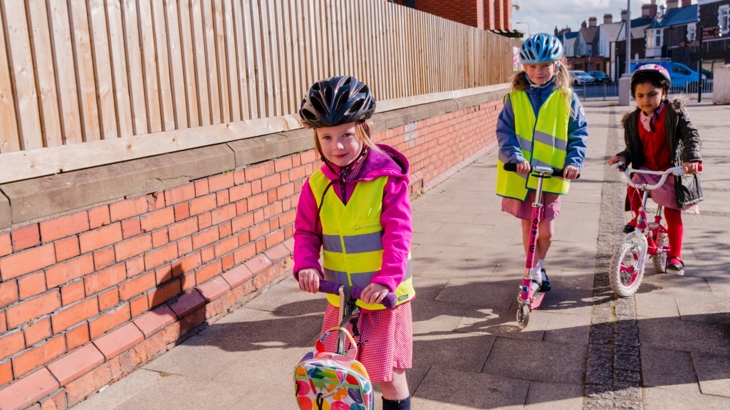 An active journey to school in Cardiff, South Wales. Credit: Jonathan Bewley/Sustrans
Active Travel School Planning supports your school on behalf of Welsh Government to develop a concise active travel plan.
This plan will guide you on your way to increasing active school journeys whilst creating happier, healthier places for your school community.  
What is Active Travel School Planning?
Active Travel School Planning is an initiative funded by Welsh Government which offers schools a distinctive chance to significantly increase active and sustainable transport modes such as walking, wheeling, scooting or cycling.
Schools are guided to carefully chart the academic year ahead by setting clear and measurable goals and implementing purposeful actions.
Why develop an Active Travel School Plan?
The Welsh Government aims for all schools in Wales to develop active travel plans.
The benefits of an active travel school plan include:
enhancing safety: Tackling road safety concerns during drop-off and pick-up times
healthy, confident individuals: Boosting physical activity, promoting independence and wellbeing, combating child obesity in Wales 
improving classroom focus: Enhancing student attention and engagement via the recommended 60-minute daily exercise routine
diversifying transportation: Expanding school commuting options
accessing funding: Securing Welsh Government funding. Starting 2024/2025, only schools with active travel plans can bid for Safe Routes in Communities (SRiC) funding through local authorities.
Creating an active travel school plan for your school can bring joy and rewards to the entire school community without requiring a lot of effort.
We're here to help.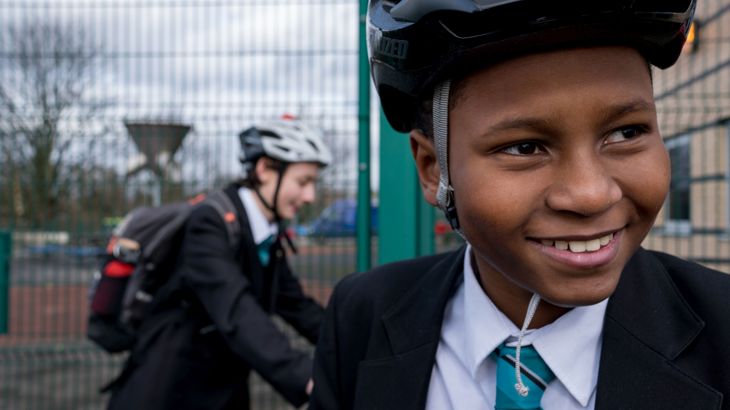 Creating an active travel school plan for your school can bring joy and rewards to the entire school community. Credit: Jonathan Bewley
If you require further Active Travel School Planning guidance tailored to your school, our dedicated regional officers are available to support a limited number of schools annually.
You can speak to your regional ATSP officer by emailing: activetravelschoolplan@sustrans.org.uk
Further support for schools
Active Travel School Award 
The Active Travel School Award provides in-depth guidance on how to achieve bronze, silver and gold standards of active travel in your school.  
Sign up to the award and find out more.
Active Journeys Programme
Schools receiving support from Active Journeys see a significant increase in the number of young people and families travelling to school actively.
If you'd like support from our Active Journeys Programme, please complete an active travel school plan first, identifying the travel behaviour change you hope to see amongst pupils and families.
Active Travel School Plan
Additional Resources
Healthy Street Check pack
20-minute Neighbourhood pack