We're launching a new Peer Mentor Programme in Scotland to support locally based community groups and organisations to develop and run programmes encouraging people to walk, wheel and cycle more.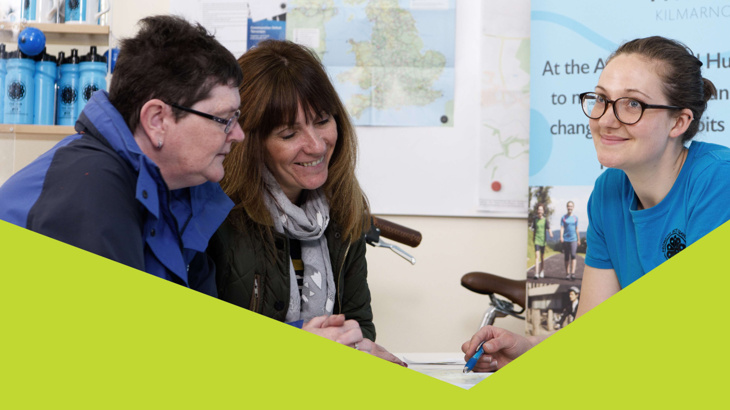 Community groups and organisations across the country are doing fantastic work to encourage their local communities to walk, wheel and cycle more. ©John Linton/Sustrans
Please note that the Activate Mentoring project is currently on hold.
What is Activate Mentoring?
Activate Mentoring is a new Peer Mentor Programme.
We know that community groups and organisations across the country are doing fantastic work to encourage their local communities to walk, wheel and cycle more.
We want to provide a way for their learning and experience to be shared with people working in other communities.
It doesn't matter if the people you work with are people who live in the same place, like to do the same things, or share a characteristic.
If you think you might be interested, but are not ready to apply just yet, you can express interest to be kept up to date with training opportunities (we will not contact you about anything else).
What does Activate Mentoring aim to do?
Increase knowledge of planning and delivering active travel activities for community and third sector organisations.
Support more people working in community and third sector organisations to understand how active travel activities can support the core objectives of their organisations.
Provide an opportunity for people experienced in delivering community based active travel related projects to share the knowledge and experience they have gained with others working in similar communities, who may not have experience in running these types of activity.
Is this mentoring scheme for you?
This programme is designed to bring together people working on a mix of projects and communities.
It could be something like running a small walking group, through to a whole range of activities - such as bike libraries, making public space more pleasant to walk though or sit in, litter picking, or public art projects.
The main thing is that the project includes an element of walking, wheeling, or cycling, or makes walking, wheeling or cycling easier or more attractive for the people you work with.
We know that the purpose of the activity may not always be to get people moving, for example a walking group might be set up to reduce social isolation, or a growing project to bring a neglected green space back into use might aim to raise awareness of climate change but in the process create a place people want to walk, wheel or cycle to.
A project to help people with mental or physical health issues might start a regular cycle ride, or a group interested in local history might create a walking map of interesting historic places in their area.
If your organisation or group is based in an area of deprivation, or works with a community who experiences inequalities, you may be eligible to join our Community Active Travel Support Service instead.
How does it work?
People interested in becoming mentors apply to join the programme.
Sustrans and the Scottish Mentoring Network will provide training, guidance and materials. This will also provide mentors with a continuing professional development certificate when they complete the course.
People interested in becoming mentees apply to join the programme.
Mentors and Mentees are matched - where possible we will try to ensure that the type of project, and the type of community they work with are similar.
Mentors and Mentees both agree how they will work together for a set period of time.
We will review the process at a time agreed with the mentors and mentees, and at the end of the mentor relationship.
Sustrans provides expenses for meetings, and training opportunities where a need is identified.
The mentors will provide advice and support to the mentee as they develop their activity.
To find out more and apply to be a mentor or mentee, sign in to the Active Travel Hub Network.
Why are we doing this?
In 2020 Sustrans asked the Scottish Community Development Centre to carry out some research for us.
We wanted to know how people working in community groups and organisations felt about providing activities that encourage people to move around their areas more actively.
We wanted to hear about what made it easy or difficult for them to start or run activities.
And we wanted to know what we could do to support them.

One of the recommendations was to 'Offer mentoring support provided by more experienced community organisations to those less experienced…'.
So that is exactly what we want to do!
Read about our other projects