Research shows that people from marginalised communities are less likely to embrace active travel (walking, wheeling and cycling). Which is why our new service puts these communities first when it comes to encouraging people to walk, wheel and cycle more.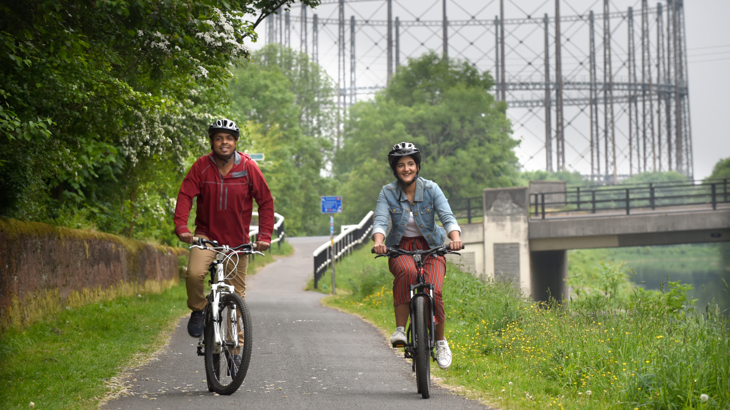 ©2018, Lesley Martin, all rights reserved
Please note that the Community Active Travel Support Service is currently on hold.
The benefits of walking and cycling for everyday journeys are well documented.
Evidence also shows that people from marginalised communities are less likely to use active travel to get around their local areas.
Now there's a new Sustrans Scotland programme which aims to bring about a change.
Community Active Travel Support Service (CATSS) has been developed to help third sector organisations encourage walking, wheeling and cycling in marginalised communities.
Who can apply? 
Community organisations that wish to set up an active travel project (or develop an existing one) focusing on people in areas in the lowest 10 and 20% of the Scottish Index of Multiple Deprivation.
Community organisations that wish to set up an active travel project (or develop an existing one) aimed at a specific group which experiences inequality. For example, older people, disabled people. ethnic minorities, and women.
If your organisation does not fit into either of these categories then you can still apply to take part in our Activate Mentoring programme, where community organisations experienced in running active travel projects can provide advice and support to those who are less experienced.
Sustrans Communities Team can also provide occasional support to any community organisation based in Scotland. You can contact them via email.
What does it involve? 
Staff and volunteers of organisations who sign up will receive three to six months of in-depth support to set up or develop initiatives that will encourage more people in their community to walk, wheel or cycle more.
This can also include assistance to connect with other Sustrans teams and active travel organisations, as well as organisations such as Third Sector Interfaces and Equality Councils who may be able to provide further support.
If required, organisations taking part will also be able to access free training in skills such as fundraising, community engagement, and evaluation to develop the capacity of their organisation.
What type of projects are eligible? 
Any project that will encourage people in your community to walk wheel or cycle either directly or indirectly will be considered for support.
It could be something like running a small walking group, through to a whole range of activities, such as bike libraries, making public space more pleasant to walk though or sit in, litter picking, or public art projects.
We know that the purpose of the activity may not always be to get people moving, for example:
A walking group may be set up to reduce social isolation for older people.
A growing project in a low income area might aim to raise awareness of climate change but in the process create a place people want to walk, wheel or cycle to.
A project to help women with mental or physical health issues might start a regular cycle ride.
A bike library scheme may be set up to help people of ethnic minorities access employment and services.
The main things is that the project includes an element of walking, wheeling, or cycling, or makes walking, wheeling or cycling easier or more attractive for the people you work with.
Why are we doing this? 
In 2020 Sustrans asked the Scottish Community Development Centre (SCDC) to carry out some research for us about what makes it difficult for community organisations to start running active travel activities, and what would help.
They spoke to organisations around Scotland and found that those which work with groups who experience inequality, particularly because of their gender, faith, race, sexuality, disability, were least likely to be running activities relating to active travel.
The report recommended that we develop advice and practical support that specifically targets these groups.
SCDC also found that this would be beneficial for organisations working in low-income communities.
Read about our work in Scotland