The Scottish Workplace Journey Challenge is taking a breather in 2021. But it will be back bigger and better in 2022. So this March, we're doing something different to encourage Scotland's workplaces to enjoy the benefits of active travel. We're launching the #ActiveCommuteClub.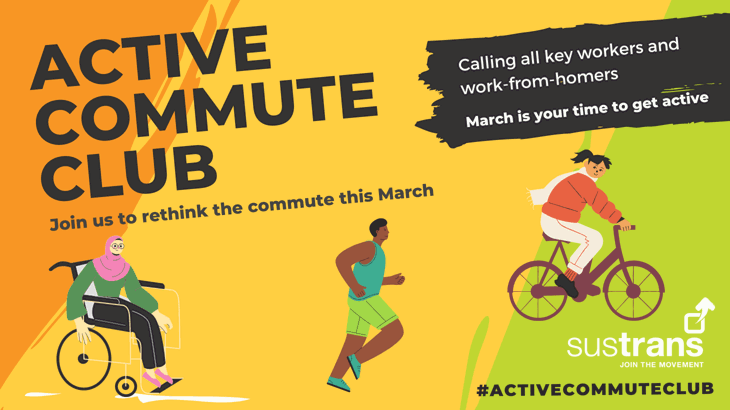 Join the #ActiveCommuteClub to rethink the commute and get active this March.
Please note that the Scottish Workplaces project is currently on hold.
The idea?
Reimagine your commute to suit your current working day.
So you become more active, connect with the outdoors and re-establish the boundaries between your work and personal life.
Commuting might feel like a distant memory for many of us
This means it's actually a great time to think about how we can reinvent this part of our day to get more active.
After all, getting active has amazing benefits for our wellbeing.
And changing the way we get about is better for the planet.
That's why we're launching the #ActiveCommuteClub
It's a social movement that we hope will get us all moving more in the working day. Not just in March, but for good.
We also hope it helps give employees a sense of community right now.
Something we need more than ever – particularly if working remotely.
And it's free to join.
Working from home?
Think how you could make the most of the time when you used to be stuck in rush hour.
Now it's an opportunity to enjoy physical activity instead.
That could be a quick walk, wheel, cycle or jog before or after work.
No activity is too small, or too local.
You could even take a coffee in a keep cup on your morning loop of the block before logging on for the day.
It might not be a 'real' commute, but having an active routine like this has real benefits for your wellbeing.
Still travelling to your workplace as a key worker?
Have a go at commuting in an active way where possible this March – such as walking, wheeling, jogging or cycling, instead of driving.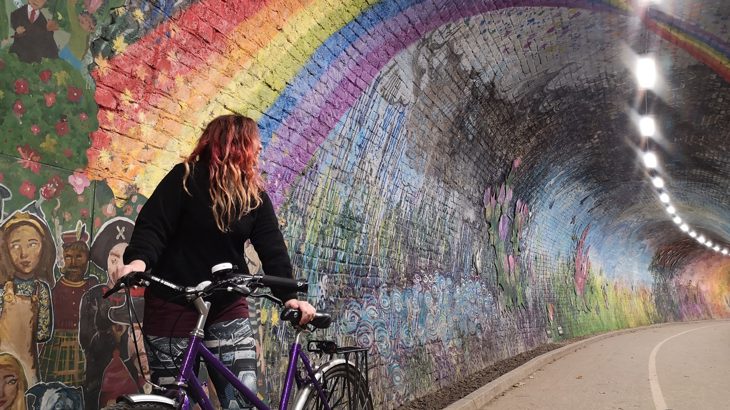 Active ways of commuting can support key workers' wellbeing
We'll be with you every step of the way
The Sustrans team will be sharing lots of motivation on Twitter to keep us all moving.
Follow @SustransScot and #ActiveCommuteClub
There'll be lots of ideas to make your experience as enjoyable as possible.
Playlists, podcast recommendations, Strava groups and more.
Share how you're rethinking your commute
We want to hear how everyone's getting on.
Encourage colleagues to share pics and updates with #ActiveCommuteClub.
There will even be prizes up for grabs along the way.
You could also add #teamkeyworker to your posts to show your support to other key workers.
Or #teamwfh to motivate others who are working from home.
Set up your own work club
Why not use a sports app, chat group, or a channel on a remote-work portal like Slack or Teams to create your own #ActiveCommuteClub with colleagues.
It could be a virtual morning running group or evening walking club.
Whatever activity you go for, it's a chance to feel a sense of a community and motivate each other to get active.
Prizes
Throughout March there will be a number of prizes to provide that little extra motivation.
1 – 7 March 5 x £20 highstreet voucher for retweeting your Active Commute pledge to #ActiveCommuteClub
8-14 March £50 photo of the week; £50 achievement of the week
15- 21 March £50 photo of the week; £50 achievement of the week
22- 28 March £50 photo of the week; £50 achievement of the week
We will also have some daily spot prizes available so make sure you check out #ActiveCommuteClub regularly.
Prize winners will be notified by DM.
Welcome to the club
Make sure your plans to get active follow the latest Scottish Government guidance.
Way to Work also has lots of useful resources on how to stay active while remote working.