Last year, more of us explored our local areas by foot or wheels across Scotland. But with ongoing restrictions while working from home, it can be hard to stay motivated. So here's a few easy reminders of ways to enjoy being active and keep the #WheelsInMotion – today, and for good.
Travelling actively during lockdown is good for wellbeing and helps free up Scotland's roads and public transport for those who need it most
We all need some motivation at the moment.
Many Scots enjoyed getting active on our doorsteps during previous restrictions.
But it's not surprising some of us are starting to get lockdown fatigue while working from home this time around. 
It's time for a wee reminder of why it's good to keep on moving.
  
We've partnered with Public Health Scotland, Paths for All, Cycling Scotland, Cycling UK, and Scottish Cycling, with funding from Transport Scotland.
The aim? To work together to celebrate the amazing benefits we can keep enjoying when we walk, wheel or cycle locally each day. Including giving us all easy active travel ideas to try.
  
Let's keep up the momentum
By staying active, we can keep the #WheelsInMotion. This will transform Scotland into a truly active nation on the other side of all this. And we'll feel better along the way.
So here are our top 5 tips to keep Scotland active.
1. Reboot the commute
Commuting might feel like a distant memory for those of us working from home.
But now's a great time to introduce some sort of 'fake commute'.
This active commute could be as simple as a quick ten-minute walk, wheel or jog.
Why not loop around the block before you log on for the day?
It might be a fake commute, but it's a real way to help you mentally switch between home and work modes.
You could even make a coffee and carry it in a keep cup as you stroll – to reboot that morning buzz. And warm you up on winter mornings.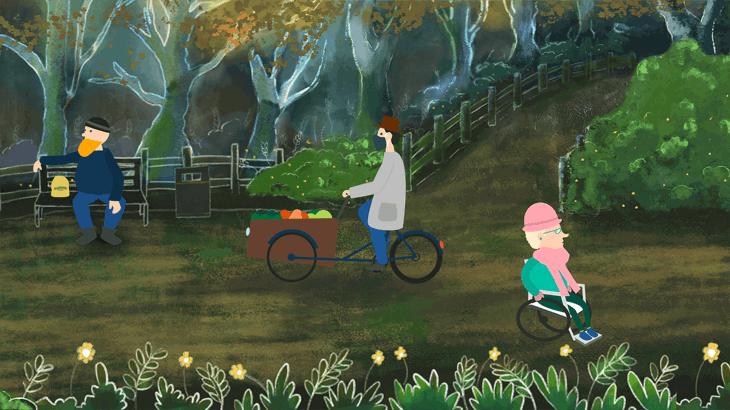 Have an active commute before or after work to clear your head.
2. Do a homeschool run
Having to juggle work with homeschooling? We hear you.
Keeping a sense of routine for wee ones just now is a big challenge.
But one quick and easy way to mark the start of the homeschool day is to get out of the door for ten minutes each morning.
Whether that's a walk or wheel in the park or a quick ten-minute scoot.
It's amazing the difference this can make – not just for kids, but for parent's headspace too.
What's more, getting active is a good chance to leave behind the stresses of being cooped up together. So you can enjoy quality time as a family.
For more active homeschooling ideas, take a look at these free Sustrans Scotland I Bike resources.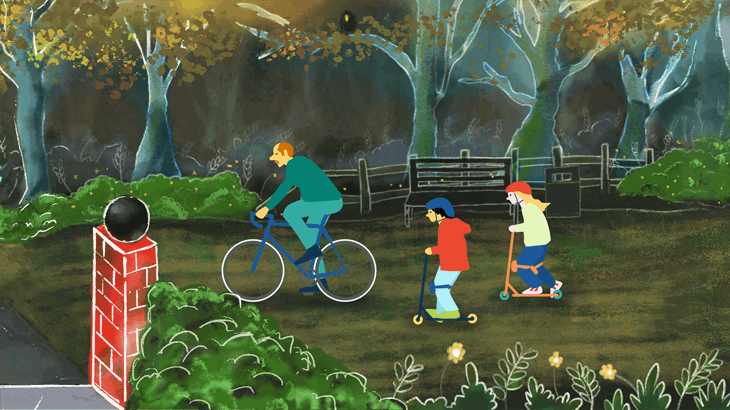 Going for a 'homeschool run' is a great way to recreate a sense of routine.
3. Walk and talk
Why not put the remote in remote working?
Leave behind the desk in your spare room and do some meetings over the phone while on foot to mix things up.
A simple stroll can often get ideas rolling. Some fresh air can help you keep a sense of focus, too.
This quick change of scene also helps separate your personal work setup from shared meeting spaces – which is a healthy balance to help you stay productive.
  
4. Pop to the shop
Need essential supplies? This can be a good opportunity to walk, wheel or cycle to local shops, like a greengrocer or chemist.
A stroll to an essential shop before work or at lunch is a really practical way to get a breather.
It also shows local businesses some love at a time they really need our support.
Want to learn more about how we can all support local businesses right now? Check out the Scotland Loves Local campaign.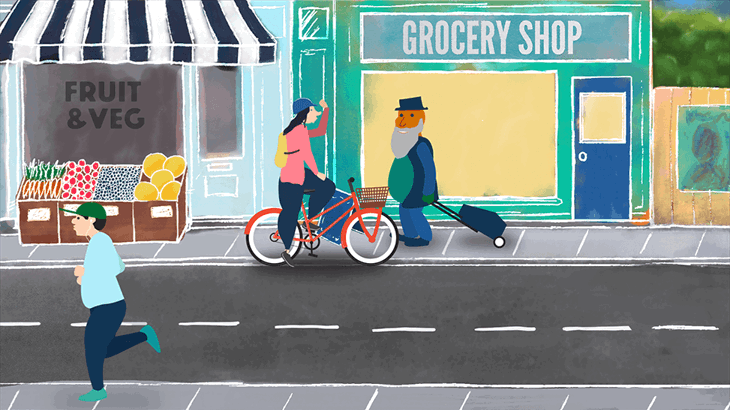 Staying active in your local area can support local businesses at a time they really need us.
5. Go on a mindful walk
Are stresses of your working day feeling a bit much?
Try stepping outside and concentrating on the sights, sounds and smells of nature that you can find on your doorstep.
You can also bring the outdoors indoors anytime you like. Just close your eyes and imagine the calm of being out for a walk.
This type of everyday meditation can be really useful on those days when the weather's dreich. 
For more work-from-home advice, including from mindfulness coach Anna Bell, check out the resources at Way to Work Scotland.
Please ensure your local plans to get active follow the latest Scottish Government guidance to stay safe.
Our Way to Work and I Bike initiatives also have lots of resources to help juggle work, life, and homeschool just now.