In order to create transparency and clarity around the Spaces for People projects in Scotland, we've created this guide which we hope will debunk any misinformation circulating. If you have any questions about specific projects near you, please contact your local authority.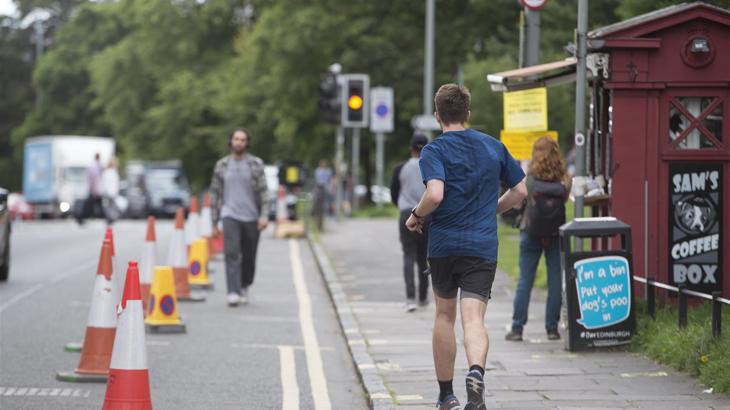 Spaces for People initiatives have created more room for people to easily physically distance whilst out and about.
Spaces for People is the Scotland-wide scheme introduced in response to the Covid crisis.
The scheme has allowed local authorities to put in place temporary measures ensuring that people have the space to walk, wheel (people using wheelchairs, mobility scooters) and cycle while maintaining 2m physical distance.
These measures have helped protect public health by allowing more people to physically distance themselves during everyday and essential journeys.
They are also important as the economy opens up, with pavement space being used for hospitality and queueing outside shops.
  
Clarifying the confusion around Spaces for People
The measures have not been without their critics.
We recognise that making changes to how we use our roads and pavements can be concerning to many people, particularly in a time of change.
Those fears often subside once people can see the changes in operation, and appreciate the benefits to those who live and work in the area.
That said, in some areas, there has been a vocal minority of opposition that seems out of proportion with the measures being put in place.
We have had some campaign groups publishing misinformation about the scheme.
And there have been a few individuals making vicious and personal attacks and threats on council and Sustrans team members.
In light of this, we want to clarify some of the confusion around the Spaces for People programme.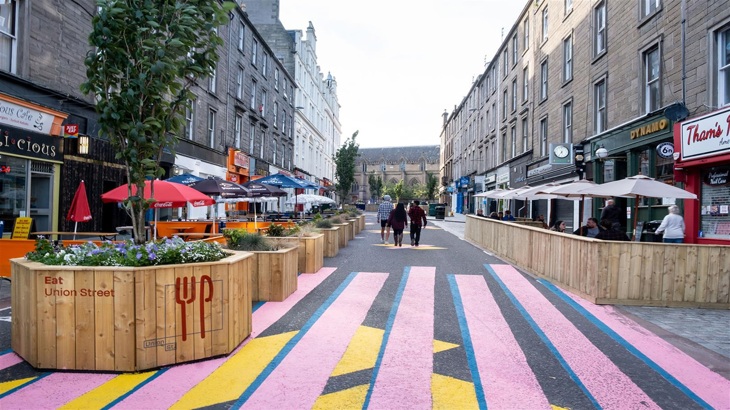 Businesses on Dundee's Union Street have seen a boost since the road was closed due to the Spaces for People programme.
What is Spaces for People?
Spaces for People is a scheme introduced throughout Scotland during the first lockdown in 2020.
It enables local authorities to install temporary measures to help people on foot, bike or wheels get about safely during the pandemic.
There is a wide range of measures but some examples include:
Who is Sustrans?
We're the charity that makes it easier for people to walk and cycle for more of their everyday journeys. That's our mission, and we're proud of it.
In Scotland, we receive some block grant funding from the Scottish Government to distribute to partners, in line with Scottish Government policy and outcomes.
These partners include local authorities, community groups, universities and colleges, NHS Boards and Third Sector organisations.
  
Who funds Spaces for People?
The Spaces for People programme has been funded by the Scottish Government.
It's managed by Sustrans Scotland and is implemented in each location by the relevant local authority.
Temporary cycle lanes were introduced on Edinburgh's Crewe Road in order to help commuters safely cycle to work.
Does Sustrans design Spaces for People measures?
Responsibility for the locations, design, delivery and operation of Spaces for People interventions rests with the relevant local authority.
In a small number of cases, we have contributed knowledge to the early-stage design of interventions at the request of the relevant council.
When there is experience and expertise elsewhere in our charity, it is good practice that it should be shared with partners if requested.
At the individual request of partners, Spaces for People has supported a variety of measures to assist statutory bodies.
You can read more about these in our previous blog post.
In partnership with Atkins, we also developed design guidance aimed at supporting partners with the implementation of temporary active travel facilities in Scotland.
However, Sustrans has had no responsibility for their detailed approval, implementation or ongoing operation.
We receive no payment from local authorities for any of this knowledge-sharing.
  
Are Spaces for People temporary or permanent?
Spaces for People measures are temporary.
As an emergency response to Covid, they needed to be implemented quickly in order to protect public health by allowing people to socially distance while walking, wheeling and cycling.
Although public consultations were not necessary for these emergency measures many councils have had an open dialogue with their communities.
This includes attending public meetings, meeting with business owners and liaising with community councils.
As a result, many of the Spaces for People schemes have been amended in response to concerns from residents.
Some local authorities are seeking to retain Spaces for People measures on a trial basis or even to make them permanent.
Legally, this can only be done with public consultation.
For example, City of Edinburgh Council ran a six-week consultation with the people of Edinburgh on which measures they would like to see retained or removed.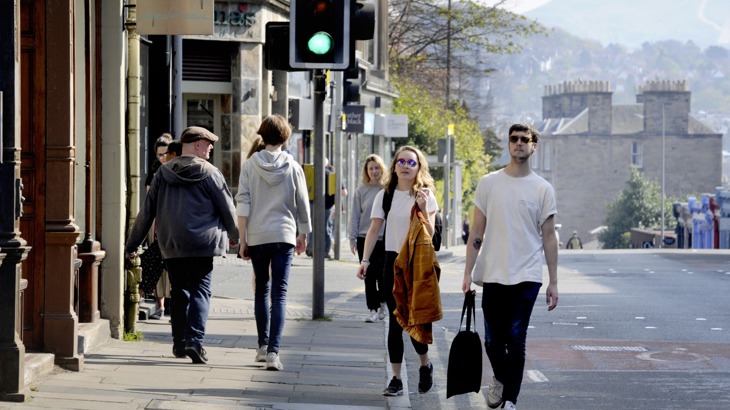 Spaces for People measures are designed to prevent people from having to dangerously walk on the road whilst trying to physically distance.
Do Spaces for People take disabled access into consideration?
Spaces for People is designed to give everyone the space to walk, wheel (using wheelchairs and mobility scooters) and cycle safely through temporary interventions like:
widening footpaths
closing sections of road
or putting in temporary cycle lanes.
Making it safer to walk, wheel or cycle during the pandemic has contributed towards reducing transport inequalities and protecting the most vulnerable in our society.
And this is outlined by Ali Macdonald, Organisational Lead for Healthy, Active Environments at Public Health Scotland, in a guest blog for our website.
Providing more space to safely distance throughout lockdown is crucial as our economy reopens.
And these measures have been even more important for those who rely on wheelchairs, mobility scooters, walking sticks or frames to make their everyday and essential journeys.
For example, under the Spaces for People programme, the Highland Council has removed barriers on paths to make it easier for people with disabilities and additional mobility requirements to walk, cycle and wheel around Inverness.
We do, of course, understand and appreciate that changing road and pavement layouts can cause challenges for some disabled groups.
For example, blind and partially sighted people.
At the outset of all projects, Sustrans encourages all of our local authority partners to consult with the disabled community to ensure measures are sensitive to their needs.
And that local authorities are complying with their legal responsibilities set out within the Equality Act 2010.
To support local authorities in fulfilling their accessibility and equality responsibilities, we organised and hosted a webinar programme for our partners, focussing on inclusivity and accessibility.
Two webinars on Inclusive Design were delivered in conjunction with the Society of Chief Officers of Transportation in Scotland (SCOTS)
A further webinar explaining the importance of Access for All was delivered in conjunction with Public Health Scotland.
They're Scotland's lead national agency for improving and protecting the health and wellbeing of all of Scotland's people, and the Mobility and Access Committee for Scotland (MACS).
The recordings of these sessions are publicly available on the Sustrans Scotland Showcase website.
  
If I want to find out more about or comment on a Spaces for People measure in my local area what can I do?
Contact your local authority as they have responsibility for the design and operation of Spaces for People measures.
And they will ultimately decide whether measures are retained beyond the temporary scheme in consultation with the public.