We worked with Transport for London and London borough councils to help make London's streets more walking and cycling-friendly. Here's a look at what the Healthy Streets Officers achieved.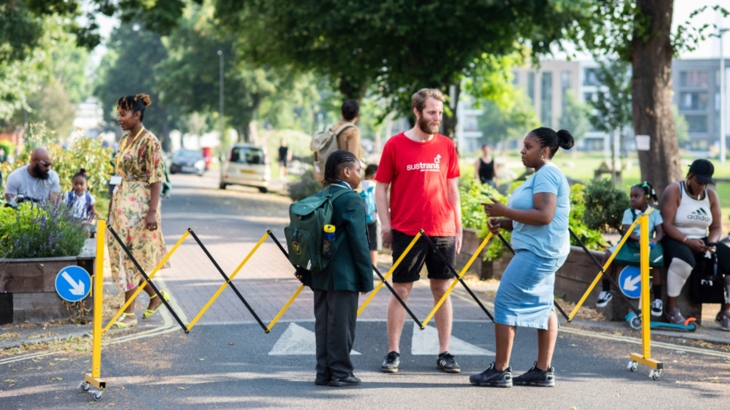 Sustrans staff helping at a School Street in the London Borough of Lambeth. © Paul Tanner/Sustrans
Highlights from the Healthy Streets Officers London programme
How Healthy Streets Officers created healthier places and happier people. © photoJB (video) Soundroll (music).
We have a strong track record of working in partnership to change how people travel their everyday journeys.
From August 2019 to June 2022, we worked with Transport for London on the ambitious Healthy Streets Officers programme to help make London's streets more walking and cycling-friendly.
Join the City of Westminster, London Borough of Haringey, London Borough of Lambeth and London Borough of Barking and Dagenham in working with Sustrans on Healthy Streets - contact us today.
What is the Healthy Streets Officers programme?
Our Healthy Streets Officers programme, funded by Transport for London, supported 32 London local authorities to deliver behaviour change initiatives that support the Healthy Streets approach and make it easier for everyone to access and enjoy the capital's streets and lead active, healthy lives.
We had 18 Healthy Streets Officers supporting 32 London local authorities.
We worked hard to help boroughs reach the Mayor of London's goals for:
80% of journeys in London to be made by walking, cycling or public transport
All Londoners to achieve 20 minutes of daily active travel by 2041.
Four main priorities
The Healthy Streets Officers programme had four main priority areas:
1. Schools
Making the school run car-free can help to reduce air pollution and congestion in London.
Walking, scooting or cycling to school gives young people the chance to incorporate exercise into their day.
  
School Streets
School Streets tackle the congestion, poor air quality and road safety concerns that many schools experience by restricting motor traffic at the school gates during school drop-off and pick-up times.
Our HSOs supported the delivery of School Streets at 334 schools by:
communicating and engaging with the school community and wider neighbourhood to make sure that schemes worked for them
training volunteers to safely and smoothly operate School Streets so drivers knew where they could and couldn't drive while the School Street was in operation
sharing knowledge and learning between boroughs so that new School Streets were the best they could be
monitoring the impact of School Streets on things like travel behaviour and air quality to build an evidence base.

STARS
STARS is Transport for London's accreditation scheme for London schools and nurseries.
By becoming STARS accredited, schools commit to reducing congestion on roads around the school, making the roads safer, and improving the health and wellbeing of their school community.
Our HSOs worked with schools to:
develop active travel plans
advise them on activities they could do to achieve accreditation
help them to collate and upload evidence to support their STARS application.
HSOs were especially involved with engaging new schools in the programme.
Additionally, HSOs supported 32 schools to achieve Gold accreditation in the TfL STARS programme in 2019 to 2021.
This is equivalent to 1,000 pupils travelling sustainably to school in those academic years.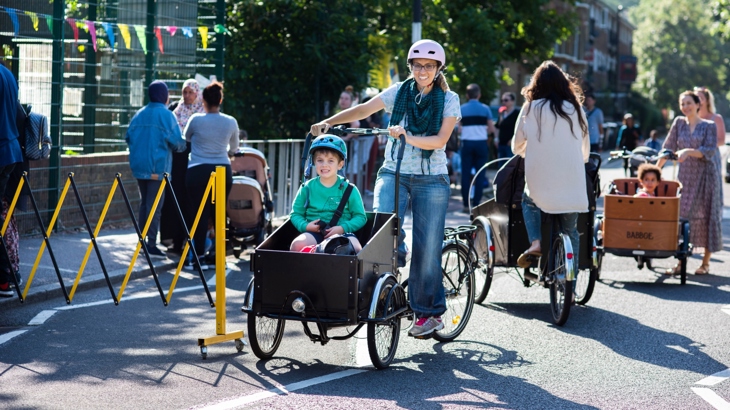 Closing the streets around schools to vehicles is a great way to encourage active travel. Here, we closed the road outside Walnut Tree Walk Primary School in Lambeth. Ⓒ Paul Tanner/Sustrans
2. Supporting healthier streets
In 2020, TfL announced their Streetspace funding scheme.
This provided funding to boroughs to invest in walking and cycling infrastructure in response to the Covid-19 pandemic.
The Healthy Streets Officers programme helped boroughs across London implement these changes to their local streets.
Healthy Streets Officers (HSOs) supported local authorities to trial infrastructure changes funded through the Streetspace for London programme.

The changes allowed more space for residents

to socialise, feel safer and be more physically active.

The HSOs supported the delivery of infrastructure changes and

engaged with community members to help embed walking and cycling

into the community.

HSOs were involved in the delivery of

344

School Street schemes across

London,

225

of which are currently still live.

HSOs provided capacity, support and expertise for public realm

and traffic reduction schemes including

Low Traffic Neighbourhoods.

The

Streetspace

sharing sessions that HSOs ran focusing on Low Traffic Neighbourhoods, estate travel plans, and monitoring, saw 101 attendees from various London

authorities.

 

HSOs also worked with boroughs to engage local communities to assess the feasibility of this temporary infrastructure becoming permanent.


Supporting applications
HSOs worked with boroughs to help identify and prioritise locations where temporary infrastructure was most needed.
We also helped with writing compelling bids to secure additional funding which would make changes to road space, creating a nicer environment for walking and cycling. 
  
Public engagement
Our HSOs particularly focused on reaching out to people whose voices are seldom heard.
This was vital to creating fairer places for everyone.
HSOs supported the creation of communication materials and talked to local communities to hear their opinions on street changes.
  
Monitoring impact
HSOs assessed the impact of new temporary infrastructure by:
gathering feedback by using online tools like our

Space to Move map

monitoring air quality to measure the success of schemes in creating cleaner air in urban centres and around schools
engaging with the community to make sure a wide range of voices were involved in decision-making.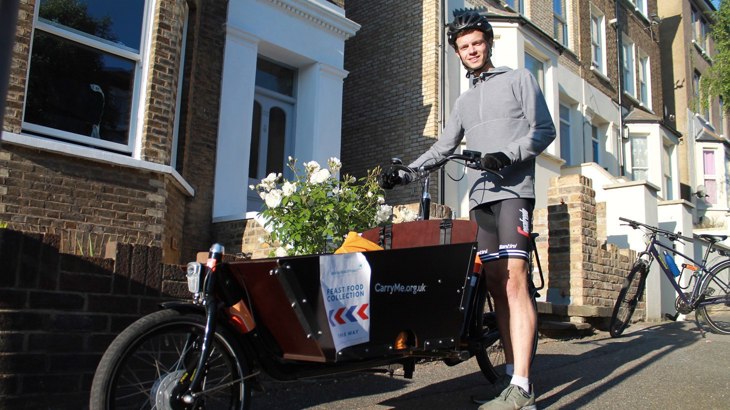 Dan, a volunteer, with a cargo bike full of grocery deliveries for the vulnerable during the Covid-19 pandemic. Ⓒ Lucy Atkinson/Sustrans.
3. Workplaces
Our network of Healthy Streets Officers (HSOs) worked with a wide variety of employers across London to help their employees cycle and walk more.
They worked with staff in hospitals in Havering, construction firms in the City of London, Mencap in Bromley, Next in Orpington and many places in between.
  
Planning journeys
HSOs helped to make active travel plans for employers.
These plans made sure that people knew the best ways to get to and from work by cycle, on foot, by public transport or a combination of these.
We hosted activities and events to support staff to move more and provided incentives to inspire them to be more active.
  
Supporting access to equipment
HSOs helped employees to access cycles and cycling equipment.
Examples included:
creating pool bike schemes for carers in Bromley
giving NHS staff and keyworkers free safety equipment
providing advice for keyworkers on their nearest cycle shops during the height of lockdown.
  
Cargo bikes
HSOs also set up cargo bike schemes for a variety of needs across London, which included:
delivery for businesses, from flowers in Hounslow to hot food in Lewisham
delivery for not-for-profit and community organisations
rental schemes for residents
e-cargo bikes for council staff.
This all helped to improve London's air quality.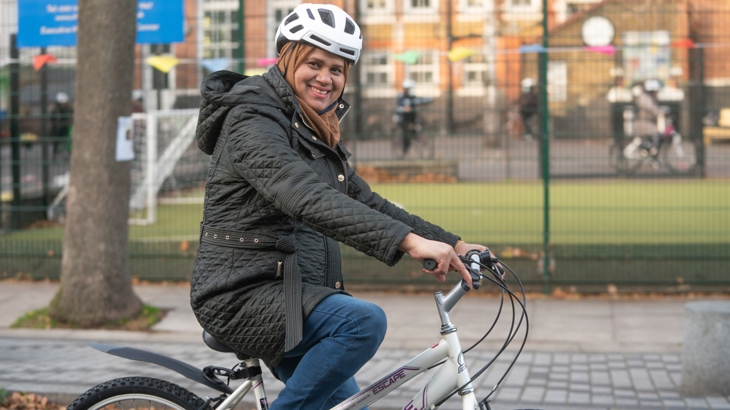 Healthy Streets Officers worked with Camden Council to organise specialist cycle training for Muslim mothers. © Micky Lee/Sustrans
4. Cycle training
Our Healthy Streets Officers (HSOs) helped to promote cycle training across London by setting up six pilot cycle training projects, as well as supporting Transport for London's online cycle skills course.
This training helped participants to build their ability and confidence in cycling around the city.
We focused especially on helping schoolchildren walk, cycle or scoot instead of relying on cars or public transport.
We helped people who may have found it difficult to take up cycling without support, including:
hostel residents
people with mental health conditions
people of a diverse range of ages
Reporting
We collated data from across local authorities for Transport for London.
HSOs made 696 cycle training data submissions throughout the programme.
This meant that both the number of cycle training sessions and the demographics of participants could be monitored London-wide. 
Healthy Streets Officers: The people's stories. Hear from people who've worked with and benefited from the Healthy Streets Officers programme. © photoJB (video) Soundroll (music).
Equality, diversity and inclusion
The HSOs embedded principles of equality, diversity and inclusion into their work across the boroughs.
A large proportion of this work was providing tailored support that addressed why certain sets of people are underrepresented in walking and cycling.
HSOs helped to set up an inclusive cycling hub in Hounslow, the Inwood All-Ability Cycle Hub. 
We also organised specialised cycle training, such as the training provided to Muslim mothers through their children's school in Camden.
A podcast with visually impaired people was also recorded.
It discussed what it's like to move and navigate around London's streets.
Knowledge sharing
The HSOs created a knowledge-sharing network between the 32 local authorities in the programme.
We helped to share best practice and exchange ideas between different areas of the city.
HSOs hosted more than 25 pan-London knowledge-sharing sessions with borough and community leaders on topics including cargo bikes, School Streets, Streetspace and the STARS active travel accreditation.
Contact london@sustrans.org.uk to discuss how we can help your organisation deliver Healthy Streets.


Find out more about the Healthy Streets Officers programme in our impact report.