Sustrans Scotland and Stirling Council worked with the local community and businesses to reimagine the approach to the towns' railway station, to create a space that feels more welcoming, is people friendly and inclusive.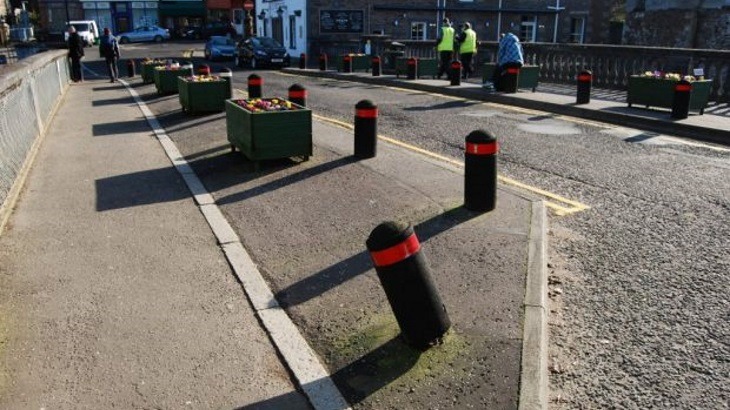 Before: Dunblane station bridge
The ambitious project aimed to transform Stirling Road, linking the High Street to the railway station, into a place for people to visit, enjoy and travel slowly through. 
About Dunblane
Dunblane is an attractive, ancient city with a population of approximately 10,000 people and it provides services for neighbouring villages.
It is a compact town with main destinations within walkable distance for most people, but car use is high for trips to school, local services and local commuting. The train also attracts parking commuters from nearby communities. Traffic speed and volume is noted as a deterrent to walking and cycling on key roads.
Challenges
Differences in pavement levels and the lack of a clear, high-quality pedestrian route meant access between Dunblane railway station and the High Street was a challenge for people with restricted mobility, people using wheelchairs and people pushing buggies.
People on bicycles were faced with many one way streets which made cycling to the station a challenge.
The quality of appearance along Stirling Road was not conducive for people to enjoy spending time in due to narrow pavements, lack of seating, and the dominance of concrete and cars.
The project looked to address access to the station, as well as improving the appearance and experience of the spaces outside of the station and towards the high street.
Inclusive design
Network Rail had installed a new railway bridge at Dunblane Station as part of their 'Access for All' programme. Stirling Council used this opportunity to achieve further improvements to the area through a process of community-led design.
They approached Sustrans by putting in an application to the Community Links programme which provides grant funding for the creation of cycle network infrastructure.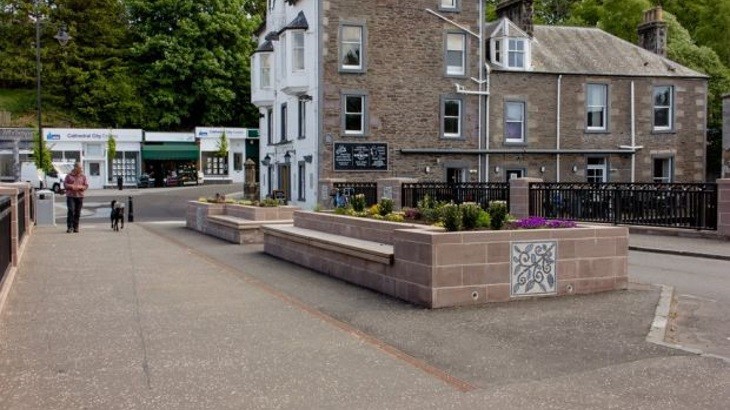 After: The large planters introduce greenery and seating to Dunblane station bridge
What we did
Sustrans Scotland and Stirling Council's Infrastructure Development Team worked with the local community, community groups, development trust, businesses and stakeholders to reimagine Stirling Road in Dunblane.
Representatives from Dunblane's proactive and passionate community played an active role in the project by influencing the design at steering group meetings, promoting the work and organising engagement events.
Residents and businesses in the area also helped to shape the design with their local knowledge and aspirations for the street and town.
Pupils from the local primary and secondary schools enjoyed working with artists to create mosaics and decorative signposts which form central features of the design. The artworks highlight and celebrate local wildlife and places of interest in the area.
The final design capitalises on the key assets of the town by creating high-quality spaces on the historic bridge over the Allan Water and alongside visually attractive Georgian and Victorian buildings.
Results
The ambitious project saw the entire street transformed into vibrant spaces for people to enjoy and travel through. The design improved access to businesses on Stirling Road and created a space that people want to visit and spend time in.
Stirling Council led the detailed design process and the project was finished at the end of 2016.
Sustrans Scotland and Stirling Council have been recognised for this work in Dunblane alongside representatives of local community groups at the 2017 Cycle-Rail Awards, after the Stirling Road Access for All Project was awarded the top prize under partnership working.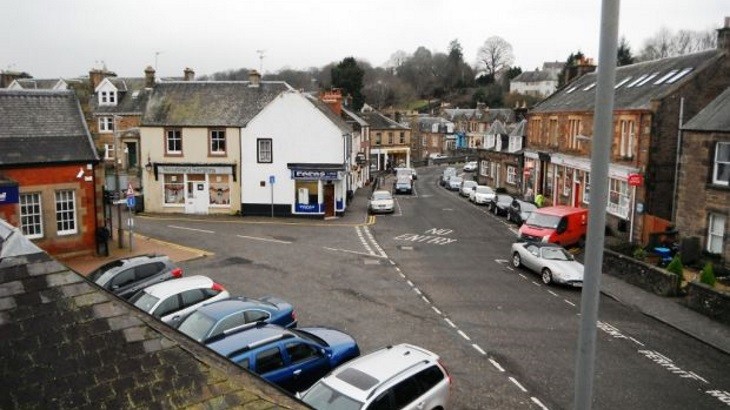 Before: Stirling Road near bridge was dominated by parked cars
There is significant support for this area becoming a more relaxed public space with greater priority to pedestrians and cyclists.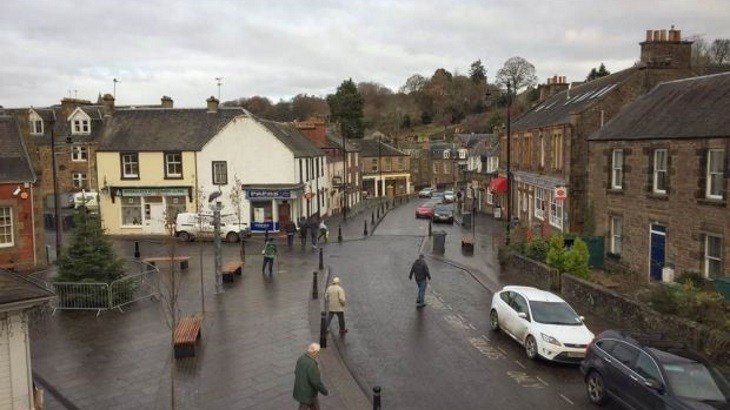 After: Stirling Road near bridge now offers seating and a place for people to meet
Commenting on the award, Stirling Council's Environment and Housing Committee Convenor, Councillor Jim Thomson, said:
"We're delighted that the approach taken to developing this project along with the community has been recognised.
"Hopefully this project sets a good example of what can be achieved when the whole of a community is involved and works together."