Based on our ongoing work with schools across Scotland and the UK we have designed our resources and tools to support you to develop Confident Individuals, Effective Contributors, Successful Learners and responsible Citizens as part of the Curriculum for Excellence (CfE).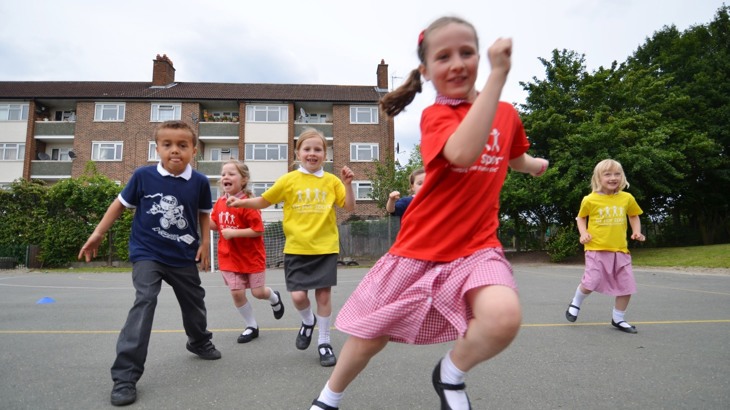 Our resources will help you
Address school traffic or road safety issues around schools.
Support pupils to be healthy, happy and ready to learn.
Write an effective school travel plan.
Run fun curriculum-linked activities.
Find Career-Long Professional Learning and volunteer opportunities.
Strengthen your school community and inclusion.
Initiatives available in Scotland
We work with local authorities and delivery partners, including Cycling Scotland and Living Streets Scotland, to support schools. Between us, we offer a wide range of resources, activities and funding opportunities to help schools explore, promote and enable active travel.
Supporting Safer and Active Travel in Scottish Primary Schools is a leaflet to help you navigate the variety of initiatives available and find the best options for your school.
School Travel Planning toolkit
Our School Travel Planning toolkit has been designed based on the experiences of teachers, pupils, parents and school travel professionals across Scotland.
The toolkit includes templates, curricular links, teacher guides and case studies, and is linked to our Healthier Routes films that provide a step-by-step approach to pupils developing a school travel plan. 
School travel plans can simply be a list of actions that a school agrees and commits to run as part of a whole-school approach.
Writing one should not be an onerous task and working together to put the plan into action can be fun and a great learning experience. 
Many schools see their travel plan as an important component of becoming an excellent school, by supporting pupil's health, wellbeing and safety.
Others develop School Travel Plans to address specific issues, such as a traffic problem or because of an incident, while others are working towards accreditations such as Eco-School's Green Flag or the Cycle Friendly School Award. 
Whatever the reason, the benefits of encouraging active travel are clear and a school travel plan can ensure you have a long-term vision for support at your school. 
Engagement tools and schemes for primary schools
Big Street Survey: A curriculum resource aimed at P5-P6 that guides pupils to investigate the area around their school and create a manifesto on how to make their streets safer and greener.
Big Walk and Wheel: This is our annual UK–wide walking, wheeling and scootering challenge that rewards schools based on participation rates.
Cycle to School Week:

Organised by the Bikeability Trust and supported by Sustrans, this is a week-long event where families are encouraged to try cycling and scooting to school.
Teacher guides and classroom resources
#AndSheCycles
Inspired by the Green Schools Ireland campaign of the same name, the #AndSheCycles campaign aims to encourage more teenage girls to cycle for everyday journeys.
While cycling provides clear advantages, teenage girls have reported they choose not to cycle because of negative stereotypes, a lack of role models and low levels of confidence.
The campaign is designed to create an online community for teenage girls, thereby boosting their confidence. The @and_she_cycles Instagram account empowers followers to share their experiences of cycling and relate to like-minded individuals.


Available resources include:
Teacher and youth leader pack:

We have developed an interactive workshop for teachers and youth group leaders. This will help to guide teenage girls and young women to shape and influence their own local #AndSheCycles campaign. They'll develop their own action plans to encourage more young women to cycle.

#AndSheCycles ambassador pack: We're encouraging senior school pupils to become #AndSheCycles ambassadors. This pack

contains tips on how to empower more girls to cycle in their school and ways to set up #AndSheCycles groups. Plus, there are opportunities for training and guidance on how to run or support cycle sessions.

 Download the pack to get started and let us know how your school ambassador gets on.
FRideDays Bike Bus
FRideDays is our new initiative to help school children cycle to school every Friday.
If you're thinking of setting up a bike bus for your school, then download our toolkit. It's filled with all the information and support you'll need to get going.
It's great for all levels of experience, whether you're a confident rider who's done similar things or you're completely new to bike buses.
We offer free training to anyone wanting to set up a FRideDays Bike Bus. And if you take our training and choose to become a Sustrans volunteer, your bike bus is automatically insured.
School Streets
A School Street is what we call it when you restrict access to certain types of vehicles to make the road outside your school a walking, wheeling, and cycling zone.
There are exceptions for blue badge holders and access for residents. You might also add things, like planters and play features, to change the way people use the street.
We're making £200,000 available through Places for Everyone in order to deliver temporary School Streets interventions.
This limited fund is available on a first come first served basis and is open to schools, local authorities and parent councils working in partnership with relevant local authority departments.
Apply for a grant of up to £30,000 to implement a temporary school street scheme. See our guidance for applicants and templates for supporting documents.
Applications are open all year round and assessed at two to three selection panels across the year.
Working with support from your local authority
Each local authority has its own school active travel and road safety approach. This incorporates local school travel planning arrangements and may include local initiatives and alternatives to specific activities offered by Sustrans, Living Streets and Cycling Scotland.   
Sustrans works to support the network of School Travel Professionals in local authorities throughout Scotland through sharing good practice and joint planning or funding of projects.
You can get advice and guidance on all aspects of active travel to school and road safety from your local authority team.
Training for pupils, parents and teachers
There is a range of training options available to help develop practical, professional, social, and curriculum-related skills that support schools to promote and engage in active travel.
Work with us to increase active travel in your school. Contact us today: