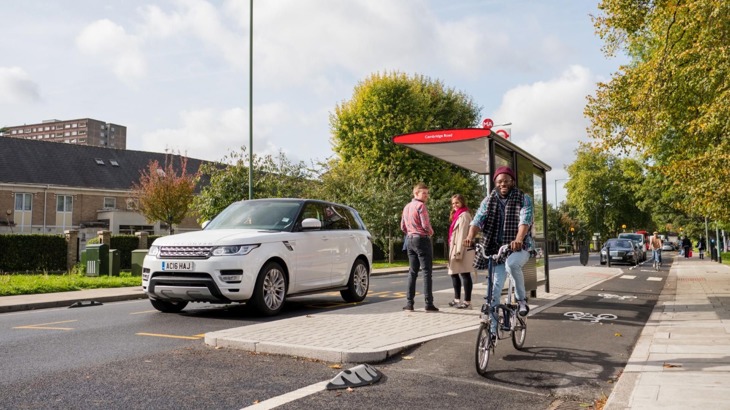 Transport for London's (TfL) £114 million Liveable Neighbourhood fund offers councils in London a real opportunity to create the streets their residents and businesses want to live and work in.
A successful bid unlocks funding which councils can use to transform boroughs, making them easy and safe to cycle and walk around and healthier, cleaner places to be.
Our work, in partnership with Lewisham Council and local community groups in the area, has been instrumental in helping the borough develop the beginnings of a Liveable Neighbourhood project.
Lewisham Council commissioned us to deliver a community-led design project on Rolt Street to demonstrate community support for the scheme to TfL.
We were then commissioned by the council to work on their bid and secured them £2.9 million from the Mayor of London's Liveable Neighbourhood fund for work in North Deptford.
How we helped in Deptford
Our urban designers and community facilitators led pop-up events, gathered residents' insights and tested their ideas out on the road.
We then brought the residents' ideas to life, testing traffic calming measures using hay bales. The resulting community-led design we created reimagines Rolt Street as an extension of local landmark Folkestone Gardens, providing extra space to sit and relax and creating a safer crossing to Woodpecker Walk.
The proposal included a one-way boulevard with carefully positioned street furniture and landscaping, bringing car speeds down to 5mph and dramatically transforming the area into a safer community space for people rather than cars.
The Rolt Street scheme was shortlisted for a Healthy Streets Award in 2017.
Lewisham Council has now incorporated these proposals into the wider Deptford Parks Liveable Neighbourhoods project, which includes traffic reduction measures and restoring public access to the Grand Surrey Canal.
Funding available in London
Funding available for councils in London
TfL has made £114 million of funding available for councils in London.
The funding can give local communities the power to push for meaningful change so they can live in safer and healthier places.
We have the experience, demonstrated in Lewisham, to unlock this funding for boroughs. Our track record and wide-ranging experience and expertise, including working with councils, securing millions of pounds in government funding, facilitating community-led design, transport planning, urban design, community engagement and delivering behaviour change programmes, demonstrate our ability to support councils from bid to delivery, to make Liveable Neighbourhoods a reality.
To work with us in London please email london@sustrans.org.uk or call 0207 017 2350