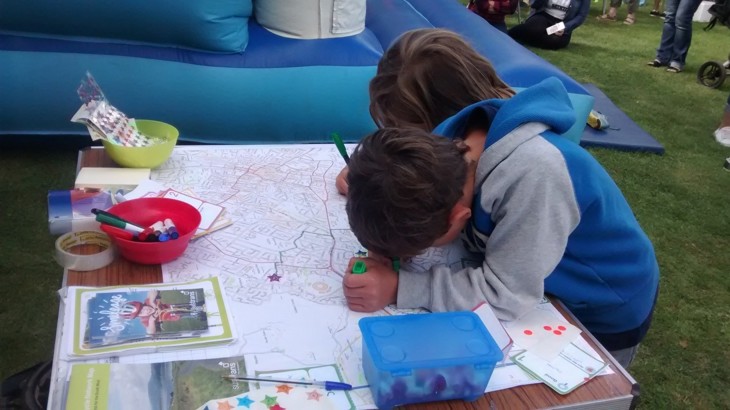 The challenge
In Cheltenham, families are deterred from cycling as many parents feel they lack the skills and confidence to cycle safely with their children. Some are also not aware of safe walking and cycling routes they can use as a family group. Cheltenham is well suited to cycling – it is mainly flat, compact and has a network of cycle routes - including the Honeybourne Line, a shared, off-road path which connects to the town centre.
What we did
Sustrans' Family Cycles project, funded by Gloucestershire County Council, engaged with families in Up Hatherley and Benhall areas of Cheltenham, encouraging them to cycle during the summer of 2017.
We worked with families through a series of activities and events, including confidence skills sessions, guided social rides, travel advice and mapping events, Dr. Bike (free bike safety checks) and bike maintenance workshops.
By providing these activities and ongoing support, Sustrans has equipped local parents with the skills, knowledge and confidence to cycle independently with their families through a range of fun, sociable activities. In doing so, we have enabled more families to travel by bicycle as part of their everyday lives.
"The confidence session we had was absolutely brilliant. My daughter could ride a bike but had confidence issue. I had no idea how to ride safely on the road with her. Sustrans taught us how to use the gears, stop safely and ride without the wobbles. The following weekend my daughter rode over six miles around town! We've learnt how to enjoy bike riding as a family and couldn't thank you enough!"
Key facts
240 people received cycling information and advice
41 people attended bike maintenance workshops
50 people attended led rides
6 families benefitted from confidence sessions