The challenge
Bristol City Council's Flood Prevention Team identified the need to improve surface water drainage to reduce the likelihood of flooding in Southmead, and to and to help improve the quality of the water in the River Trym.
The Council commissioned Sustrans to run a pilot project to engage the local community in the design of a scheme to retrofit sustainable urban drainage into the streetscape and improve road safety.
Embleton Road provided an opportunity to deliver a project that engaged with a wide section of the local community, including students, parents and residents, providing a high level of awareness within the community, particularly around issues of water management and road safety.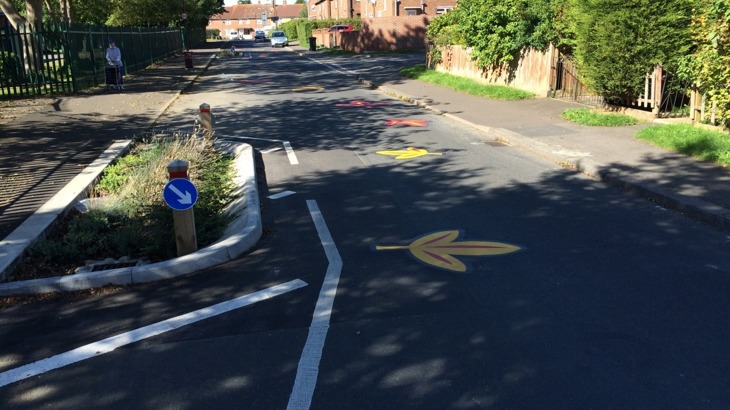 Our solution
We worked with Little Mead Primary Academy, surrounding residents, Bristol City Council and Arup to co-design a series of interventions.
We ran seven workshops with the school and community, to co-design features to both reduce run-off and improve road safety.
Interventions included a number of rain-garden planted attenuation build-outs (physical features) to reduce flooding and traffic speeds, and thermoplastic patterns (psychological features) for placemaking and traffic calming.
It made me think, and feel more important...it made me feel smart, involved and proud!
Key facts:
15,500% increase in rainwater attenuation, improving flood prevention and water quality of the River Trym
46% increased interest in walking and cycling
14% increase in drivers now driving at or under 20mph
100% of people surveyed thought the street environment was improved
60% of residents surveyed felt the new street designs would encourage more people to meet