The Challenge
Lewes town centre and the Newhaven gyratory (A259) declared Air Quality Management Areas in 2005 and 2014 respectively due to high levels of nitrogen dioxide (NO2).
Both areas are surrounded by residential housing and primary schools that serve the local community. Cars are frequently used at school drop-off and pick-up times, causing local congestion and discontentment among nearby residents.
Idling is a problem outside some schools, with engines being left running for 10 minutes or more. Results from a Hands Up Survey before Sustrans' project started indicated a low uptake of walking and cycling among the classes engaged. Teachers also reported a small number of pupils who live nearby (c.200 metres) being driven to the school gates.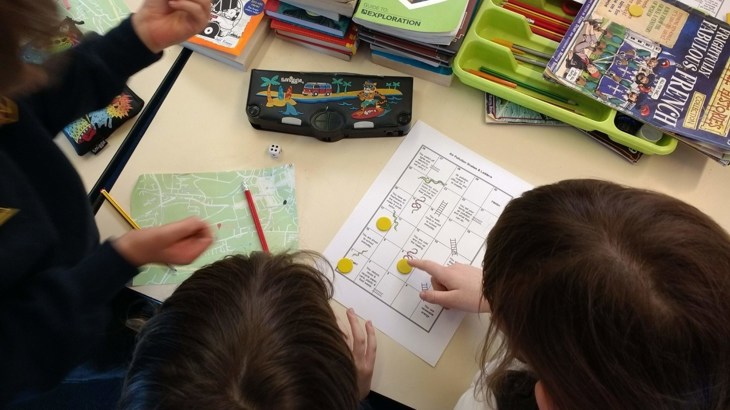 What we did
Sustrans worked with three schools in close proximity to an Air Quality Management Area between October 2018 and May 2019. The pupils were aged from 8 to 10 years old and only possessed basic awareness of air quality before the project.
Over a two month period, Sustrans' Active Travel Officers visited each school on six occasions, delivering a series of structured lessons that explored the causes and environmental indicators of air pollution. Pupils also measured NO2 levels at three locations within the school grounds. The test tubes were sent to a laboratory and the results later analysed by pupils to determine local air quality.
My dad turned his engine off when [the traffic light] was red after I told him it was bad
During sessions 5 and 6, students took part in a competition in which the winning poster was professionally printed on A5 postcards. These were distributed around the school and to parents during the final session, as a means of campaigning for cleaner air and sharing what the students had learnt.
By the end of the project, pupils were able to name common pollutants and make associations between energy use, transport and air quality. Many reported conversations which had positively changed a family member's behaviour
Key facts
Three schools engaged
90 pupils with increased awareness of air quality
Three shared learning events held for friends and families