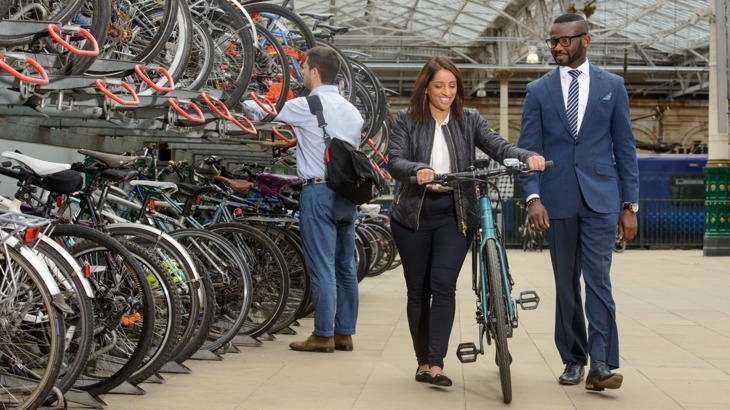 Summary
Integrating walking and cycling with public transport is essential to making it easier for people to leave their cars at home.
In order to create an integrated sustainable transport system, public transport hubs should be easily accessible by foot and by cycle.
Sustrans thinks that every person travelling is entitled to secure weather protected cycle parking, bike repairs and additionally other cycle services at transport hubs. In addition cycle storage on trains should be flexible, convenient and secure.
Context
Transport is now the UK's largest source of greenhouse gases [1]. Modal shift away from the private car onto more sustainable modes such as walking, cycling and public transport can go a long way to improving air quality, congestion, health, as well as making our communities much nicer places to live and work.
Making it easier for people to access public transport by foot or by cycle is essential to enabling people to reduce their reliance on the private car, as well as alleviating congestion in our urban centres and around principal public transport stations.
Walking and cycling to rail stations as part of a multi-modal door-to-door journey is becoming more popular. It offers sustainable access to the rail network when demand for rail travel is increasing.
Walking and cycling to the station often provide the most reliable journey time and it is the fastest for short trips unaffected by congestion. This allows people to have a healthy hassle-free start and finish to their journey.
The proportion of rail journeys involving a bicycle has increased by 75% since 2010, and this figure could be increased if good facilities are provided [2].
We welcome the fact that currently freecycle carriages are consistently provided across the rail network, but the disparity between provision depending on location and rail provider makes it harder for people with cycles to use rail to get about.
Finally, if we are to better integrate walking, cycling and public transport use we need to make this more attractive than driving. This means making public transport provision cheaper and more convenient for people, especially in deprived and rural areas.
What we're doing
We're working with the Department for Transport and the Train Operating Companies through the Cycle Rail Working Group, and their equivalents throughout the UK on ways to improve cycle rail facilities, including bikes on trains and station parking.
In Scotland, we are working with ScotRail to increase cycle capacity across its routes and introducing dedicated cycle carriages on trains to the tourist hot—spots of the West Highlands. We're calling for improved cycle provision to be a franchise requirement.
It is essential that the design of future rolling stock includes provision for cycles to be carried more easily. 
What Sustrans thinks
Access
To enable people to travel more sustainably, all bus interchanges and train stations should be easily accessible by foot and by cycle.
Safe, convenient and direct routes should be provided. Particular consideration should be given to the last mile which is often the most difficult part of any journey to a station by cycle or on foot [3].
Walking and cycling routes within and outside principle transport stations should be clearly signed and should be linked up to pre-existing walking and cycling infrastructure in the area.
Principal public transport stations should be attractive places to arrive in as well as be accessible from all sides. For example in Leeds Station they have opened a southern entrance, this encourages walking from people living in the south of the city and relieves congestion to the existing northern entrance. They have introduced a future proof ticket gate line capacity and encourage growth in the south of the city by improving pedestrian access [4].
Ticketing should be integrated and allow users to make journeys which are multi-modal and across different operators with one streamlined ticket and payment service.
Standardised smart ticketing and payment services should operate across the UK and encourage people to make multi-modal journeys by offering a discount to people using a combination of public transport, this should include integrated ticketing for cycle share schemes.  
Walkability
Creating environments which are easy and pleasant for people to walk in encourage people to make to more sustainable transport choices. Getting to and from train stations should be welcoming and attractive for people walking.
Bus stops especially in rural areas where they may be the only form of public transport need to be easily accessible by foot, they should be linked up to their surrounding communities, as well as be located near essential local amenities.
Cycle Storage
Sustrans thinks that every person travelling is entitled to safe cycle storage at all rail and bus stations.
Although over the last few years there have been improvements, there still needs to be an increase in the quality and quantity of cycle storage at stations.
Sustrans thinks that principal public transport stations should act as active travel hubs making it easier for commuters, locals and visitors to get active. This should include;
Cycle share schemes linking primary locations across an urban setting.
Secure, weather-protected cycle parking, this should be signposted and conveniently located, ideally as close to station entrances as possible.
Cycle repairs and other cycle services.
Provision for secure cycle parking should also be provided across all smaller rail and bus stations to help with integrated journeys. For example, a new innovation in the TACTRAN regional transport partnership area of Scotland is providing bike shelters near bus stops so that people in slightly more rural areas can cycle to the bus stop and continue their journey on public transport.
Cycles on trains
Sustrans recognise that for some journeys, being able to carry a cycle on public transport can make sustainable travel a more viable option.
In regards to rail, it is clear that there needs to be an improvement in provision when it comes to adequate space which is easy and convenient to secure cycles on trains.
Cycle storage on trains needs to be as flexible as possible. For example, having rolling stock that has flip-down seats to accommodate commuters during peak, and prams and cycles off-peak. Cycle storage needs to be easy to identify from the platform, and it should be easy to load and unload cycles and other large items.
For services where booking a bike space in advance is required, there should be a single, standardised, online system for all operators. This would be beneficial for passengers, and also for station staff who can sometimes struggle to book bikes onto trains run by certain operators.
References
[1]  https://www.gov.uk/government/collections/final-uk-greenhouse-gas-emissions-national-statistics
[2] Cycle-Rail-working group, April 2016
[3] https://www.transport.gov.scot/media/14173/cycling_by_design_2010__rev_1__june_2011_.pdf
[4] https://www.steelconstruction.info/Leeds_Station_Southern_Entrance