Ceri, a nurse from Barry, was looking for a way to cut the cost of her daily commute. Lacking confidence in her ability to cycle on busy local roads, she felt a bike just wasn't an option. But the opportunity to loan an e-bike for free from the E-Move project, and to build her confidence through Bikeability training, has changed her mind, and her life.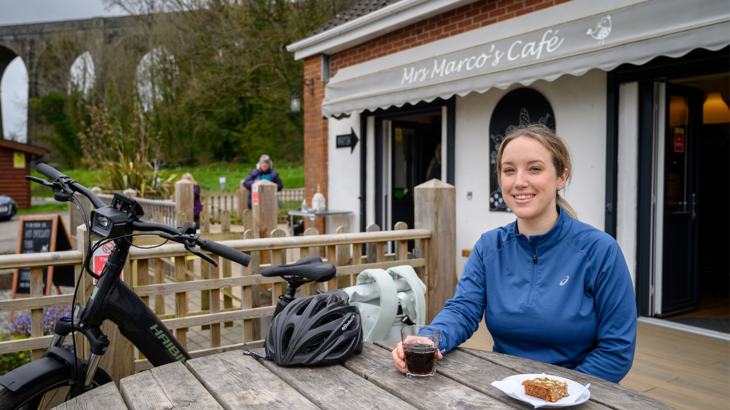 Ceri had a chat with us about how cycling has changed her life. Photo credit J Bewley.
"I was starting a new job at a GP surgery in Barry that was only three miles away from home.
"Travelling to my previous job, which was a lot further away, had been costing me around £200 a month.
"I started thinking that cycling to work every day could eliminate that cost.
"But I hadn't been on a bike for about 10 years. I had no confidence, especially on main roads.
"After looking into getting cycling lessons I was referred to Sustrans.
"I explained how nervous I was, and they suggested I try an e-bike and get some Bikeability training."
Overcoming fears and building confidence
Ceri borrowed an e-bike for eight weeks in total, before buying her own.
She was able to access Bikeability training through Sustrans as her employer is a signatory of the Vale of Glamorgan Healthy Travel Charter.
During those first few weeks she benefited from training to help her build her confidence on two wheels and overcome her fears.
"I got used to the e-bike pretty quickly.
"I picked it up from Barry and cycled home, so I knew from day one that I was OK on quiet roads.
"But I really needed the lessons before going on busy roads with lots of traffic.
"I was worried about doing something wrong and unknowingly putting myself in danger.
"The lessons gave me that extra confidence I needed to cycle further away and use busy roads.
"Now I have no problem holding the traffic and cycling at my own pace. I feel in control.
"Lack of confidence was a big barrier to being able to enjoy cycling and the lessons helped me to get over it."
So far Ceri has limited her commuting on it to two days a week. But she says:
"I've noticed I definitely feel fresher when I get to work on the days I take my bike.
"I've accomplished something before I even arrive, and it only takes me five minutes more on the bike than it does in the car."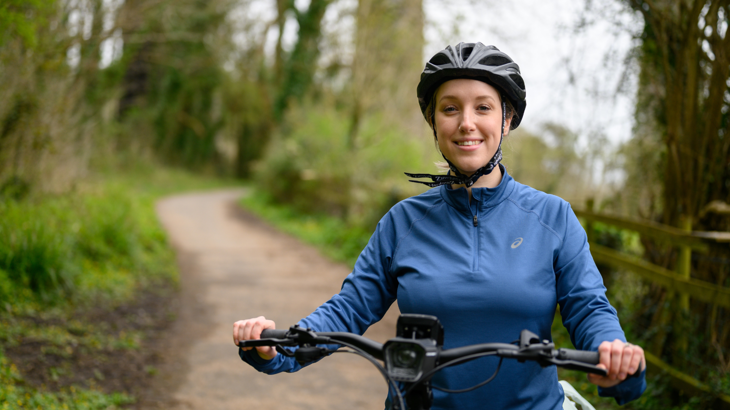 Since Ceri started cycling, her daily commute has changed for the better. Photo credit: J Bewley.
Now I would never be without a bike, it's been life-changing for me.
A mental health boost
"The biggest difference the bike has made is to my mental health.
"Cycling to work gives me more headspace, it's time to decompress.
"I'm lucky as I get to cycle through Porthkerry Park. I don't have to think about traffic there, it's calm, quiet and there's no one around other than the squirrels!
"On an e-bike you can work as hard or as little as you want to. Physically putting in that effort in helps me to destress. It's an outlet.
"It's just great to have that option of not using my car every day.
"Getting stuck in traffic adds extra stress to your day, but when you cycle you get fresh air and sunshine on your face."
A more cost-effective way of commuting
Ceri has already noticed a difference to the amount she is spending on fuel each month and sees her e-bike as an investment that will save her more money in the longer term. She says:
"It also saves me time.
"I usually go to exercise classes after work but, by the time I get home, get changed and travel there, it takes up most of my evening.
"With the e-bike I am getting it all done during my commute. It's great for busy lifestyles.
"And, though at first the cost savings were more important than the environmental impact, you really do feel a sense of doing good in the world when you cycle past all the cars.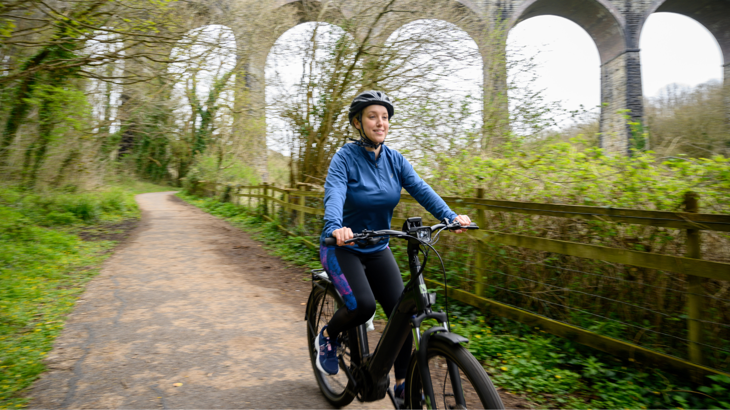 Ceri pedals into a healthier, happier commute on her e-bike. Photo credit: J Bewley.
Try an e-bike – it could change your life
"Being able to trial the e-bike, with no strings attached, was great.
"If you're thinking about it, just do it. You have nothing to lose and so much to gain.
"This experience has literally been life changing for me.
"It's a new hobby, it saves you money and it's so good for your wellbeing."
About the E-Move project
E-Move is a Welsh Government-funded project, delivered in partnership with Sustrans, that enables people to borrow electric cycles for free for four weeks.
There are 20 e-cycles available through the scheme in Barry and the surrounding area to make use of.
The project also runs in other cities and towns across Wales, including Aberystwyth, Newtown, Rhyl, and Swansea.
The E-Move project has helped people with poor public transport links, no access to cars, and age and health conditions to access and borrow e-bikes for free, with 70% of participants reporting a positive impact on their health, and 76% reporting a positive impact on their wellbeing.
E-Move: Piloting e-bike and e-cargo bike loans in Wales
Take a look at our other personal stories
Our Storytelling team is waiting to hear your story.
Every journey is unique, and your experiences can inspire others. Whether it's overcoming challenges, celebrating triumphs, or navigating unexpected turns, your story can make a difference.