Nine years ago, Colin and his partner Diane met on a blind date on the National Cycle Network. The two have been together ever since, sharing their tandem-biking adventures on their blog, Matilda's Musings. This Valentine's Day we caught up with Colin to talk love, tandem-biking and staying healthy and happy during lockdown.
Who knew a blind date on the National Cycle Network would lead to a new hobby as well as a new relationship?
We're sure you're tired of telling this story by now, but would you mind sharing how you and Diane met?
Oh, I never get bored of telling our romantic story because it is so crazy that it seems totally unbelievable!
It was definitely one of those quirks of fate moments, reminiscent of the movie "Sliding Doors", showing that romance was most certainly not dead.
We were fixed up on a blind date some nine years ago now and had originally planned a picnic and a walk at Loch Katrine near Callander.
It's part of National Cycle Network Route 7. 
As I arrived at the car park I noticed tandem bikes for hire.
I thought it would be a fun way to break the ice and remove any first date awkwardness.
The result was that we both got hooked on tandeming immediately.
Despite the constant heavy rain that day and Di falling off into an unglamorous muddy heap on at least two occasions.
But instead of moaning, she burst out laughing!
And the rest, as they say, is history! We fell in love with a new hobby and each other.
Within months we had bought our own classic Jack Taylor tandem - which we affectionately named Matilda - for weekend trips on our bicycle made for two while dating!
Then just a year after that infamous blind date on the National Cycle Network, I gave up my life in Glasgow.
And I moved to rural Perthshire where we moved into a new house together, complete with Matilda in the garage!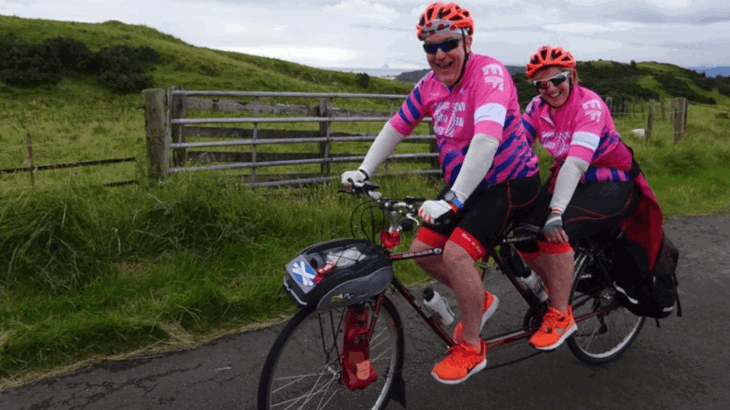 All geared-up with Matilda the Jack Taylor tandem.
What is it about tandem cycling that you find particularly appealing?
Well, there is the obvious romantic connection of pedalling together, ideal for a pedal with the love of your life on February 14.
But all year round it's great.
We like to have fun when out on our tandem Matilda on the National Cycle Network.
And we like to live up to our twin mottos of "it's always better when we are tandeming together" and "it's the smiles, not the miles that count".
Quite simply we like to have fun and a laugh when cycling.
And riding together on one bike frame is a perfect recipe for coupledom.
The buzz of pedalling together as one unit - both up and down hills - is something that just cannot be replicated on standalone bikes.
Or "half bikes" as us tandemers call them!
And the added benefit is that one and one really does add up to three on a tandem in terms of power output - and of course sheer joy.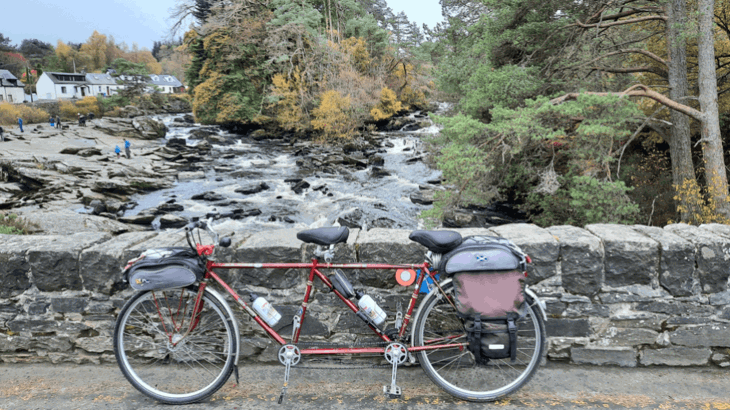 Matilda the tandem bike is the narrator of the Matilda's Musings blog, and the UK's only blogging tandem bike.
Your blog is excellently written from the perspective of Matilda, the tandem bike. How did you come up with the idea?
You are too kind.
As anyone who clicks onto the Matilda Musings blog will discover, it is quite unconventional as Matilda is actually the UK's only blogging tandem bike.
When we first thought about the idea of a blog, it was simply to have an online way of recording our fun trips and photos of our rides together on our bicycle made for two.
But I then decided that if we were going to have a blog then I wanted to make it stand out and be original.
So I decided that the blog should actually be "written" by Matilda.
So with self-deprecating humour, the blog recounts her musings of trips with her "dynamic crew" - made up of the "old git" (aka me) and the "old gal" (aka Diane).
The (hopefully) amusing tales of her adventures focus on our tourism and food and drink experiences en route, which you may have correctly guessed make up a huge part of our road trips.
Matildas Musings has certainly captured the imagination over the years among cyclists and non-cyclists alike.
It has an ever-expanding fan base not just in Perthshire and within the tandem community.
There are regular readers as far away as China, South America, the Yukon, Thailand, New Zealand and right across Europe.
If anything this fame has gone to Matilda's head a little.
And she seems to have got cheekier in her comments about me and Diane as her personality develops over the years!
But equally, she knows her place and never crosses that line (well not yet anyway).
And she realises that without her dynamic crew there would be no Team Matilda and nothing to blog about!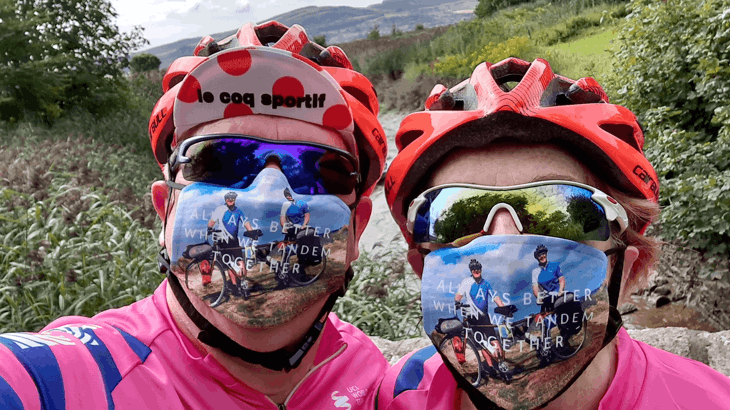 Always follow Covid-19 guidance when out and about during lockdown- even if you're on a romantic tandem-biking date!
What effect do you think cycling has had on your general wellbeing? Has it helped you to cope with the lockdowns?
Undoubtedly, tandeming kept Diane and me healthy, mentally and physically, during the first 3-month Covid-19 lockdown from April to early July last year.
We feel very fortunate and blessed to have survived the Covid-19 lockdown period.
And it's thanks to our exercise regime of regular fun adventures while adopting the #CyclingFromHome mantra, with each ride starting and finishing at our garage.
Many of the routes from our base in Auchterarder in Perthshire are often being repeated due to the limited options
So we decided that we would make each tandem ride different or memorable - keeping up our fun and smiles quotient!
As the miles built up our initial target was to clock up a virtual JOGLE - John O'Groats to Lands End - but we easily hit that achievement.
In total, we recorded 1,000 miles on our bicycle made for two over 40 different rides, before the strict lockdown restrictions were lifted.
Matilda naturally decided to put together a special blog as a photo timeline of Team Matilda's life during that first pandemic lockdown.
Complete with a single image from each of our rides to create a simple pictorial chronological record of our madcap adventures.
We have already started our #Lockdown2 rides in tandem.
But the Arctic weather here in Perthshire is keeping our mileage lower than we would wish at present.
But as soon as the temperatures rise above freezing we will be back out pedalling to keep fit.
And clocking up more miles!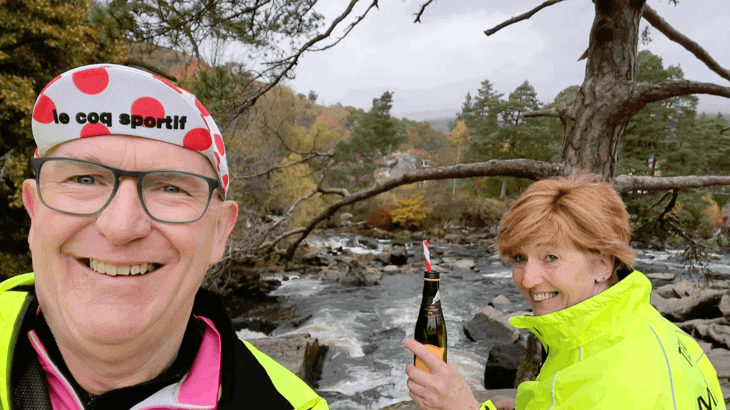 A prosecco picnic is Colin and Diane's favourite way to add some luxury to their adventures.
Your blog is a great place for getting cycle route inspiration. And we love that you include so many from the National Cycle Network.
Do you have any particular routes that you would recommend? 
This takes us back to where we started, meeting on National Cycle Network Route 7.
Not surprisingly, given the role it played in Diane and I getting together, it remains one of our favourite cycling routes.
We often revisit Route 7.
And our favourite part is exploring the fabulous 22 miles totally off-road cycle route from Callander to Killin.
It's a great route for romance.
That is the romance of the spectacular Scottish countryside deep in the heart of Rob Roy Country in Loch Lomond and The Trossachs National Park.
The route has everything you could possibly want to make it a brilliant day out:
a bit of monster spotting at Loch Lubnaig

a great bike-friendly cafe serving strong coffee at Strathyre

viaducts

old railway lines

and a perfect spot for a prosecco picnic at the Falls of Dochart at Killin.
What more could anyone ask for?
The highlight of the ride is the section following the old Callander to Oban railway, up thru the foreboding Glen Ogle.
But in reality, you will hardly notice the climb as you will be too busy taking in the magnificent beauty and raw nature views across the Glen to the dramatic moody mountains beyond.
That is just one highlight, there are many others too numerous to mention.
But basically, we love being out on Matilda tandeming anywhere on the National Cycle Network! 
So if you see a tandem on the National Cycle Network routes somewhere in Scotland - or further afield - with a loved-up nutty looking couple wearing matching Day-Glo orange or pink cycling jerseys, it will probably be Team Matilda!
And there's bound to be a related blog about our latest trip on our bicycle made for two.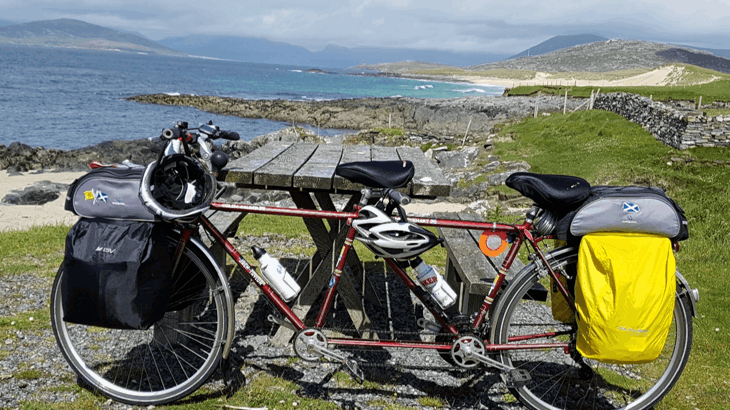 Gorgeous views are sure to be found along the National Cycle Network!
Thanks very much, Colin. We look forward to keeping up with Matilda and her musings on future adventures.
Thank you and hopefully, a few more people will follow Matildas Musings blog.
And I want to wish a Happy Valentine's Day to everyone who uses the National Cycle Network.
You just never know when you will have a romantic life-changing event when out on a pedal.