Danny lives in North Ayrshire, and started cycling around 25 years ago. When his tandem bike fell into disrepair, he gave it up. But thanks to a Sustrans-funded assisted tandem at his workplace, Danny has revisited his love of cycling during lockdown, helping him keep healthy and active during the pandemic.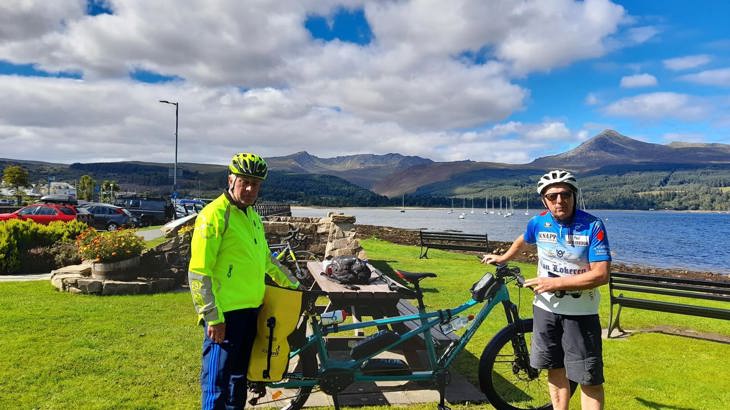 Danny got back into cycling during lockdown, thanks to a loan of an assisted tandem bike from Sustrans Scotland workplaces team.
I've always loved cycling, and first started around 25 years ago, with my biggest trip for charity around the perimeter of Scotland, around 100 miles a day.
Years ago, my tandem bike got into disrepair due to a leak in my shed, so I wasn't able to go out anymore on it.
I'm registered blind, so I also need to find a regular pilot for tandem cycling.
Keeping fit and active is really important to me, so I started going to the gym 4/5 days a week instead.
Workplace bike loans
When the pandemic hit, I wasn't able to get to the gym anymore. And with my partner working away and family shielding, it wasn't easy to just go out for a walk.
I had heard through Sustrans workplace engagement officer David that there was an assisted tandem bike available for loan.
I was really keen to get back out on a bike, and this would mean I could get some exercise during lockdown.
Exploring together
I reached out to David and he couldn't have been more helpful. He said I could have the tandem on long-term loan.
After some training with my pilot John, we were off. It's great to have a pilot you fully trust and can get out exploring with.
We try to get out a couple of times a week. And once lockdown eases a bit, I've plans to ride to and from work on a Friday with my brother.
Keeping active during lockdown
It's been great to keep healthy during lockdown and get some exercise outdoors. Without the bike, it would have been difficult to do.
As lockdown has eased a bit and gyms are back open, I've kept cycling. I still go to the gym a few days a week, but getting out on the bike is now part of my week.
It's great to go out with someone who loves cycling as much as me.
My pilot John commentates all through the journey, so when I get home I can say exactly where we've been and what we've passed.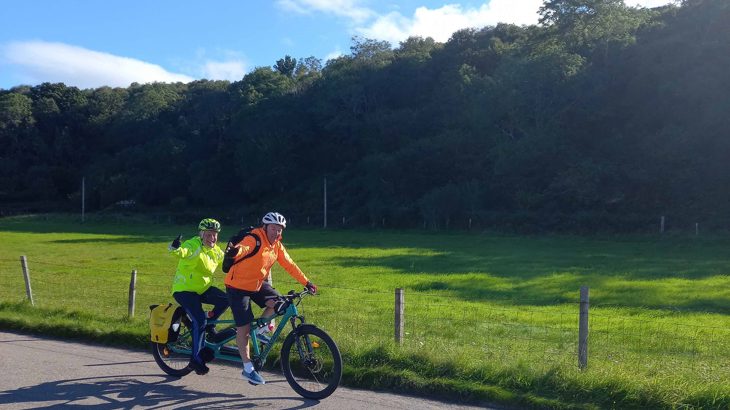 Danny and pilot John cycling in Arran.
Exploring Scotland by bike
We recently cycled around Arran, 66 miles in under 4 hours. The assisted bike is perfect for the hills, and it's great to ride. I call it the Rolls Royce of bikes.
It's been great to get back out on the bike and it's amazing that I've been able to access this through my workplace.
I hope to continue cycling long into the future. My dad was completing half marathons in his early eighties, so hopefully, I'll follow in his footsteps.