Sustrans Scotland Greenways Programme Coordinator, Kristen Layne, has been living car-free for the last six months. So we checked in with her to find out how easy it is to completely ditch the car.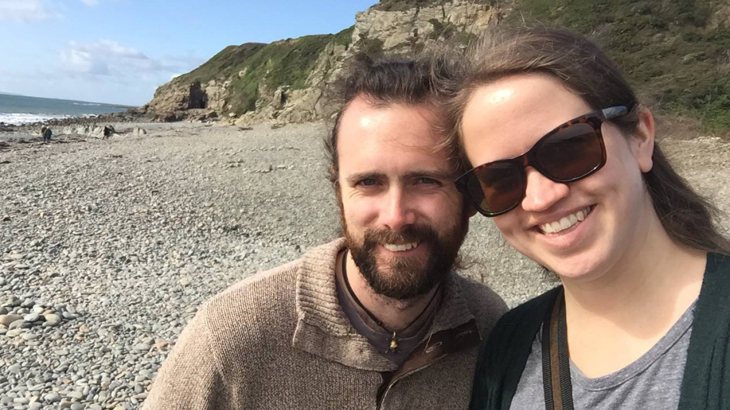 Kristen and her partner have been living car-free for six months
I grew up in the southeast USA. Getting your driving license at 16 was a huge rite of passage – and a necessary one. There wasn't any public transport to speak of and being able to drive, and own a car, was essential to getting around.
When I moved to Scotland, I was excited to discover that a car wasn't a necessary feature. Trains connected most cities and towns, and busses made moving around locally easy.
And then, of course, I had my bike to cover small distances as well. Still, I ended up buying a car because surely I couldn't get away with not having one, right?
The car feels free to use
After my husband and I moved to Edinburgh from Dumfries and Galloway, we realised that our car spent a lot of time sitting in our tenement's overgrown parking lot.
It seemed like one of the few times we moved it was when we ended up in rows with the neighbour over whose parking spot was whose!
We also found ourselves treating the car as the 'easy' answer for going to the store which was an easy walk or cycle away. And then feeling guilty for not choosing the environmentally friendly and healthy option.
Compared to the bus or train, using the car felt 'free' to use. But when I looked at our budget spreadsheet, it was actually far from it.
I summed up all of the car-related expenses over the course of a year – petrol, insurance, taxes, repairs, service, and the (very) occasional car wash. And I realised we were spending on average £170 a month on the car.
That seemed a lot when it was only being used once or twice a week if that.
Ditching the car for good
We talked about getting rid of our car, but never seriously considered it.
Until all of a sudden, it needed £1,000 worth of repairs. Rather than shell out, we decided to give a 'car-free' lifestyle a go.
Then I started keeping track of what we spent because we didn't have the car.
From September to February there were eight trains that either one or both of us took when we otherwise would have driven.
But those eight trips also meant no stress about parking, no road rage, no exhaustion getting home. And the opportunity to have a cheeky cocktail before heading home.
Non-car travel options are usually less stressful, not to mention more environmentally friendly and often healthier.
Car clubs help when you're stuck
Completely giving up the ability to even access a car seemed like a step too far, so we joined the Enterprise Car Club. It allows you to use an app to borrow cars for anywhere from 15 minutes to weeks on end.
Through my work I was able to join for free, and it cost £10 to add my husband to the membership.
Saving money along the way
Through the car club, we took a weekend birthday trip to Alton Towers (£170). We spent Christmas in a small village in Dumfries and Galloway which is inaccessible by public transport from Edinburgh (also £170).
We spent Hogmanay in Castle Carrock in Cumbria, which doesn't have a public transport connection (£103). And we splurged on the car for a weekend trip to Dumfries so we didn't have to juggle trains and busses (£88).
Then there were the little errands. We hired a car club car to buy a new television (£7). We used it to buy a Christmas tree (£10). And to pick up and return a lawnmower from the tool share library across town (£21).
Travel alternatives are usually less stressful
With the car club, we had the option if we really needed it or wanted it, but increasingly we've found that the non-car option is preferable.
It's usually less stressful, not to mention more environmentally friendly and often healthier.
I've been down to visit the friend in Castle Carrock again since New Year. She picked me up at the Carlisle station, no problem.
We worried that we wouldn't be able to do our 'big shop' which was always a headache without a car. We've now broken it down into a series of smaller shops which we take turns doing.
Knowing that I have to carry home whatever I buy has also helped me shake the habit of buying extra snacks 'just because'. Who knew ice cream was so heavy?
I have also started making an adventure out of cycling across the city on a Saturday. I'll try out a new greengrocer, or visit a market. Or I investigate the bakery that a colleague has been raving about.
So all in all, I saved about £40 a month. I've curbed my impulse buying. And I've discovered new places to shop. Not too shabby!