The Spen Valley Greenway is a seven-mile green corridor between Dewsbury to Oakenshaw, with linking routes into Bradford town centre. This popular walking and cycling path is part of the National Cycle Network and is cared for by Sustrans' team of staff and volunteers. Rob Winslade, talks about his work on the Spen Valley Greenway and Ringway and new developments to make the route more accessible for everyone.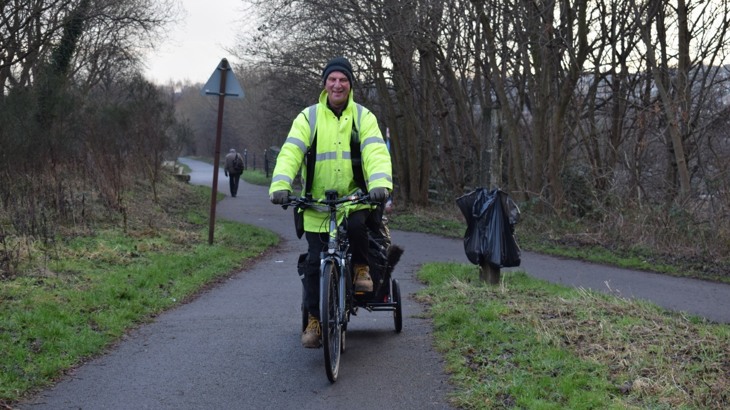 "I'm fortunate to live about a quarter of a mile from the Greenway so I start at around 7:30 AM on my e-bike and trailer.
"I spend a couple of hours making sure that everything is good on the path and there are no obstructions or problems on the pathways. Then we change the bags of litter left by users.
"We gather between 60 and 70 bags of litter a week usually. All in all, it takes a couple of hours in the morning and a couple of hours in the afternoon.
 "I really enjoy being outside and I've got to meet some lovely, interesting people in the last six years who have become friends along the way. It's a beautiful place to be, regardless of the season.
"The Greenway includes several artworks, such as Sally Matthew's flock of Swaledale Sheep and 'Rotate by Trudi Entwistle's, which are popular local attractions.
"It's a great route for walkers and cyclists and they rub along together 99% of the time. We also get a lot of dog walkers which is one of the best parts of my day - everyone likes to fuss a dog.
"There are lots of commuters on the path as it's about half an hour long so it's a great way for people to get to and from work between Bradford and Dewsbury.
"The Greenway is definitely a much more enjoyable place to cycle than on the roads.
"Sustrans is working across the National Cycle Network to improve access to traffic-free paths for people with disabilities and for buggies, mobility scooters and adapted bikes. "Access is already pretty good on the Spen Valley Greenway but we're working to open up more sections.
"Since I started working on the route, more disabled-friendly access routes have been created, for example at Green Lane and Oakenshaw in the past two or three years. Most access points can now be used by a disabled person.
 "The Jo Cox Community Wood was recently created by the Spen Valley Civic Society and volunteers about 20 yards from the Greenway.
"The wood has picnic benches and is a great place to stop and rest. It's near The Sheep, which is constructed from recycled industrial scrap, an institution on the route. It's a lovely place to spend time."