Parking vehicles where they obstruct pavements is often inconsiderate and can put people's safety at risk. With other nations in the UK making progress in this area, our Director for the south of England, Sarah Leeming, explains her goal to finally see pavement parking illegal in England too.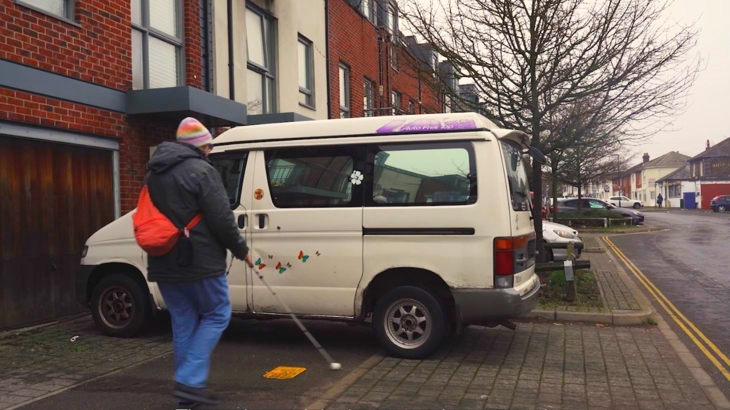 Vehicles obstructing pavements make walking and wheeling difficult and hazardous for everyone. Credits: Toby Spearpoint/Sustrans
Having the licence to think big
A number of years ago, a most excellent colleague of mine introduced the idea of a 'wouldn't it be amazing' goal. 
This felt like a license to think big, to not worry that a goal might be too grand and to be honest of the insights from my role. 
So, in May 2022 I set about establishing those goals I felt would have the most real-world impact.   
It didn't take me long to land on the thing that I, like many of my colleagues, feel very passionate about; pavement parking.   


Pavement parking has become a norm
As car ownership continues to rise, so does home and business deliveries.
Parking on the pavement is so common it has become the norm. 
The issue is complex and ranges from a disregard for pavement users, to confusion about the Highway Code laws with drivers feeling compelled to park on the pavement to ensure the road is accessible.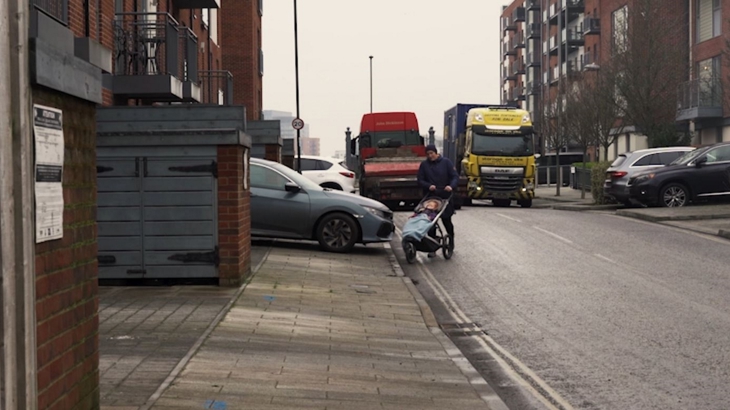 It's become the norm to see people stepping into the line of live traffic to maneuver around parked vehicles. Credits: Toby Spearpoint/Sustrans
Inconsiderate and hazardous for walking and wheeling
Pavement parking is one of the most common complaints made by people walking.
Obstructing a walking and wheeling route is inconsiderate and is particularly hazardous to children, older people, people with visual impairments, with reduced mobility, and people using pushchairs.
Sustrans' Walking and Cycling Index report found that banning pavement parking would help 70% of all residents to walk or wheel more in towns and cities across the UK. 
Alongside this, Sustrans' Disabled Citizens' Inquiry, which gives disabled people a voice in walking and wheeling policy and practice, found that 79% of disabled people would find creating a national pavement fund to maintain and improve pavements useful for them to walk or wheel more.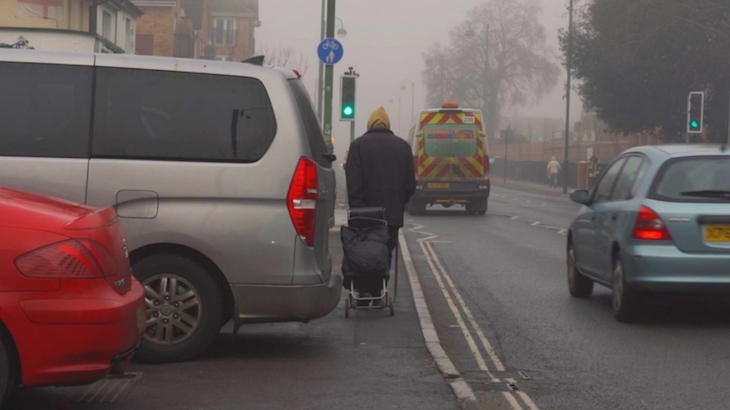 Obstructed pavements make walking and wheeling hazardous and difficult. Credits: Toby Spearpoint/Sustrans
Wouldn't it be amazing to see the end of it?
As much as I would like to wave my magic wand and solve the problem overnight, I had to inject a little realism into my goal.
I opted for: 'Wouldn't it be amazing if I helped get pavement parking banned in England'.
Of course, this goal still sounds, and is, largely unrealistic since car dominance in the UK has become so entrenched and laws are complex. 
But I can help to spread the word about the lived experience and impact that pavement parking has on people and call on the government to take action in England.


Capturing real world experiences to spread the word
On a very cold day in February, myself and a few residents came together to create a video on the matter.
We shared our views on inconsiderate pavement parking and the lack of progress on the issue in England, particularly outside of London. 
Despite the Department for Transport's consultation on pavement parking in 2020, it is yet to publish a summary of the consultation and commit to next steps on the issue.
The Highway Code states that vehicles should not be parked on the pavement, but this is only advisory, not enforceable. Video: Toby Spearpoint/Sustrans
About the author
Sarah has over 20 years experience of working within the environmental sector.
For the last 14 years she has worked in various roles within Sustrans leading and motivating teams to engage with communities in the South of England to make walking, wheeling and cycling the first choice for everyday journeys.
Sarah is passionate about tackling the normalisation of pavement parking. She wants to raise awareness of how our car dependent society is now encroaching on the space where walkers and wheelers should feel safe. 
Read more of our opinion blogs