Clean air is essential for our health and wellbeing, as well as the good of our planet. This Clean Air Day, Karen McGregor, Scotland Director at Sustrans, explains how making small changes to the way we travel can make a big difference to the health and wellbeing of communities across the country.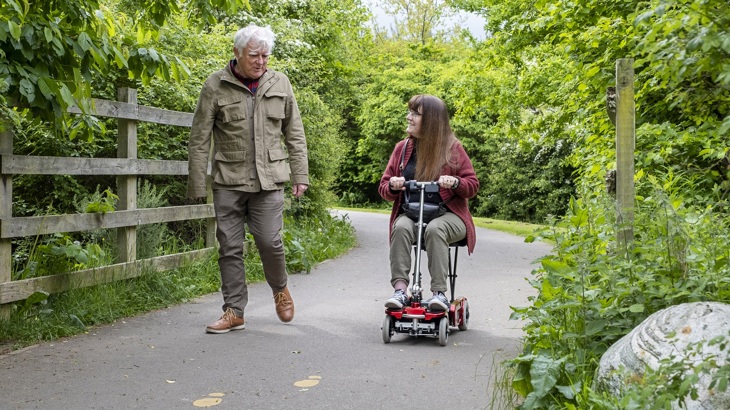 Making small changes to the way we travel can improve the health and wellbeing of communities across the country.
Because we often can't see air pollution, it may seem as though it's not affecting us here in Scotland.
But unfortunately, this isn't the case. 
Most pollutants are created through everyday human activities like road transport, the burning of fossil fuels and emissions from agriculture and industry.  
We therefore all have an important part to play in improving the air quality in our towns and cities. 
And small changes to our everyday habits can make a big difference. 
But what can this change look like in our day-to-day lives?
And what Scotland-wide actions are being delivered to help us reduce our emissions?
Why does this matter?   
Improving the quality of the air we breathe really is in everyone's best interest.
We know that exposure to air pollution has been closely linked to many serious health complications. 
Between 28,000 and 36,000 early deaths are attributable to air pollution each year in the UK.
Children and older people are particularly at risk because of their age, as well as those with existing respiratory and cardiovascular conditions. 
This is why it's so important that we act now to protect the most vulnerable in our communities. 
By taking decisive action, we will not only improve the health and wellbeing of people across Scotland, but also help tackle the climate and nature crises at the same time.
What has air pollution got to do with Sustrans? 
Road transport makes up 68% of transport greenhouse gas emissions in Scotland and is also a source of a number of air pollutants, such as particulate matter and nitrous oxides.
It therefore makes sense that one way of improving air quality in our towns and cities is to reduce traffic levels.  
And that's where we come in.
Sustrans is the charity making it easier for everyone to walk, wheel and cycle for more of their everyday journeys.  
Short car trips contribute disproportionately to our emissions. 
We can dramatically improve air quality by choosing to travel actively and using public transport instead for our everyday journeys.  
That's why we're working closely with our partners to create more cohesive, inclusive and connected networks of routes, streets and spaces, allowing more people to leave the car at home.  
It's also vital that we work with communities to bring them along with us as we make it easier for everyone to walk, wheel and cycle.
We need targeted support which engages more people, builds confidence, raises awareness, and inspires more people to change how they get around.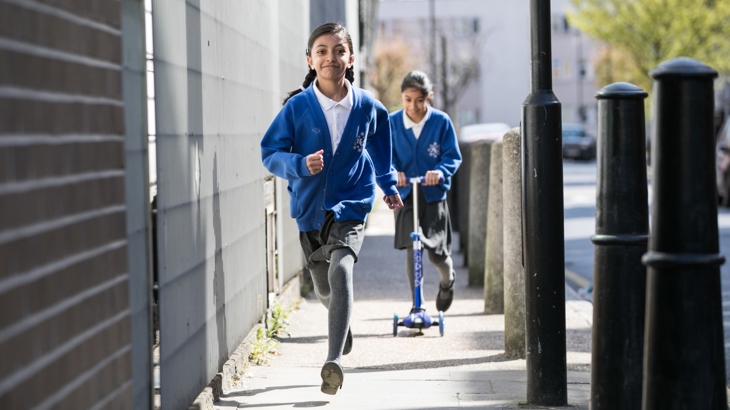 Inspiring people to change the way they travel is an important step in creating cleaner air in our communities. Photo credit: Kois Miah
Scotland-wide action to tackle air pollution 
Like many other places in the world, we are facing a significant challenge with air pollution – especially in our cities.
We know that active travel has a key role to play in reducing our emissions and making Scotland healthier, fairer and greener.  
But to reach our targets, other measures like Low Emissions Zones (LEZs), traffic reduction, road pricing and public transport improvements must also be introduced.  
And there are positive changes happening which are bringing us closer to this reality. 
On 1 June, Glasgow became the first Scottish city to enforce an LEZ in the city centre, with Edinburgh, Aberdeen and Dundee to follow in 2024.
We welcome the roll out of LEZs and are pleased to see Transport Scotland ensuring the transition is fair by making sure support and funding is available to eligible households and businesses.
In Madrid, nitrogen dioxide emissions were reduced by 32% one year after an LEZ was created in the city centre [3].
Not only that, but the city also created pedestrian zones, improved public transportation and discounted parking fees for green vehicles.
This shows us that a joined-up approach to tackling air pollution in our towns and cities is essential.  
We will continue to support the Scottish Government and our delivery partners to create healthier, safer and more sustainable communities which have a positive impact on everyone within them. 
What can I do? 
The challenge may seem huge, but we can all take simple steps to improve air quality in our local area. 
It may sound clichéd, but one person really can make a difference. 
Right now, you can choose to leave the car at home for short journeys and walk, wheel, cycle or take public transport there instead.  
Driving to the shops on one occasion may not seem too bad but, over time, those short car journeys add up.  
So, if all of us chose to travel actively or take public transport to the corner shop or railway station, it could have a genuine impact on the quality of our air.  
Contrary to popular opinion, electric cars are not a silver bullet solution. 
We need to reduce overall traffic levels so that there are both fewer as well as cleaner motor vehicles. 
Walking, wheeling or cycling is fun and has many health benefits, such as helping to manage anxiety and reduce the risk of heart disease. 
Plus, many public transport operators are using technology to make it easier than ever for people to plan journeys by bus, train or tram.
Why not give it a go?  
Looking ahead  
The evidence is clear – we must act now to reduce air pollution. 
There are actions for everyone on an individual, community, business and government level. 
Choosing to walk, wheel, cycle or travel by public transport is a simple but effective way that people across the country can help to improve the quality of the air.  
But individual action must also be backed up by robust policy, infrastructure, and, importantly, the encouragement and support needed for many more of us to confidently make these changes.
So, let's clean up our act and make Scotland a safer and greener place to live.
Read our position on improving air quality and the role for walking and cycling.

Learn more about how air pollution could be affecting you and your family's health.