The use of cargo bikes for deliveries has a vital role to play in reducing van traffic in London and across the UK. In this blog, we look at new research that outlines further steps that could be taken to support the growth of this thriving cargo cycle sector.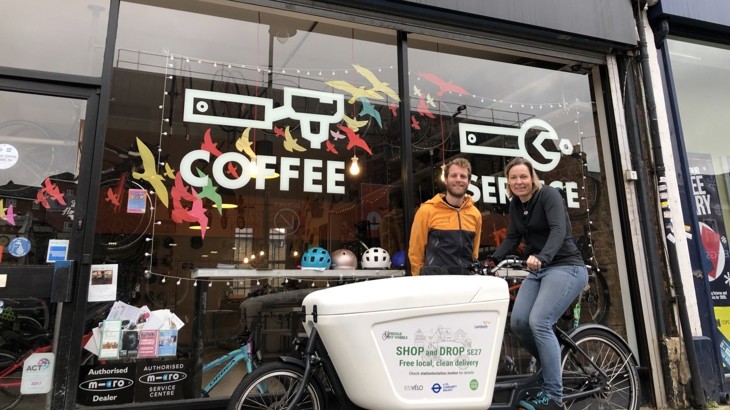 Cargo cycles in London could replace over 10% of van traffic, which would be a huge benefit for the environment.
The importance of cargo cycles in London
Cargo cycles in London could replace over 10% of van traffic, which would be great news for Londoners and the planet.
Vans are making up an increasing share of traffic in London, which is contributing to congestion, pollution, road danger and global heating.
Greening these trips by using cargo cycles instead is therefore key to creating a healthier, happier London and a more environmentally sustainable planet.
But what more can be done to support the sustainable growth of this industry?
And in particular, how can we ensure that the sector is not only good for the planet but also good for the people working in the sector?
Good work in the cargo cycle sector
The University of Westminster has been considering this question, as part of a project funded by Impact on Urban Health.
With partners, they conducted research into the experiences and working conditions of cargo cycle riders in London.
The group analysed academic and 'grey' literature such as reports.
They undertook 22 semi-structured interviews, with 11 riders and 11 managers across 15 cargo bike companies in London.
And they hosted two supplementary focus groups, conducted separately with riders and managers.
Key findings reveal how riders really feel about their job
The results of this research have been published today, along with policy recommendations.
Some of the key findings in relation to working conditions are:
Riders feel undervalued
Like many jobs in the logistics sector, riders are in low-paid work.
They feel that this undervalues their labour and fails to reflect the highly skilled and demanding nature of their job.
Car-dominated streets marginalise non-motorised road users
A core part of their job requires navigating car-centric streets that marginalise non-motorised road users.
The stress and difficulties of this are compounded by the lack of clear standards around riders' training, as well as the lack of adequate provision of equipment, infrastructure and facilities.
There are often barriers to creating an inclusive workforce
The informal work cultures and ad-hoc management practices prevalent across cargo bike companies, particularly smaller ones in the 'start-up' phase, can pose a barrier to creating a diverse and inclusive workforce.
Low consideration of wellbeing creates a poor work environment
A narrow conception of wellbeing, coupled with implicit requirements that riders should have grit and determination, or be tough, create an unwelcoming environment.
This is especially true for female and non-binary riders, and riders of colour.
Job security is vital for wellbeing
As cargo bike logistics companies and the sector expand, managers face challenges around financial sustainability.
This is often linked to increasing inflation, rising prices and the withdrawal of financial support from the government.
Job security is vital, and without it, riders feels this negatively affects their wellbeing.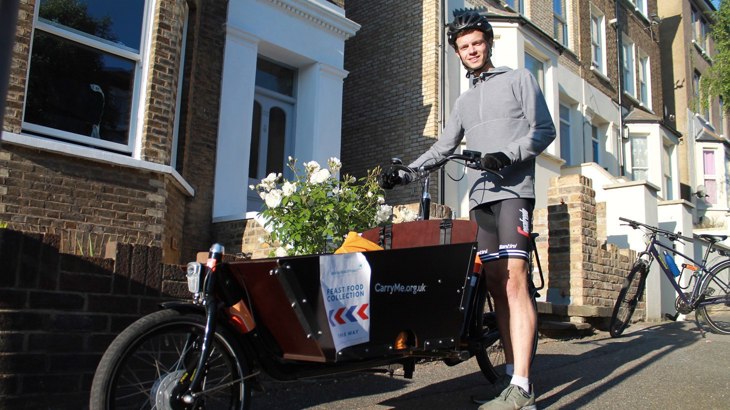 The report recommends that Transport for London and London boroughs should expand the network of wide, separated cycle lanes to encourage more people to choose a cargo bike over a car.
Recommendations from the research
Four recommendations in the report which potentially have the most potential to create a thriving sector are:
1. Separated cycle lanes
Transport for London and London boroughs should expand the network of wide, separated cycle lanes.
They should also remove existing barriers affecting cargo bikes and adapted cycles across London's cycling network.
Supported by much clearer maps of such infrastructure, this would provide the necessary safety and space for riders to undertake their work.
2. Couriers' hubs
Transport for London should create couriers' hubs that provide sheltered public space for cycle couriers (whether on e-bikes, e-cargo bikes or push bikes) to stop and rest in between or during deliveries.
At a minimum, these hubs should include benches, tables, toilets, water fountains, phone charging points and battery charging points.
Rolling out such a provision would go a long way to supporting good work in the sector.
3. London Living Wage
Cargo bike operating companies should ensure riders are paid at least the London Living Wage.
Many operating companies already take this approach, and others following suit would help embed the difference between this and other parts of the logistics industry.
4. Equity, diversity and inclusion
Cargo bike operating companies should adopt clear equity, diversity and inclusion strategies to diversify the workforce at all company levels, including management.
The report highlights the lack of diversity in the sector, so operators should employ structured strategies to tackle this issue.
This would not only help improve conditions and the sustainability of this sector but could also help extend the diversity of cycling in London more broadly.
You can read the full report and all the recommendations proposed by the study on the University of Westminster website.
Next steps
We are working with the University of Westminster and other partners to raise awareness of these findings and the recommendations that go with them.
We have invited policy-makers to a launch event for this report.
And we will be writing to others to request that they consider these findings and recommendations.
London needs a thriving cargo cycle culture
We want to see a cycle logistics sector that thrives in all respects
And implementing these recommendations is a key part of that continued growth and impact.
Take a look at the latest research from Sustrans and our partners in the cycling and walking sector.
Thinking about investing in a cargo bike yourself? Here's everything you need to know.