We are working with local businesses to provide bike maintenance stations and pumps at key stops along the National Cycle Network in Scotland. This will support more people to cycle along the routes as well as helping local businesses to reach more customers.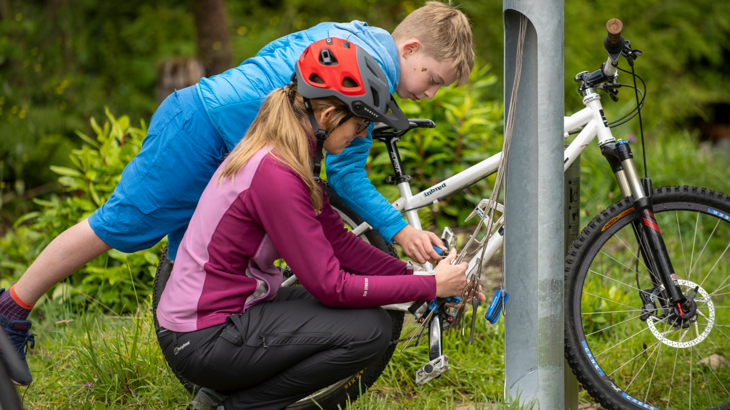 Two people using the bike repair station tools on their own bike. Credit: Andy McCandlish
Six bike maintenance stations and pumps are being installed this spring along parts of National Cycle Network Route 7 and the Lochs and Glen Way, a key leisure cycling route in Scotland. 
You will find the new stations at these locations: 
The Lade Inn, Callander

 

Mhor 84, Kingshouse

Killin Community Hub, Killin

 

Trossachs Pier, Loch Katrine

The Forth Inn Aberfoyle

Moray Park, Doune (half a mile off National Route 765)
W

hat do these stations

offer

?
The stations put cycle tools on the National Cycle Network at handy stops where people need them.
This will help people cycling to make adjustments and repairs during their trips.
It'll also encourage more people to take cycling journeys along the Network as the stations offer that peace of mind to undertake both more everyday journeys as well as long-distance cycling rides.  
These heavy-duty stations feature nine essential bike tools on retractable stainless-steel cables and a stand to elevate a bike off the ground while making repairs. 
The bike pump offers the same ease of use and high-pressure rating as a track pump, with the durability required for long-term public use.
It's an excellent resource for supporting users of the National Cycle Network on their journeys.
The dual-port pump head caters for both Presta and Schrader valve types. 
The maintenance stations also have useful Sustrans stickers with a QR code to access information on all National Cycle Network routes from your smartphone.
Using a bike maintenance station 
What's in it for businesses?
Working with businesses to improve the offering for people cycling is a win–win situation.
Businesses can enjoy increased dwell time and spending as people stop to refuel on food and drinks at cafes and shops.
Meanwhile, cyclists can check over their bikes and fix any minor bike gripes or pump up their tyres for free.
The more journeys people take on their bikes, the less they will rely on their cars, which will improve the overall air quality in Scotland.
The Sustrans Walking and Cycling Index found that people walking, wheeling and cycling took 14.6 million cars off the road in 2021, saving 2.5 million tonnes of greenhouse gas emissions.
Walking and cycling is worth an estimated £36.5 billion to the UK economy each year.
It's how millions of people get to work, go to the shops and travel around their local area healthily, cheaply, and emissions-free.
The bike pumps and maintenance stations have been really well received by both businesses and cyclists. We are keen to work with more businesses to improve their offering for leisure cyclists and encourage more people to get on to the National Cycle Network and explore on their bike.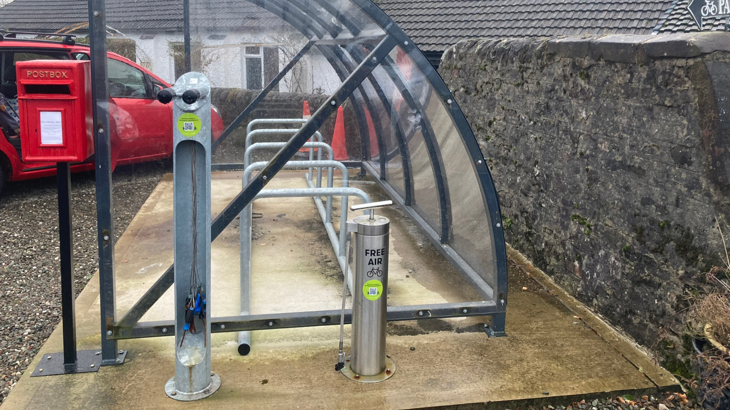 Bike repair station and air pump with Sustrans QR code linking to National Cycle Network routes. Credit: Sustrans
The decision to feature more bike maintenance stations in the selected locations is based on the success of pilot installations at the Broch Café, Strathyre, and the Brig o' Turk Tearoom and Pier Café, Stronachlachar. 
The Broch Café 
The Broch Café is an award-winning family-run café on National Cycle Network Route 7 in Strathyre.
It's a popular stop with people cycling and strolling on the route.
They offer wonderful cakes and a relaxing spot for visitors to replenish their energies whilst enjoying the quiet scenery.
A bike maintenance station was installed in the summer of 2019 and has since recorded a remarkable impact.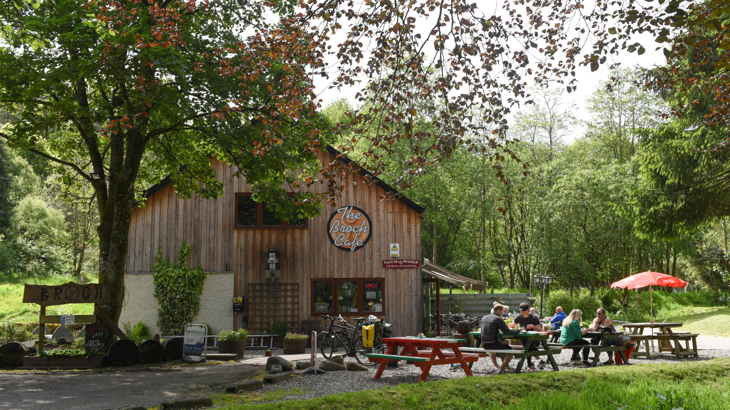 The Broch Café at Strathyre is a popular pit stop with people walking and cycling on National Route 7. Credit: Julie Howden
Lesley Johnston, Owner of The Broch Café
Our pump and bicycle maintenance station was installed by Sustrans and has been regularly used by our cycling clientele, both locals and visitors alike.
We receive positive comments from all who use the facility, and many are pleasantly surprised to find that such a maintenance station is available. 
As a cycle-friendly café, being able to promote that we have a pump and bike maintenance station available is a great marketing tool and one which we are sure will continue to attract cyclists of all ages and abilities to the Broch Café and the village of Strathyre.
The Brig o' Turk Tearoom 
The Brig o' Turk Tearoom is a quaint 1920s tearoom that's nearly 100 years old.
Today, it's a busy vegetarian café where they make their own scones, traybakes and soda bread.
Situated in the heart of the Trossachs, it's a popular stop for people cycling on National Cycle Route 7 and the Lochs and Glens Way.
A bike maintenance station and pump were installed in the summer of 2022.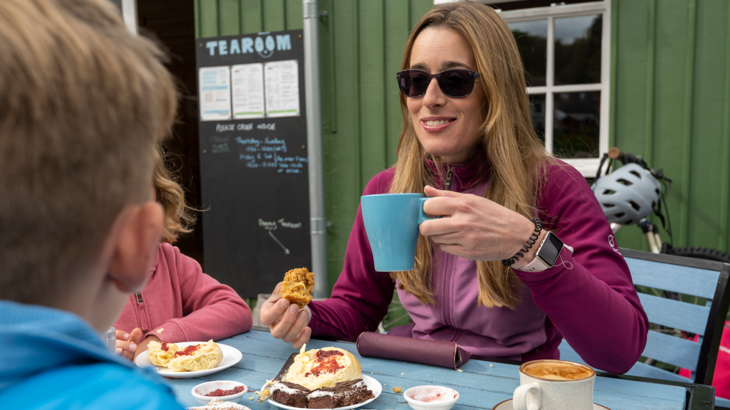 Family enjoying tea and cakes at Brig o' Turk tearooms. Credit: Andy McCandlish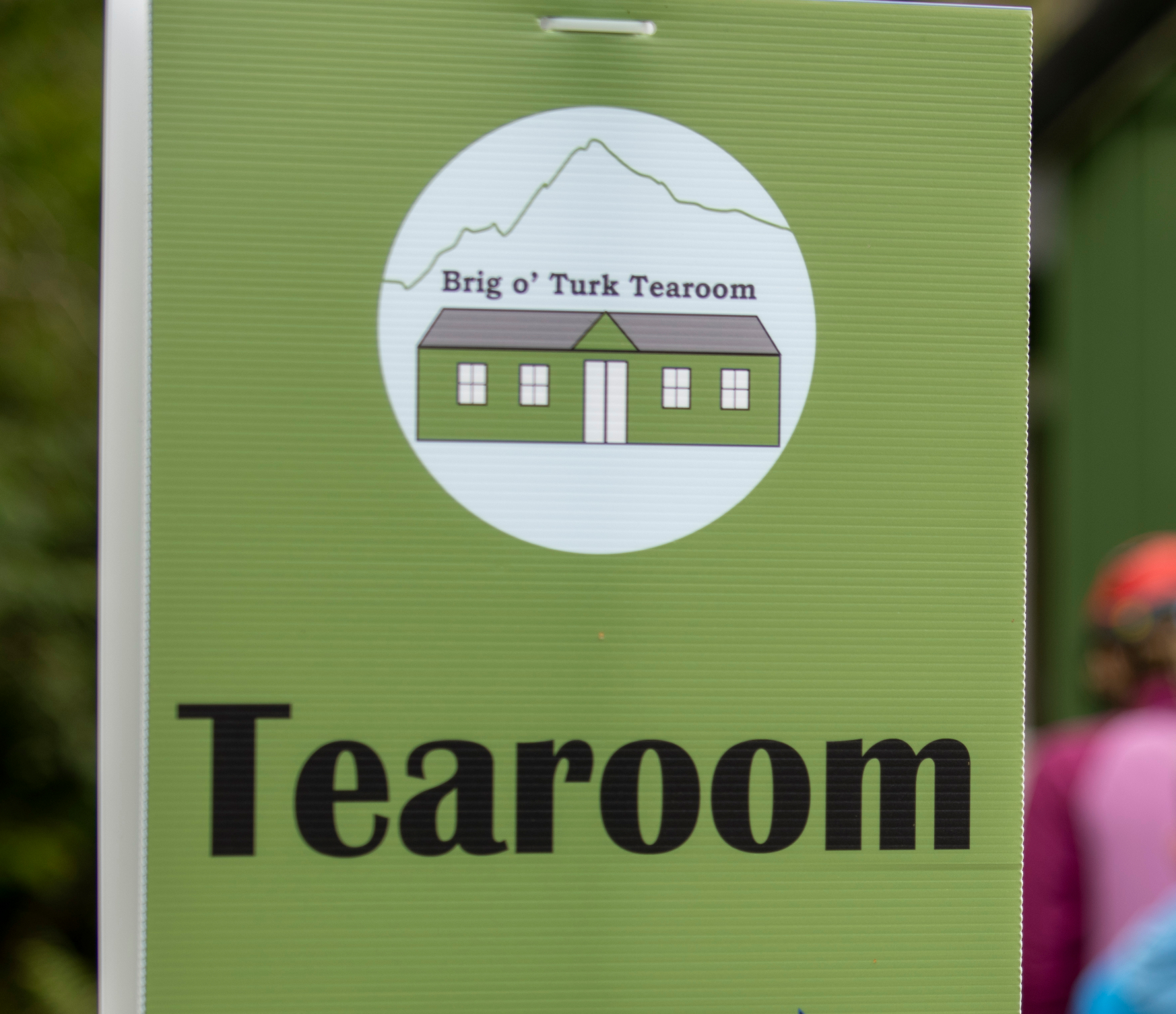 Kay Hill, Owner of The Brig o' Turk Tearoom
When Sustrans offered us a bike pump and maintenance station to install at the tearoom, we thought what a nice thing to have.
What we didn't realise was how quickly it would become an essential resource for cyclists who make the most of this area.
On a number of occasions, we have been told that the tools have 'saved the day' and stopped a nice cycle around the Trossachs turning a bit sour.
There has been a great deal of positivity surrounding the maintenance station and its accessibility, which means it can be used even when the Tearoom is closed. 
Additionally, the bike pump and maintenance station has been a frequent topic of conversation amongst customers, with many taking photos of it so that they can inform their cycling networks of the existence of the resources.
Customers who have visited the tearoom but not cycled have explained that knowing that such tools are available will encourage them to return on their bikes.
Sustrans Scotland wants to connect with local businesses along and near the National Cycle Network and help them see the benefits of becoming a cycling-friendly business. 
Cycle tourism is worth over £345 million per year to the Scottish economy, based on research by Sustrans Scotland in 2015. 
If your business

would like to discuss the

opportunity

of hosting a

bike pump and maintenance station,

please

email Jason Clark

,

Network Engagement Officer Business and Tourism, or call on 07507 765801

.