At Sustrans, we tend to focus our work on how to make people's lives better through active travel. Sometimes, though, our work intersects with the natural environment around us. In this blog, Sustrans Cymru's Land Manager, Andy Rowe, talks about one of his favourite spots – the Clydach Gorge. This area in South East Wales contains a host of natural wonder that underlines why it's a site of special scientific interest.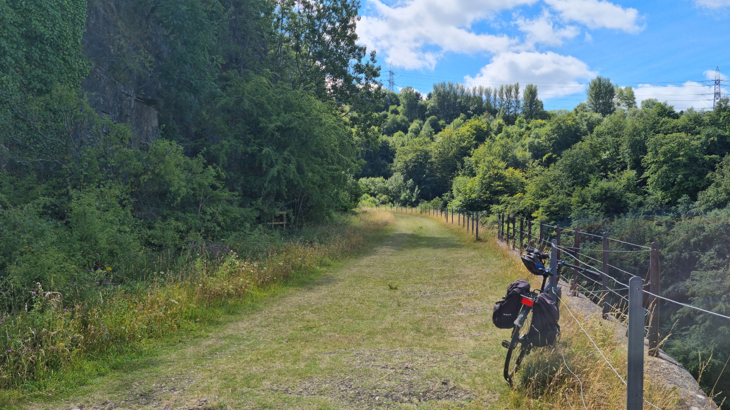 The adventure and natural variety that exists at Clydach Gorge make it worth the trip. Credit: Andy Rowe, Sustrans.
As the Land Manager for Sustrans Cymru, I get to go to some beautiful places, and if I get my job right then everyone else can visit them, too.
One of these, the Clydach Gorge, lies on National Cycle Network Route 46, approximately eight miles west of Abergavenny.
An industrial past and environmental range
Like many paths in South Wales, it's lived many lives – it used to be a railway servicing ironworks, a forge, a limeworks, and a quarry.
The upshot of this for active travellers is that going upwards from Abergavenny is gentle if consistent; you'll soon find yourself taking in wide views of the valley.
One of the most spectacular sections of the gorge is the site of special scientific interest (SSSI), near Llanelly Hill.
Sustrans has a licence on this section, and we work closely with Natural Resources Wales (NRW) to manage it.
Fungal finds and ecological rarities
It's one of the few sections of the National Cycle Network in Wales that is grassed over.
While that doesn't make it ideal from an accessibility point of view, there's a good reason for it.
A parasitic fungus, rejoicing in the name of powdercap strangler, is just one of many fungi in the area.
Along with rose spindles, rosy pinkgill, olive earth-tongue, and waxcaps, these different species are why the path is a greenway rather than tarmac.
The regular mowing that's agreed with NRW provides a habitat for these fungi, most of which should start to produce mushrooms around September-October time.
As the site's fringed with stunning beech woodland, I can recommend the site to any mycophiles reading this.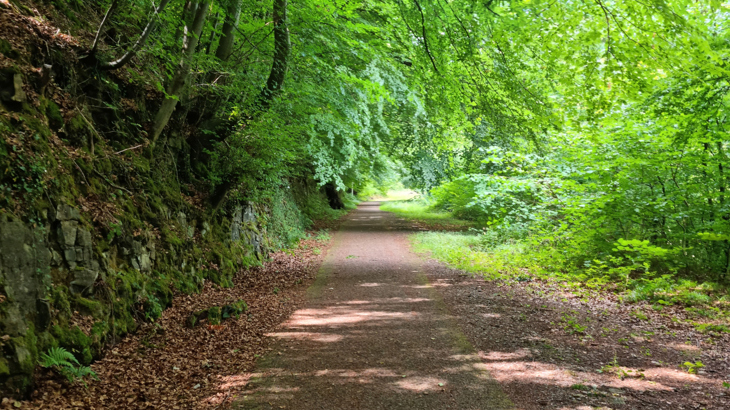 Route 46 on the National Cycle Network running through the Clydach Gorge. Credit: Andy Rowe, Sustrans.
Unique to Clydach Gorge, unique to the world
When I began my role in 2015, a colleague informed me that if I were to cut down the wrong tree at Clydach Gorge, the authorities would lock me up and throw away the key.
It took another year of research to locate the particular tree that threatened my future incarceration.
It is a genetically distinct form of whitebeam that evolved in this valley and exists nowhere else.
Its survival chances are probably helped by its bedraggled, scraggly, and insignificant appearance, meaning few people would recognize an extreme rarity.
It's hiding behind a magnificent rowan tree and apparently doing well, so I'm not in prison yet (to my colleague's obvious disappointment).
An extra special site deserving of extra special care
If I tried to name the species of wildflowers, invertebrates, birds, and mammals that also inhabit the site, I'd end up turning this blog into a long list.
Anyone wanting more details can read the NRW management plan here.
I can't go without mentioning the multitude of bats that roost in the old railway tunnels, but in general I can say that it's a truly biodiverse site, and there's always something to see at any time of the year.
Active travel doesn't just make practical sense in an urban environment.
We know that people value green space and biodiversity, and the Clydach Gorge is a great example of a wild place that the NCN can take you to.
A request from me - if you visit the site, please treat it with care.
If you want to eat mushrooms, a SSSI is not the place to collect them as the fungi are under legal protection.
If prosecution isn't deterrent enough, I have it on good authority that waxcaps taste of wax and eating a rosy pinkgill will give you (at best!) a weekend on the toilet – obviously this isn't speaking from personal experience.
I suggest instead that you just look, photograph, marvel, and enjoy.