Chris Bennett, Head of Behaviour Change and Engagement, discusses our need for safe routes for children walking and cycling to school and what Sustrans is doing about it.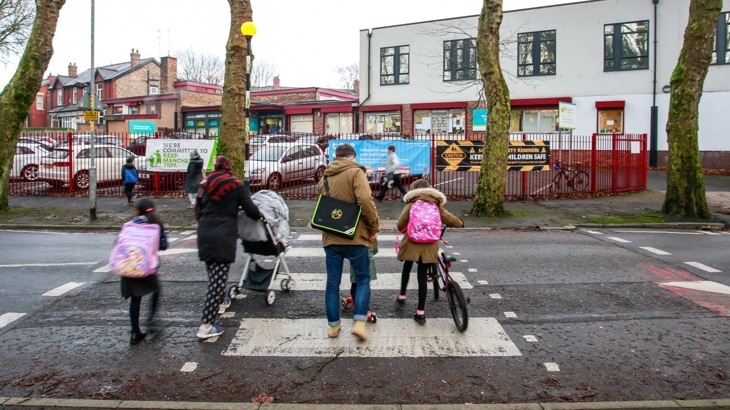 Safe routes will allow children and parents to leave the car behind and walk and cycle their way to school. ©Chris Foster
In the last couple of weeks, I've experienced one of those landmark events that all parents will go through.
My eldest daughter had her first day at school.
This was a day full of emotion and stress, but luckily one thing we didn't have to worry about was traffic.
Our way to her primary school is a short 10-minute journey through the local park.
We were able to travel at our own pace, giving us time to talk about any worries or concerns she had about the day.
Luckily for my daughter, her biggest concern was whether she would be able to play with some of the toys she'd seen on the open day.
Creating a welcoming environment
The road that my daughter's primary is on is closed to motor traffic throughout the school day.
This means that all of the parents get time and space to talk to each other and their children at the start and end of the day, creating a very welcoming environment.
But from chatting with friends and observing our work across the UK, I know that this positive experience is not shared by everyone.
In fact, many parents find the journey to school one of the most stressful parts of the day, and 84% of them don't want to use their car on the school run. 
Yet the figures show that the number of children travelling actively to school has declined.
Through our work in schools, we know that children want to travel actively, but the biggest barrier is concerns over safety.
In our latest study of regions across the UK, only 29% of people think the level of safety for children cycling is good.
We are trapped in a vicious cycle, with many parents worrying that walking and cycling to school is too dangerous because of car traffic.
They instead choose to drive their children to school, making the situation worse. 
Most children live close enough to walk, wheel or cycle there - 81% of households are within 800m of a primary school - and we know that this is how they would travel if it was up to them.
29%
of people think the level of safety for children cycling is good.
84%
of parents don't want to use the car on the school run.
Building confidence and better paths
Our work in schools points to an answer on how to address this. 
The sessions we host give children and parents the skills and confidence to travel actively during drop-off and pick-up times.
These sessions include activities like learning to cycle, playground cycle skills, bike maintenance and led rides.
Our ultimate aim is to create a culture where active travel is the first choice.  
Alongside boosting confidence, we work to improve the local area to make walking and cycling more appealing.
Our recent work in Scotland to improve cycle links near primary schools has led to higher levels of active travel to school, with dramatic increases in cycling.
And in England, our Linking Communities programme delivered a 151% increase in children using cycle routes to get to school.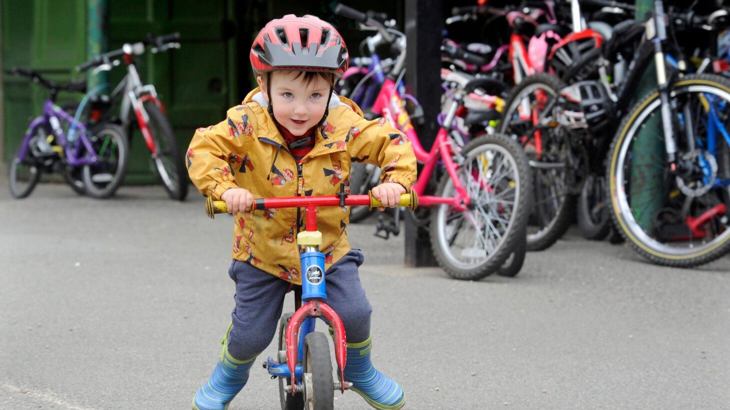 A safe and car-free journey to school should be available to all children. ©Colin Hattersley
Creating safe school streets
We also work with local authorities around the UK to directly address the issue of safety on the way to school.
We know that to increase the number of children travelling actively, we need to make it safe for them to do so.
This is what our School Streets programme seeks to do.
We partner with schools and their local councils to restrict motor traffic at the gates - similar to my daughter's own school - during drop-off and pick-up times.
Warning signs are put in place and the street becomes devoted to walking and cycling. 
Residents and blue badge holders have access, but no through traffic is allowed.
It's an approach that's being trialled by a growing number of UK towns and cities.
Our recent School Streets project in Oxford led to an 11%-point increase in active travel across eight sites.
Sustrans has also shown that when roads are closed for School Streets, the traffic is not just displaced to other streets, but leads to an overall drop in traffic.
Looking to the future
Since starting the programme, Sustrans has supported the implementation of over 500 School Streets.
It's an intervention proven to increase active travel and make the whole experience around getting to school safer and more enjoyable.  
We now need government support to scale up to a mass implementation of School Streets and safe routes to school across the UK. 
Now that my daughter is travelling to school regularly, I find it very reassuring that a safe and quiet route is available to us.
With further support, we can make this a reality for many more children and parents across the UK.
Sign up to our e-newsletter for family activities and inspiration straight to your inbox.


Read these cycling safety tips for children to help you on the school run.


Find out more about our School Streets programme and how it's supporting children, parents and teachers.