The Greater Cambridge Partnership is looking to introduce a London-style congestion charge zone to improve public transport and improve air quality. Find out more about the plan and why we're supporting it.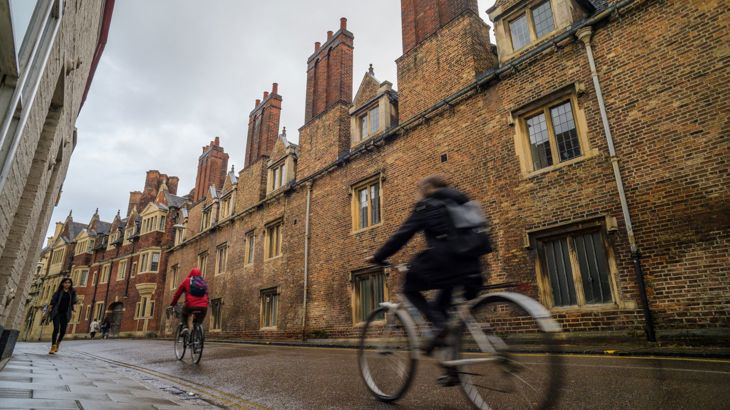 Research by the group suggests that the change will reduce trips via motor vehicles by 50%. Photo credit: photojB
In August 2022, the Greater Cambridge Partnership announced proposals to transform the city's transport network.
At the heart of the proposals is the aim to significantly reduce trips made by motor vehicles.
The partnership will do this by improving public transport, walking, and cycling infrastructure.
They also plan to implement a Sustainable Travel Zone, including a road user charge, which will be fully operational from 2027/28 (weekdays, between 7am and 7pm).
Research by the Greater Cambridge Partnership suggests the Sustainable Travel Zone will reduce motor vehicle trips by 50%.
Reducing the volume of traffic
If we are serious about getting more people to walk, cycle and take public transport then it is key to take ambitious, affirmative action.
This plan will help to reduce the volume of traffic and help to reclaim our streets and neighbourhoods.
To achieve this level of change, public transport usage will need to increase by 40% across Greater Cambridge.
The Greater Cambridge Partnership are proposing cheaper, faster, more regular, and more reliable buses, with greater coverage.
This will be achieved, in part, with a £50m upfront investment (between 2024 and 2026).
The Sustainable Travel Zone will also free up valuable road space and provide additional funding of £50 million per year for improvements, especially to walking and cycling infrastructure.
This in turn will increase walking and cycling trips by 30% - over 60,000 extra walking and cycling trips each day.
Whilst clearly ambitious, and creating a lot of debate and discussion locally, it is important to acknowledge that the proposed Sustainable Travel Zone is in line with local, regional, and national transport plans and policies.
Local and national support for better infrastructure
This year, we carried out the UK's largest independent survey of residents' perceptions and attitudes towards sustainable transport.
Our latest study of the local area, the Greater Cambridge Walking and Cycling Index, indicated that:
66% of residents think that their streets are dominated by moving or parked motor vehicles
74% of residents support building more cycle tracks physically separated from traffic and pedestrians, even when this would mean less room for other road traffic
69% of residents support increased government funding for public transport, compared to only 24% who support increased government funding on driving.
Regionally, the Cambridgeshire and Peterborough Combined Authority are completing their new Local Transport and Connectivity Plan.
This plan commits the area to reducing motor vehicle miles by 15% by 2030, against a 2019 baseline.
On a national level, the Department for Transport's Decarbonising Transport: A Better, Greener Britain report from 2021 is also firm on motor vehicles, stating:
"we cannot pile ever more cars, delivery vans and taxis on to the same congested urban roads", and "we want to reduce urban road traffic overall", and unequivocally, "we want less motor traffic in urban areas".
We know that motor vehicle traffic is spoiling where we live, work, learn, and socialise.
It is significantly contributing to problems like climate change, poor air quality, road danger, physical inactivity, and isolation.
Supporting these changes
We at Sustrans support these visionary and much needed proposals, and we encourage the public to engage with the ongoing consultation.
Find out more about the proposals and take the Making Connections 2022 Survey from the Greater Cambridge Partnership to have your say.
In addition, we encourage the Greater Cambridge Partnership to go further and to offer additional tailored support for cycling, especially to those on low incomes or at risk of poverty, as we face the worst cost of living crisis in many years.
The Greater Cambridge Walking and Cycling Index for 2021 showed that there is considerable appetite amongst residents on low incomes to start cycling:
27% of people on low incomes do not own a car.
45% of people on low incomes do not cycle, and 18% people on low incomes would like to start cycling.
Therefore, we'd like the Sustainable Travel Zone to fund targeted interventions to increase bicycle ownership and usage amongst residents on lower incomes.
Ongoing discussions
There are important questions being asked around exemptions to the Sustainable Travel Zone and what this means for shift workers, as well as those on low incomes.
There is discussion on the proposed new bus routes, their costs, and frequencies.
This discussion is positive, necessary, and it is critical that the Greater Cambridge Partnership listen.
It is also critical that decision makers, especially elected councillors, retain a pragmatic and holistic approach.
Change is always difficult.
If we want to create healthier places which allow communities to thrive without having to use a car, then change, such as the Greater Cambridge Sustainable Travel Zone, is urgently required.
Find out more about the Greater Cambridge Partnership's plans.


Read more about how we can improve air quality without restricting accessibility.