As part of Disability History Month 2022, our Inclusive Design Manager Tierney Lovell sat down to discuss what Inclusive Design means in practice and the work Sustrans is doing to challenge inequity and improve our approach.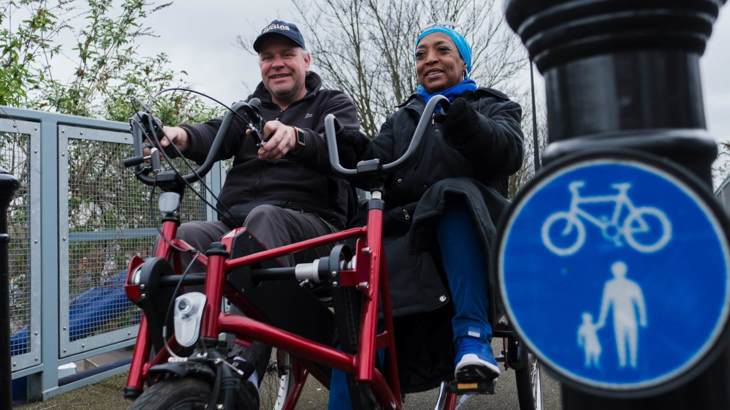 Sustrans are working hard to better focus on the needs of groups that have been previously excluded or marginalised from discussions around active travel. Photo credit: photojB
Disabled people often face barriers to transport and the wider built environment.
These restrict travel choices and make some journeys inaccessible.
As a result, walking, wheeling and cycling participation is not equal.
Disabled people are currently underrepresented within trips along the National Cycle Network and across all active travel journeys. 
Our recent nationwide study into walking and cycling found that only 12% of disabled people cycle weekly.
This is in comparison to 19% of non-disabled people surveyed, who say they cycle every week. 
Sustrans' vision is to make it easier for everyone to walk, wheel and cycle. 
We know there is a lot of work to be done to realise this. 
Inclusion must be at the heart of all our work, with input from a variety of diverse voices. 
This is the focus of Tierney's day-to-day work.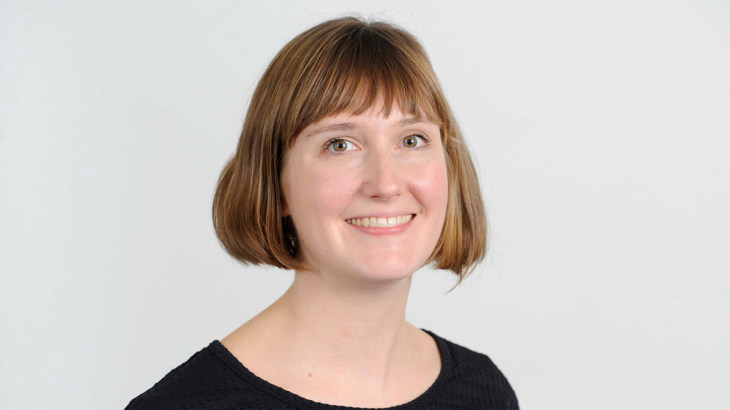 Tierney Lovell is Inclusive Design Manager and works within Sustrans' Urbanism team.
What is your role within Sustrans? 
I am the Inclusive Design Manager, working within Sustrans' UK-wide Urbanism team.  
Urbanism is the study of how people in urban areas interact with their built and natural environment.  
My role is to look at how we can make our work within this context more inclusive and equitable.  
This includes making sure we progress the commitments made in Sustrans' Inclusive Delivery Action Plan which was published last year.
The plan covers everything we do with the purpose of ensuring that each of our projects is more inclusive.  
Our Inclusive Delivery Action Plan was created following many frank conversations with external organisations, including those representing Disabled people.
We asked them how they felt Sustrans has been doing and what we need to work on.  
What does Inclusive Design mean to you?  
Inclusive Design is delivering projects that help tackle structural inequities within our society.  
In our work, this means working to address historic inequities in our towns, cities, and public spaces, as well as across walking, wheeling, and cycling projects.  
It is a process of engagement – of listening to and learning from people who were previously excluded from conversations about our cities, public spaces and active travel.
That includes the experiences of Disabled people.  
It involves taking an intersectional approach by looking at the multiple reasons people might face barriers and discrimination.
Vital to this is connecting with people outside Sustrans for advice on how best to deliver projects which address these issues.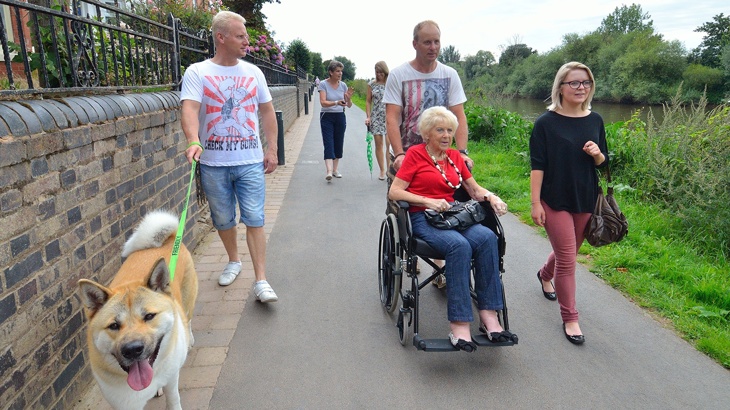 Inclusive Design is delivering projects that help tackle structural inequities within our society. Photo credit: photojB
For Disabled people, what does this mean in practice?  
In practice, this means a real focus of attention on Disabled people's needs and experiences across all our work.  
It means amplifying their voices within the decision-making process, paying those involved for their time, and ensuring our projects benefit everyone.
Examples of this would be streets that are more accessible, more effective communication with different groups, and behaviour change projects that are tailored to Disabled people's needs.
A lot of these things mean acknowledging that Sustrans hasn't always got everything right in the past.
It also means being open to learning and developing new ways of working going forwards. 
What are Sustrans doing to ensure our work is inclusive for everyone? 
Across the UK, our teams are working hard to better focus on the needs of groups that have been previously excluded or marginalised.
This includes all sorts of projects at different scales - inclusive engagement work must be cross-cutting and effect everything we do.
We are commonly perceived as a charity focused solely on cycling.
But at all levels, we are working hard to widen our scope to address walking, wheeling, and cycling.
Our larger scale projects include the Big Walk and Wheel, removing physical barriers along the National Cycle Network, and the Walking and Cycling Index.
The Walking and Cycling Index aims to identify and help us address the difficulties people face when walking and wheeling on a scale we've never done before.   
We have also released a report called Walking for Everyone in collaboration with Living Streets and ARUP.
This is a guide to support partners and governments to make walking and wheeling more accessible, inclusive, and desirable.  
Our teams across the country are involved in partnership projects with stakeholders and community groups.
We want to ensure inclusivity is embedded within all of these, and work with communities to make sure improvements benefit everyone. 
It is an ongoing process of listening, learning and reflecting, and one that our colleagues across Sustrans are fully committed to.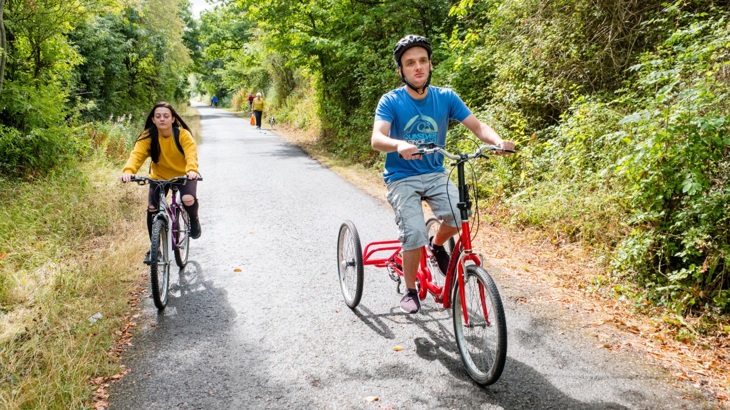 Our vision is to make it easier for everyone to walk, wheel and cycle. Photo credit: photojB
What are the challenges you come up against in your work? 
One of the biggest challenges we come up against are combatting assumptions about what Disabled people want or need without speaking to them.  
Our work champions an engagement-led approach.
The starting point is always making sure that projects are driven by the voices of those most adversely affected.  
We partner with organisations and individuals representing Disabled people, recognising that at Sustrans we are always learning.
While there are areas of common ground, disability covers many different experiences.
There is always room for us to improve how we better support each of these individual experiences in our work.  
Another challenge we face is when people think a job is done after making a few minor tweaks to a project.
In reality, engagement needs to be an ongoing process of iteration, development, feedback and learning. 
Finally, can you tell us about a good example of Inclusive Design? 
Transport for All's Pave the Way Report from 2021 explores the barriers Disabled people face in relation to active travel, with a focus on the impacts of low-traffic neighbourhoods. 
It is a really fantastic, broad and balanced account of various people's experiences.
The report explores medical, physical, financial, attitudinal and social barriers, and proposes solutions ranging from policy to infrastructure. 
We are actually working with Transport for All on a couple of exciting projects over the next few months, so watch this space.  
Are you disabled and would you like to work at Sustrans?
We are a Disability Confident Committed employer and offer guaranteed interview schemes to disabled candidates.