We talked to some of our directors to learn about their experiences of being a woman in a leadership role. Here, we introduce them and ask a few questions.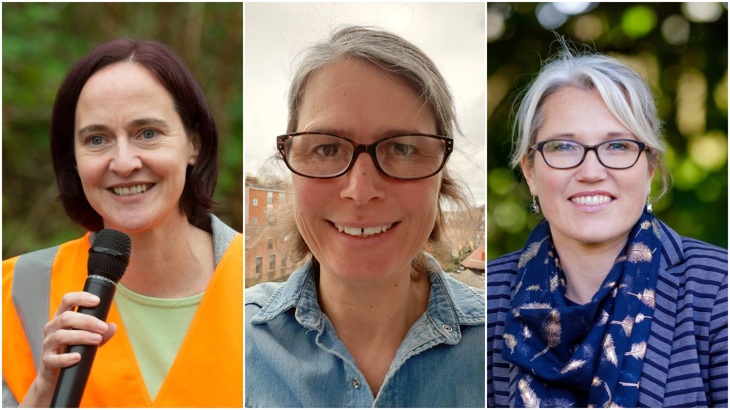 Clare Maltby (left), Di Gornall (centre) and Christine Boston (right) are all women in leadership roles at Sustrans.
Clare Maltby is our Director of the Midlands and East of England.
She has a wealth of experience in strategy, partnership working, team leadership and project management across central government, parliament and the third sector.
Clare's role allows her to bring together her longstanding interests in the environment and transport policy.
Di Gornall is our Director of Fundraising and Supporter Engagement.
Her background in both the private and third sector includes 20 years of experience in leadership roles.
Di's passion is in managing and developing staff to deliver at the very highest level.
Christine Boston is our Director of Sustrans Cymru.
She leads on strategy and operations for Wales with a view to achieving happier lives and healthier places for everyone.
With a background in policy and community transport, Christine sits on the Welsh Government's Transport Performance Board and chairs the Wales Active Travel Board's inclusion sub-group.
Who were your role models as you progressed into a leadership role?
For Clare, her young manager during her time in the Civil Service was an inspiration:
"She was open and approachable with a brilliant warmth.
"She was also very fair, enthusiastic and driven, and that combination really appealed to me."
In her first role, Di secured a position working for the FI Group, a software company founded by the business pioneer and philanthropist Dame Stephanie Shirley:
"Right from the beginning of my tenure, I was conscious that I was standing on the shoulders of giants."
Dame Stephanie had experienced sexism in the workplace and strove to create job opportunities for women, particularly those with dependents.
She even began signing off company letters as Steve rather than Stephanie, as up until that point she was not being responded to.
Christine felt similarly lucky in her early career to work with some of the most senior women in Wales:
"I've worked with some fantastic Chief Executives who I really admire and I've tried to take my favourite things about all of these women and incorporate them into my own style.
"When I think about leaders of the world, Jacinda Ardern sets a great example because she always seems authentic, sincere and able to connect with people on a human level."
Throughout much of my career I've questioned myself: How is it I am sitting at this table with these leaders? How is it that people trust me to do this role?
Did you always aspire to become a leader?
For Clare and Christine, their routes to leadership were never planned.
Clare's interest in how organisations are run and how decisions are made grew as she progressed in her career:
"I developed a stronger sense of wanting to influence how things are done.
"I enjoy joining up the dots and I am interested in the human question of how to motivate people and set teams up to meet their aims."
Christine took a long time to recognise in herself the leadership qualities she has always displayed:
"Since I was very young, I have had the courage to stand up for what I believe in, even if it isn't popular and I have brought about change because of that."
For Di though, leadership always felt like a natural path to follow.
In school, she had visions of becoming a chef and heading up a bustling restaurant kitchen:
"I intended to study at Birmingham's College of Food, a choice driven by my love of cooking rather than any intention to become a leader."
But in spite of her dyslexia, Di gained good academic results and stayed on at school, eventually going to university.
It was the experiences and inspiration of her first job out of university that cemented her early aspirations of becoming a leader.
Christine points out that society unfairly labels young girls who exhibit leadership skills as 'bossy'.
What barriers or challenges have you faced as a woman in a leadership role?
Christine has experienced many barriers to progression as a woman, one being society's expectation of motherhood:
"Coming back from maternity leave into a senior role was tough but made easier by shared parental leave, which meant my husband could take over the primary care role while I went back to work."
For Di, a strong case of impostor syndrome has been a setback in her career:
"Throughout much of my career, I've questioned myself: How is it I am sitting at this table with these leaders? How is it that people trust me to do this role?
"It's been a long road to hush those negative voices but in the main, they are under control now."
Clare's career path through the transport sector exposed her to daily sexism in the workplace:
"The transport sector was even more male-dominated in my early career.
"From being mistaken for the tea lady or the note taker, (when I had actually authored the report being discussed at the meeting) to being largely ignored at networking events.
"I very often walked into meeting rooms full of middle-aged white men, who all knew each other going back years.
"Being young and female, I had a strong experience that being in the room doesn't equal being welcomed or included."
This is something though that Clare believes has diminished somewhat as she's progressed in her career. She says:
"It's a bit hard to unravel how much is because attitudes have changed over the last twenty years and how much is because my position of influence has grown with seniority.
"I think being in a leadership role makes it easier to call things out and counter some of the bias that might otherwise be experienced."
Being young and female, I had a strong experience that being in the room doesn't equal being welcomed or included.
What's been your experience of being a leader at Sustrans?
Di believes the positive working environment and commitment of her fellow colleagues has helped her in her first year at Sustrans:
"I'm grateful to have so many other inspirational leaders by my side as I grow in my own leadership role."
Christine agrees, while Clare goes on to talk about the effort at Sustrans to create an inclusive place to work:
"I don't feel I have experienced much exclusion or sexism here towards me personally.
"I admire the conscious effort that is going into making us a charity for everyone.
"We have a lot of work to do but it is encouraging to see that the commitment to be more inclusive is genuine."
What changes would you like to see to make the journey to leadership easier for more women and young girls?
Both Di and Christine agree that the impact of our day-to-day language cannot be underestimated, with Christine explaining:
"Let's stop labelling girls as 'difficult' or 'bossy' whilst celebrating boys for displaying the same traits.
"We need to recognise leadership skills in women and girls.
"I'd like for girls to know that they too can be superheroes and do absolutely anything they want to do.
"Society places so many more limits on girls than they do boys and I'd really like that to stop so they can reach their potential as they deserve."
Clare thinks the approach to job sharing that Sustrans has taken is one that would benefit women in all industries and at all career levels:
"When I first joined Sustrans as Head of Delivery, the post was advertised as a full-time role but I only wanted to work part-time as I had young children.
"Sustrans were open to me taking the role on a job-share basis.
"I think I was one of the first to hold a job-share position at a senior level in Sustrans and I am really pleased that Sustrans has recently committed to opening all our roles to job-share candidates as the default.
"For people who have caring responsibilities, having an option to work flexible hours is really important in avoiding a hiatus in career progression.
"For Sustrans, it means we can attract and retain the best colleagues."
Read about personal safety and women's experiences when walking and cycling.


Find out what we're doing to break the bias in urban planning and make our towns and cities better for women and girls.