Sustrans Scotland's Senior Transport Integration Officer, Ross Miller, works with bus, rail and ferry companies around the country to connect walking, wheeling and cycling with public transport networks. He tells us about the positive changes that he has seen in Scotland in the past couple of years.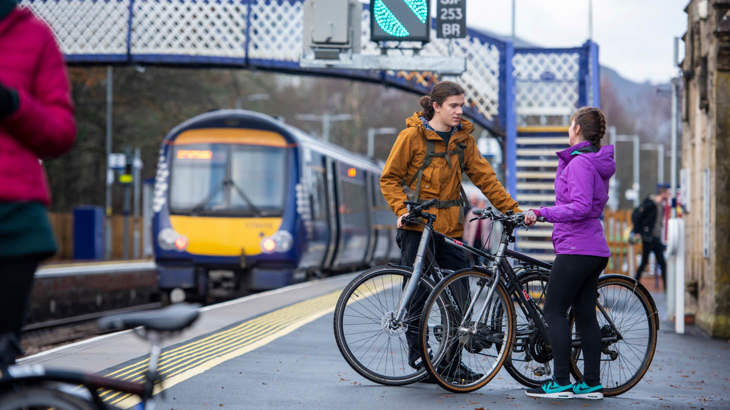 Last year's COP26 event in Glasgow highlighted that active travel, public transport and shared transport are more important than ever.
At COP26's 'Transport Day', the focus was on electric cars, but they aren't the solution.
Electrifying our vehicles can help us reduce emissions, but they won't help us reach net-zero fast enough.
At Sustrans' joint COP26 event with the Sustainable Transport Alliance, we shifted the focus back to what we can all do right now to tackle the climate emergency.
So, what's the answer? We can all walk, wheel, cycle and use public transport for more of our journeys.
Transport is the largest emitter of greenhouse gas emissions in the UK.
To tackle the climate crisis, we need to encourage people to use more active and sustainable ways of getting around.
If public transport joins up better with journeys by foot or by bike, then it will become easier for more people to choose to travel in more sustainable ways.
Sustrans' important work with public transport providers is ongoing.
As a key influencer, we work with bus, rail and ferry companies to share our experience and technical knowledge of walking, wheeling and cycling.
We think that integrating active travel with public transport provides an attractive alternative to car use and benefits the environment.
Our work with bus operators
Sustrans provided a grant to Borders Buses, to ensure that their X62 service, which serves Tweed Valley and the Scottish Borders, is a fully bike-friendly route.
This involved retrofitting bike storage onto buses so that every bus operating on the X62 route would have space for a minimum of two bikes.
It also involved a change in livery, marketing and promotional materials with the aim to increase the catchment area of the bus service.
The money Sustrans provided resulted in a fully bike-friendly bus service that runs from Edinburgh to the Scottish Borders. By making buses bike-friendly, they become accessible to more people.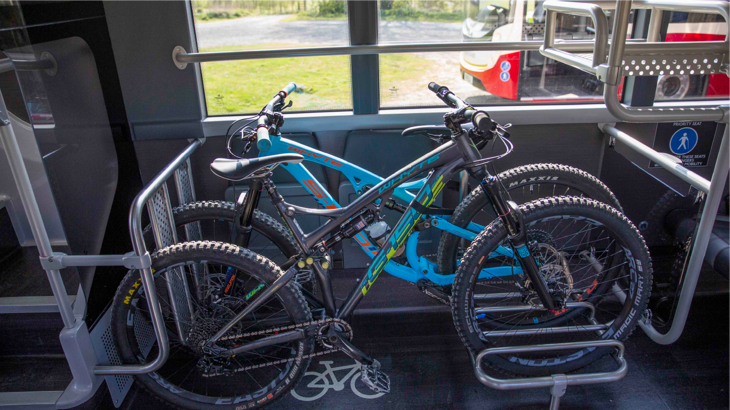 Bus storage on the X62 service, serving the Tweed Valley and Scottish Borders.
Our work with ScotRail
We are supporting ScotRail in the development of standardising their train livery cycle logos, so that all train types have a similar and recognisable access point for bikes. This will make it easier for passengers with bikes on platforms.
We're also helping to improve the quality and capacity of bike carriages on several trains in the ScotRail fleet.
We are helping people by making it easier to take your bike on a train. We're working with the train provider on a series of informative videos showing how to use the on-train cycle storage on all types of ScotRail train.
Watch our informative video 'A guide to travelling with a bike on ScotRail trains' here.
The video includes useful tips on how to plan your train journey when travelling with a bike.
We want to encourage people to share their experiences of travelling with bikes on trains with ScotRail.
This will help ScotRail to better understand why it's beneficial to be able to travel with a bike, and the challenges that people travelling with bikes on trains have. Evidence from users will support further investment and improvements.
Find out more about bikes on trains.
The Highland Explorer
In July 2021, I was chuffed to see the launch of ScotRail's Highland Explorer carriages, deemed the UK's first active travel carriages.
Sustrans provided input into the design of the newly designated cycle carriages to make sure they work for all bike users.
The three carriages, which run on the West Highland Line from Glasgow to Oban, have set a new precedent for the quality of cycle storage on trains. Each carriage has space for up to 20 bikes, including tandems and an additional 24 people.
This is the first time we've seen a large number of cycles being served as part of that service.
It also means a larger range of bikes can be carried, including tandems, which is a first in Scotland.
Having the space to carry this many bikes provides reassurance that travelling with a bike is reliable.
Passengers can now access key destinations without needing a car - the Highland Explorer service provides access to the Caledonian Way, as well as the Hebridean Way via CalMac Ferries.
What's next?
Our partnership work with public transport providers continues. We recognise that it takes time to make significant changes.
We can learn a lot by looking at how our European partners integrate active travel with public transport.
At Amsterdam Central station, for example, trams, buses, trains and ferries are all integrated at one hub, with cycle hire and bike parking facilities for 2,500 bikes over three levels.
What you can do
Do you walk or cycle to the train station to catch your train? Where there's a public transport journey, active travel is normally involved in your first and final miles.
In 2022, we challenge you to avoid using your car and try to use public transport and active travel instead.
We're doing this too and will continue working to create healthier places and happier lives for everyone.
Read our five tips for going car-free and see how you can benefit from a car-free lifestyle.