Guest blogger, Shail Patel, a Trustee of Disabled Ramblers, shares how he rediscovered the countryside as a disabled person. He examines the barriers to making journeys with a wheeled disability aid and addresses uncomfortable truths surrounding disability access rights. Shail also explains how we can all help to make walking and wheeling journeys safer and more accessible for disabled people.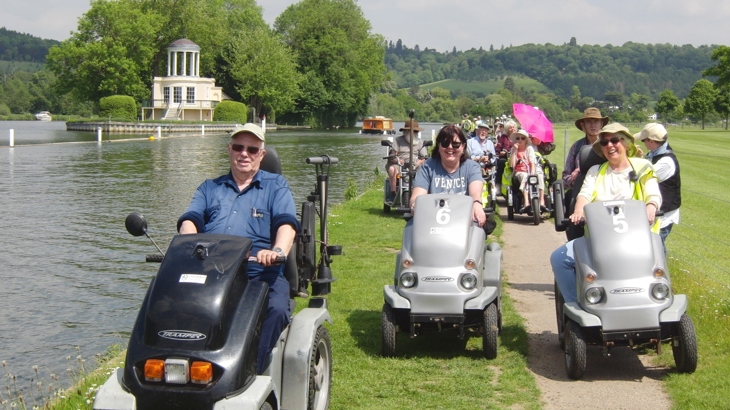 Enjoying a day out along the River Thames. Photo: John Cuthbertson
"What mobility scooter should I get?"
"Where can I go on it?"
These two questions are of the most frequently asked on the Disabled Ramblers Facebook page.
There are many different makes and models of mobility scooters and wheelchairs, and like buying a bike it depends on what you want it for.
There's a guide on the Disabled Ramblers' website called Choosing a Scooter or Powerchair for Rambling.
Our Facebook page is very active, with many accounts that people post of where they've been, and on what mobility aid.
These give a sense of what can be done.
The joy in a photo like the one above is hard to miss.
On the downside there are many frustrating and all too frequent accounts of encountering barriers and other obstacles. Some appear in previous Sustrans blogs.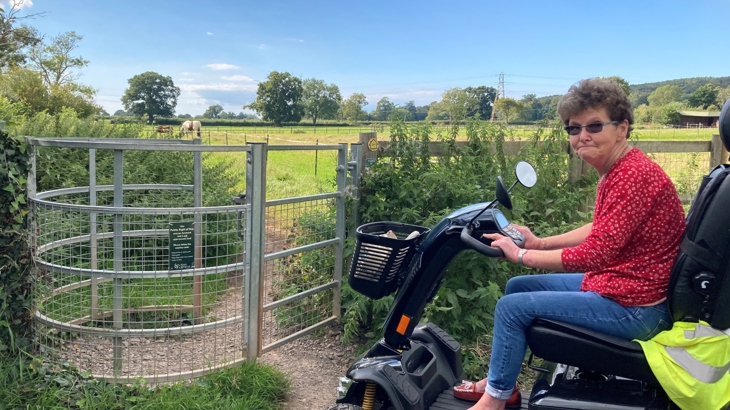 Thwarted by a kissing gate. Photo: Shail Patel
I have a deteriorating neurological condition and now need a wheelchair just to get around the house.
When I was younger and more able I loved going hill and fell walking.
Somewhere in a box are old photos of me on Striding Edge (Lake District) and Crib Goch (Eryri).
Some years ago I started thinking about a mobility scooter and stumbled across Disabled Ramblers.
Disabled Ramblers is a National Charity that helps disabled people access the countryside, and works to make the countryside more accessible.
Disabled Ramblers organise national rambling events, at which we loan out Trampers, an all-terrain mobility scooter.
To test the water in 2019 I went on a couple of Disabled Ramblers events on Dartmoor.
I couldn't believe that after so many years I was out in the hills again, and couldn't stop smiling!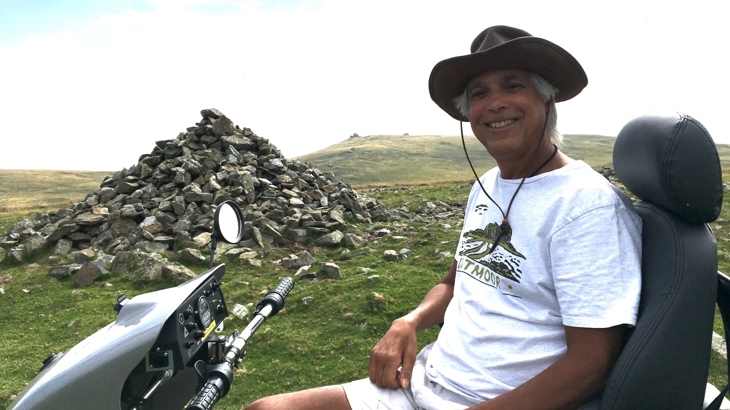 The author on Dartmoor. Photo: Sally Bartlett
A recent report Not Enough Wheels to Go Round, shows there are approximately 7 million people in the UK who need a wheeled aid to go just 1 km, however only approximately 750,000 people have access to an appropriate aid.
For me that's a shocking statistic, imagine if nearly 90% of people who might want to cycle didn't have access to a bicycle.
Wheeled mobility aids are expensive and there needs to be better government support.
Given the shortfall there is high demand and this sector is growing rapidly.
There is a vibrant second-hand market for scooters and lots of good advice.
Many organisations have loan scooters available on site, such as the National Trust, Countryside Mobility and others.
This is a great way to see if it works for you.
So, once you're kitted up, where to go?
Some mobility scooters are entitled to go on the road.
You have probably seen some, but a road is hardly a safe or fun place.
A quick look at any OS map will show that the country is criss-crossed with footpaths and bridleways.
These routes date back centuries and are enshrined in law as Public Rights Of Way (PROW), and more recently a National Cycle Network has been established.
In theory disabled people on wheeled aids are allowed to go on footpaths, bridleways and cycle paths.
However all too frequently we encounter obstacles which deny us access.
Stiles, steps, kissing gates, narrow bridges, adverse camber, and so on will pass unnoticed to many people walking and cycling.
To us they represent the difference between going out, or being thwarted and frustrated.
Frustrated by a motorbike inhibitor. Photo: John Cuthbertson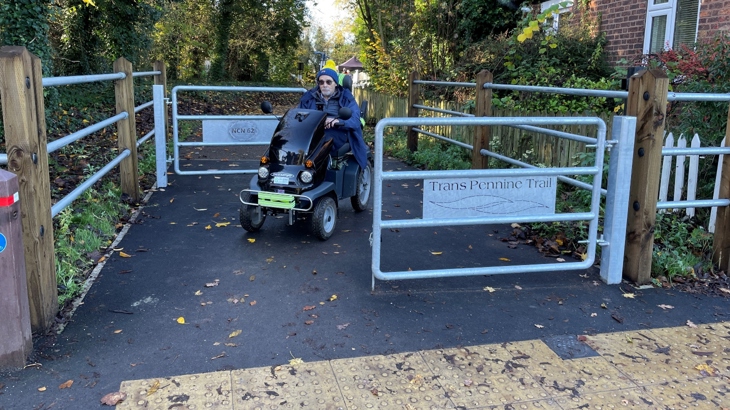 Wide chicane barrier recently installed on the Trans Pennine Trail. Photo: Marian Andrews
Many groups, such as Sustrans, work hard to make routes more accessible but ultimately we are reliant on the kindness of others.
It would be better to have unambiguous rights under the law.
"What can I do to help?"
The next time you step over a stile, or cycle through a tight chicane, perhaps pause for reflection.
If it seems right raise the issue and explore alternatives with the relevant landowner.
Often accessibility has simply been overlooked.
If you are involved with creating new paths or upgrading old ones - even as a volunteer - please do ask that disabled voices are involved, and involved early in the process.
Too often we are left to the last minute as an after-thought.
If you have a responsibility for a path or route, please do get in touch.
It is much easier and cheaper to get things right first time, than to change things later.
Do contact Disabled Ramblers if you would like advice or backing.
We get many queries from individuals and organisations and are always happy to help.
Finally, and perhaps most importantly, if you are disabled, or know a disabled friend or relative who might benefit from a ramble in the countryside, do get in touch.
We are a friendly and welcoming group, and every year we organise many events all around the country.
Thanks for reading.
Shail Patel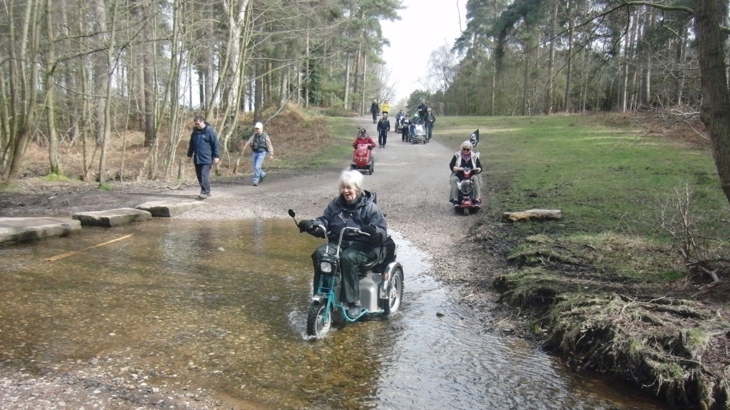 Val crossing a ford. Photo: John Cuthbertson