Isobel Duxfield, Working Group Coordinator at POLIS*, discusses the role of women-only cycling clubs in bridging the gender gap in cycling. Using post-graduate primary research and drawing from her work on gender equality in sustainable mobility, she explores how effective single-sex spaces are in supporting uptake of cycling, and the need for recognising intersectional needs.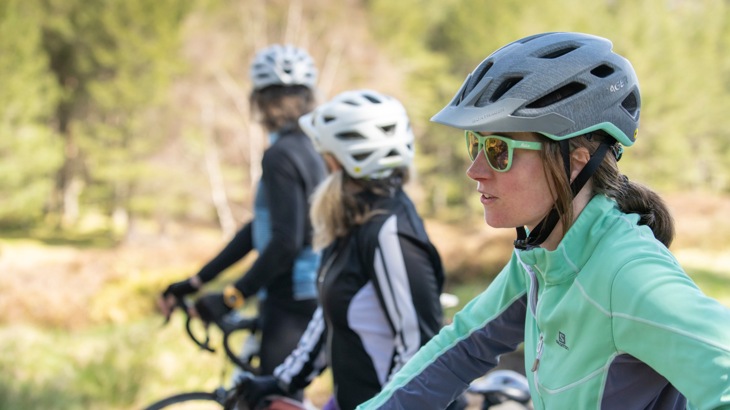 Women-only clubs provide a different experience to typically male-dominated cycling clubs. Credit: Andy McCandlish
Across much of Europe, cycling is male dominated.
Just 11% of women across the UK cycle at least once a week, compared to 23% of men.
Encouraging cycling for leisure amongst women is key to addressing this imbalance; pedal power is not just for getting from A to B, but enjoying the ride!
Cycling clubs play an important role here.
While they may conjure images of lycra-clad racers on carbon-fibre frames, cycling groups can be incredibly varied, catering to a range of needs.
This being said, the growth of club cycling has been a distinctly gendered and racialised phenomena.
There has been widespread criticism of the elitist and masculine cultures in these spaces.
In the UK, under 24% of participants across recreational cycling events are women, while BAME groups make up less than 10% of London's cycling groups.
Moving forward with cycling clubs for women
Women-only clubs have become increasingly popular options for challenging the absence of female riders.
Groups such as Velociposse in London, Team Glow in Manchester, and Kent Velo Girls have helped get more women and girls into cycling.
Such groups have been promoted as inclusion-centred spaces helping to build women's confidence and evade the intimidation and harassment many fear when cycling.
For many women, cycling in women-only groups was a challenge to male-centred cultures within cycling and an assertion of their right to space and visibility.
But do women-only cycling groups work?
As part of my post-graduate thesis, I explored how effective single-sex groups are in encouraging uptake of cycling, and why women do or do not join.
Across a year, I conducted in-depth interviews with women in Cambridge, Oxford and London who participate in women-only and mixed recreational cycling groups, as well as participating in regular club rides myself.
During my research, I met some fantastic women and men who were all undertaking inspiring initiatives.
For many women, cycling in women-only groups was a challenge to male-centred cultures within cycling and an assertion of their right to space and visibility.
They also often provided a distinctly different sense of community and solidarity from that of the mix-sex clubs, a community which extended beyond riding.
Yet, most women did not want to completely withdraw from mixed-sex cycling.
They continued to value these groups, but wanted the club to be more inclusive and to recognise when it was not being.
Recognising the intersectionality of identity
My research found that women-only clubs were not regarded as implicitly inclusive spaces; gender was not the only axis of identity uniting women.
Age was a clear factor in the decision to join (or not join) single-sex groups, as many felt equally as marginalised by younger women as they did men.
We also cannot ignore the impact of ethnicity - this too affected feeling of solidarity in a single-sex club.
A 2019 study by Sustrans found that 74% of people from ethnic minority groups in 12 UK cities and towns do not currently cycle, suggesting significant under-representation.
There have been a range of pioneering efforts to promote inclusivity, Brothers on Bikes, Black Cyclists Network and the Women of Colour group to name a few.
And while there is still progress to be made, such groups are playing an incredibly important role.
Across the pond, Monica Garrison, founder of Black Girls Do Bike, told Thinking Cities Magazine, "Black diaspora is connected by the common thread of shared life experiences, cycling allows us to share our experiences and build community."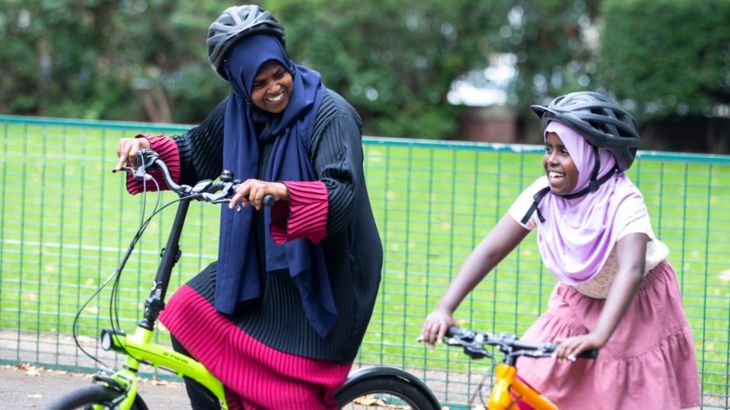 Chrisp Street Community Cycles is helping Bangladeshi and Somali women in Tower Hamlets to try out cycling.
Is separate equal?
Single-sex clubs undoubtedly have an important role to play in the journey towards gender equality in cycling.
However, they arguably do not confront masculine cultures which pervade cycling, whether that's in leisure cycling or during everyday transport.
At the same time as championing separate spaces for female riders, clubs must simultaneously embrace female membership in existing groups, understanding and addressing women's barriers to joining.
Forums for open discussion are key. For instance, British Cycling's Ignite Monthly – a series of online events for women, girls and coaches – provides spaces to connect and share strategies for improving diversity and inclusion from the ground up.
There are also clear lessons here for the design and implementation of cycling initiatives aiming to redress gender disparities.
We are seeing local and national authorities, operators and academic institutions looking for ways to ensure mobility initiatives consider gendered transport needs.
Female-only initiatives have become popular in transport options like cycling, where women account for a substantially lower proportion of users. These initiatives also often aim to improve safety and security for women.
Yet, as we have seen in aborted projects such as single sex train carriages, segregation is not necessarily the correct approach, and if it is, it must be designed incredibly carefully.  
In Jakarta, Indonesia's state railway company has had to cancel its women-only trains after just six months, after lack of popularity.
Meanwhile in Tokyo, reports of harassment rose by 15-20% on two of the lines where women-only carriages had been introduced.
As we look to design cycling infrastructure and shared bike services around women's needs, we must not presume women hold a shared identity based singularly on their gender.
What an individual seeks from the saddle varies depending on age, race, and a spectrum of other factors.
This blog is in loving memory of Maureen Kenny, a fierce advocate for women's cycling and instrumental in support for this research. Her passion for cycling and life in general inspired so many others.


To read more about gender and active travel, take a look at our research paper, "Are we nearly there yet?"
Hear from those on the front line of women-only clubs with Monica Garrison, founder of Black Girls do Bike, as she discusses how bikes can change women's lives.
Find out more about the role of age in active travel with this joint piece from Sustrans, The Centre for Ageing Better and Greater Manchester Moving.
About the author
Isobel Duxfield is a Working Group Coordinator at POLIS.
*POLIS is a network of European cities and regions working together to develop innovative technologies and policies for local transport.
There, Isobel leads the SUM4All project establishing a toolkit for securing greater female participation in the transport sector.
The research in this article was undertaken for Cambridge University's Gender Studies department.
You can find this research published in the Proceedings of the 2021 Travel Demand Management Symposium.