The stunning North Down Coastal Path, once the preserve of local residents for walking, has seen a spectacular rise in visitors over recent years including many cycling. Our Policy and Communications Manager, Anne Madden argues in favour of proposals to upgrade the path so it is accessible for all.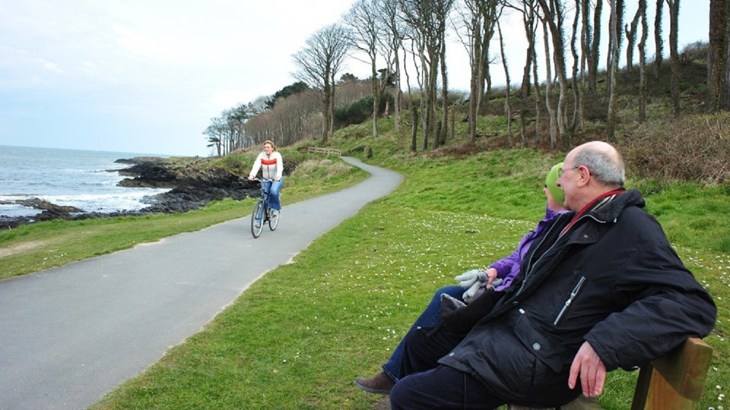 The North Down Coastal Path is a very popular scenic route with proposals submitted to make it more accessible for all.
The stunning North Down Coastal Path, once the preserve of local residents for walking, has seen a spectacular rise in visitors over recent years including many cycling.
Since the pandemic struck, the popularity of walking and cycling has grown exponentially, mainly due to lockdown restrictions.
  
A recent increase in the number of people using the route
To get through this crisis we have all come to appreciate the scenic assets close to home that we depend upon for both our mental and physical health.
Counters on other greenways in the borough have shown a 75% increase in usage between April and November last year; split quite evenly between cyclists and walkers.
As is well documented in this newspaper, an upgrade to the North Down Coastal Path is being consulted on and has attracted a fair amount of criticism.
Most of this fuelled by a local culture that it's a path for walkers and no one else.
Sustrans was contracted with AECOM to design the improvements and engage with landowners and stakeholders.
  
Making this route safer for everyone
The proposal is to widen the path to three metres minimum over the entire 31.5km from Kinnegar to Donaghadee. 
There is already a path but the upgrade will primarily make it more accessible and safer for all users.
There have been several serious incidents of people falling from the path due to the unevenness and narrowness, with two near Royal Belfast Golf Club and one at Grey Point.
The two at the Golf Club were hospitalised with serious injuries.
We want the path to be accessible for all.
Currently, anyone with mobility issues cannot use sections of the path, including getting across Swineley Bay to Crawfordsburn and onto Helens Bay.
  
Providing better access for people of all ages and abilities
Sustrans was engaged in the project because we are a charity with a strong record in enabling both walking and cycling for everyone.
Key to this has been the development of the National Cycle Network across the UK.
Half of the trips made on the Network are by people walking.
While some sections of the Coastal Path are suitable for everyone, much of it is of poor quality with steep gradients, narrow widths and poor surfaces.
The proposal will see these sections upgraded so that there is safer access for people of all ages and abilities to walk, wheel or cycle.
  
Following in the footsteps of the Comber Greenway's success
We want to see greenways accessible and welcoming to all.
Following campaigning by Sustrans, it was fortuitous that the Comber Greenway was widened to four metres not long before the pandemic struck.
We wanted the path widened to reduce conflict between different users as we understood the growing popularity of the greenway.
Never did we imagine we'd been painting public health messages on the path in 2020 to keep two metres apart!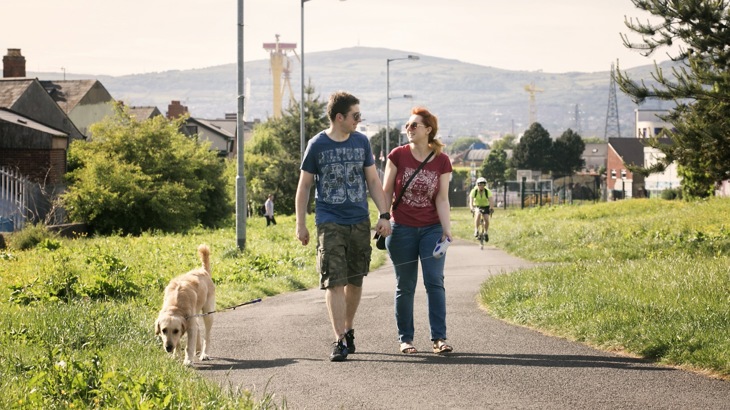 Helping people to share, respect and enjoy the space
Conflict on shared paths happens everywhere as more people discover the pleasure of greenways.
Sustrans has studied this issue and found there are a wide range of complaints, not just about speeding cyclists.
Many people complain about dogs being out of control or runners unable to hear bells because they are wearing iPods.
Sustrans piloted the One Path Initiative on the Comber Greenway, working with the Department for Infrastructure and three Councils including Ards and North Down.
This project has significantly reduced conflict by engaging with path users and promoting the concept 'Share, respect, enjoy'.
The best solution is promoting good behaviour where all users respect each other's journey, whether on foot or cycle.
  
Social and economic benefits
I recently cycled part of the Camino de Santiago in Spain and would love to return to walk it.
Everyone – walkers and cyclists – greeted each other with 'Buen Camino' (literally meaning 'good path' but is a wish for a good journey).
We need to capture that positive shared culture.
If this is achieved North Down stands to benefit hugely.
Greenways in other parts of Ireland, such as the Waterford Greenway and Great Western Greenway in Mayo, have stimulated enormous economic and social benefits for local residents.
  
Making the most of staycations
Due to Covid, overseas tourism has slumped and the industry's outlook is to capitalise on 'staycations'.
Many of us will be holidaying at home for the foreseeable which raises the importance of local destinations.
Seaside towns like Bangor and Donaghadee were once thriving holiday spots. They can be again.
  
We need to future-proof our outdoor spaces
As we emerge from this lockdown, interest in walking and cycling will undoubtedly continue.
And the Climate Crisis, which looms large, will lead to more of us travelling sustainably.
So let's future-proof one of our most beautiful and popular routes by supporting this investment.
This article first appeared in the County Down Spectator on 18 March 2021.