As the roadmap (or cycle route) out of lockdown becomes clearer, we caught up with Scotland's Active Nation Commissioner, Lee Craigie. To take stock and talk about the legacy of the last year on the way people in Scotland get about.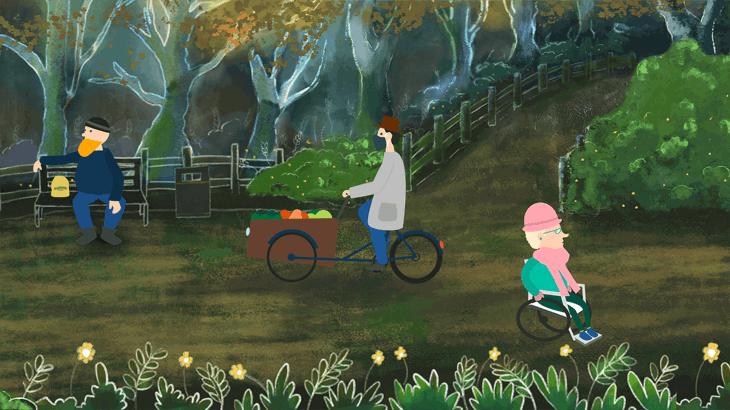 It's a good time to think about how the last year has affected the way we get about
It's been a tough year in so many ways. But has the pandemic made us more active?
It definitely feels like the wheels have been set in motion.
Anecdotally, when you step outside you get a sense that lots of people are now enjoying being active.
There's been parents out with their kids for a walk, cycle or scoot in the park at lunch.
You can see people fitting physical activity into their working day first thing or in the evening – which I've heard some people call 'a fake commute'.
And there's no missing all the bikes outside local shops when you head to the high street.
These are all good signs we're heading in the right direction. Which is something positive to come out of a difficult year.
What other evidence is there that more people are getting active?
Beyond the things you can see out and about, there are some encouraging statistics worth looking at as well.
Provisional results from the Hands Up Scotland survey, for instance, show that walking to school is up by 3.8% compared to 2019.
And between March and August 2020, Cycling Scotland recorded 43% more cycling journeys compared to the same period in 2019.
It's always useful to be able to demonstrate things objectively like this.
And it's safe to say it suggests the nation's been getting more active.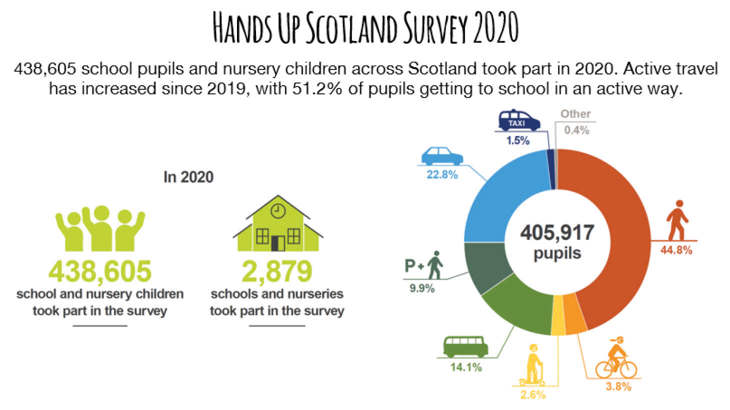 Promising signs for active travel in the provisional Hands Up Scotland 2020 survey results
What are the benefits of getting active?
There are lots of good reasons to walk, wheel and cycle.
Being more active is proven to support our physical and mental wellbeing.
With so many of us having been working remotely, getting some headspace has been valuable.
It's an opportunity for all families to enjoy time together, and get a breather from stress and distractions at home.
And choosing to walk, wheel or cycle to get about also means we're more likely to shop closer to home.
In turn, that means we show some love for the businesses on our doorstep. Which can give our sense of community a boost.
I think one of the most important benefits has to be that travelling in active ways is better for our planet.
With Glasgow co-hosting COP26 this year, it's time for all of us to get behind walking, wheeling and cycling as part of the solution to the climate crisis.
Walking, wheeling and cycling has supported our local communities
Can travelling actively help take pressure off public transport?
Yes – getting about more actively helps to free up space on buses, trams and trains for those who need them most. Including key workers.
I think that's important to remember just now. Because we're hopefully heading out of lockdown soon. But we'll still be social distancing for some time yet.
If we all get into cars to return to the office, we'll have a situation where roads can't cope. This would impact on buses in particular.
So we shouldn't underestimate the importance of choosing active ways of travelling to support public transport.
What do you hope for as we move out of lockdown?
I'd say the pandemic has been a catalyst to speed up social change that we've wanted for so long.
So I'm conscious that it's a positive legacy to come out of a global crisis. This means we should value and nurture it.
To keep up momentum, we need to keep putting forward the case to local authorities and government to back walking and cycling infrastructure.
And work with active travel delivery partners like Sustrans to make it easier for everyone to get about in sustainable ways.
But I think we also need to reach out to new audiences.
Because this isn't about being divisive. This isn't drivers versus cyclists.
I think it's a bigger conversation than that. It's about saying that everyone can make more active journeys every day where it's practical.
If we can bring more people on our journey, we'll come out of lockdown healthier, happier and greener..
So let's keep the wheels in motion to make Scotland an active nation for good.