This week three primary schools in Chorlton, South Manchester have closed their streets to cars at drop off and pick up as part of 'Our School Streets Week'. Air quality data gathered by the community from the closure could be an important part of the story to help this South Manchester suburb build a case for change. Sam Milsom from Open Data Manchester explains how they are working to help communities access their own data and why it's important.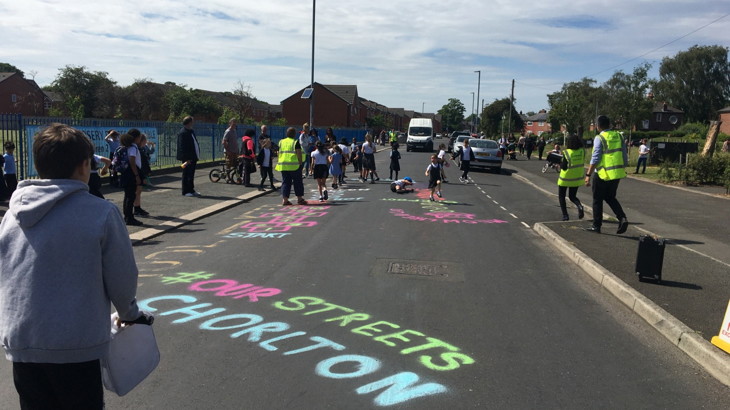 'Our School Streets Week', organised by Our Streets Chorlton and a network of local parents and teachers.
Data is generally something that is done to people in communities.
There is a wealth of data about us and where we live but often this information can be difficult to find and access.
From demographics and employment rates to road usage and bike counts, there is much collected about us and where we live.
  
Putting the community at the heart of data collection
Data is collected and used to inform policy and decisions about local development – that may be the distribution of services, utility provision or urban planning.
We think that local people should be a central part of the process.
Data should be gathered in an appropriate, ethical and responsible way, and people need open access to it.
At Open Data Manchester we believe in taking a community approach to data gathering.
We want to make data easily available to people and give them the skills and confidence to work with their own facts and figures.
  
About the Our Streets Chorlton project
Air quality data collection by and for local people is a central part of Our Streets Chorlton.
This community-led project is supported by The National Lottery Climate Action Fund and aims to support local people to find ways to reduce car use and carbon emissions.
As part of our work with the project, we have installed two calibrated EarthSense Zephyr air quality monitors.
One is located outside Barlow Hall School in Chorlton, and another at a busy road junction known as Four Banks.
They are monitoring:
Nitrogen Oxide
Nitrogen Dioxide
ozone
and three levels of particulate matter.
From this, we've been able to create an air quality index, which can show how much pollution is in the air at a very localised level.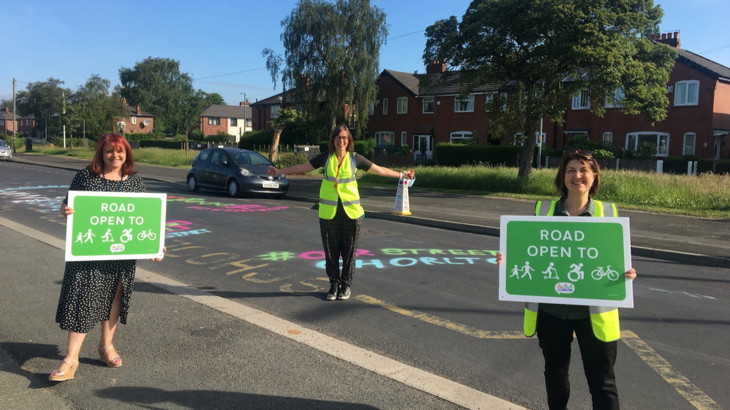 The data that we're collecting will help to develop a picture of Chorlton's streets and we hope to measure some changes as a result of the project.
Comparing air quality data on Clean Air Day
This week, as the school closes its road to cars and opens it up to people for Clean Air Day, children will get a chance to walk or cycle to school more easily.
It's also a chance to gather valuable comparative air quality data.
It's early days but we're already beginning to see some interesting trends.
 
Cars idling increases air pollution
Air quality changes constantly but there are clear spikes in air pollution around the school and junction around rush hour.
We've been able to observe increases in nitrogen dioxides and particulate matters that occur when cars idle their engines nearby.
  
Volunteers leading the way in monitoring air pollution
Alongside this, we have recruited volunteer data champions from across the community.
These data champions are trained to help us collect important data for the Our Streets Chorlton project, such as traffic and pedestrian counts.
And we are holding a series of community data chats and workshops to help the people of Chorlton better access and understand the data about their community.
Some of our community data champions have also volunteered to install a Telraam sensor in their homes.
These small, low-resolution cameras are connected to a Raspberry Pi micro-computer.
They provide counts on cars, vans, bicycles and pedestrians, as well as a rough indication of vehicle speed.
  
Empowering the community
The data that we're collecting will help to develop a picture of Chorlton's streets and we hope to measure some changes as a result of the project.
It also empowers the community so they can participate in discussions in a more informed way about where they live and decisions for the future.
Our Streets Chorlton is a community engagement project that aims to support the development of a safer, greener and more accessible Chorlton.