We have fantastic volunteers across Wales who are making a real difference in their local area. To mark Volunteers' Week, Sustrans Cymru Director, Christine Boston writes about her experience with our ranger group that looks after the National Cycle Network in North East Wales.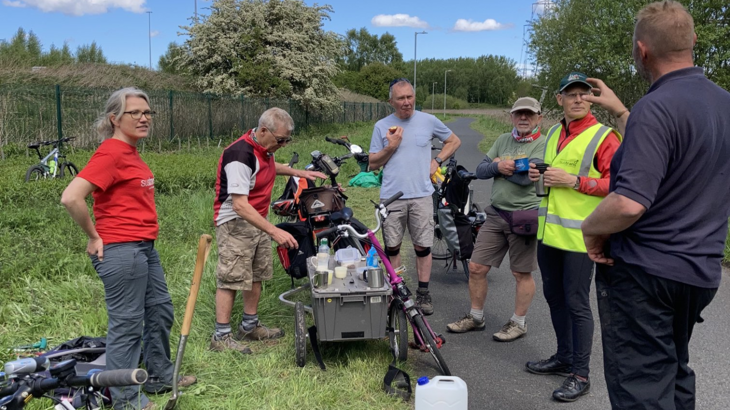 Sustrans Cymru Director joins volunteers on the NCN
Volunteers' Week provides an opportunity to celebrate the efforts of all those who give their time to support others in the community. 
It allows us to show some appreciation for their efforts and dedication. 
Over the last few weeks, I have joined volunteers across Wales and seen first-hand the difference they make.
Of course, Covid has reduced opportunities to come together, affecting the ability of our volunteers to get onto the paths or into schools like they usually would. 
However, efforts have not diminished. Thanks to all of our volunteer coordinators, I was able to join our North East Wales Ranger Group on the National Cycle Network last month.
It was great to work with the group as they continued their work to make the Network a valued community asset.
During my time with them, we did some planting and litter picking which ultimately, makes visiting the NCN a much more pleasant experience for others. 
We saw lots of people walking and cycling past while we were there and many thanking the group for their efforts. 
Indeed, as well as providing a traffic-free route, the path connects people to nature and provides a space that promotes wellbeing.
  
A variety of path users 
The range of people using the route really struck me. 
There were people cycling and scooting to work; groups of runners exercising together and someone walking the path as part of their rehabilitation/physiotherapy.
Many stopped for a chat on the way past, finding out more about what the group was doing and showing appreciation for their efforts.
For this group, in particular, there is a strong working relationship with the local Countryside Manager who helps to secure plants and tools to make their work easier and even more worthwhile.
  
Improving the area for people and wildlife
On a tour of the area, I was able to see 'Charlie's Orchard' which the rangers have planted in memory of a local cyclist who passed away. 
In the future, the orchard will provide apples, plums, cherries and other fruits for those who are passing by. 
We also saw some ponds the group had dug out with the help of Sustrans colleagues; now home to a family of newts.
It was wonderful to be immersed in nature and to work as a team to protect and improve the beautiful wildlife.
  
Giving something back 
In speaking to the volunteers, they talked about the importance of giving something back to the community.  They enjoy coming together and making a difference whilst also having a cuppa, chat and the odd chocolate biscuit!
There are lots of things that our volunteers support us with such as community engagement, school activities, path maintenance and more.
It's a fantastic thing to do in your spare time and offers a rewarding experience, social connection and can also provide valuable skills for work. 
  
Opportunities from volunteering 
A number of colleagues in the Cymru team started with us as volunteers and now have permanent paid roles so whatever it is you want to achieve, there is an opportunity here for you.
At Sustrans, our volunteers are very much part of our team. We are all immensely grateful for all that they do and look forward to spending more time meeting them and supporting their activities.
We're always looking for an extra pair of helping hands and we'd love you to join us.