Build a cycle route and you'll see people cycling on it. But what the stats don't show is exactly who's using the new route. Our London project officer, James Wheale, takes a look at why it's crucial we include behaviour change initiatives in new infrastructure projects so that everyone can enjoy walking and cycling.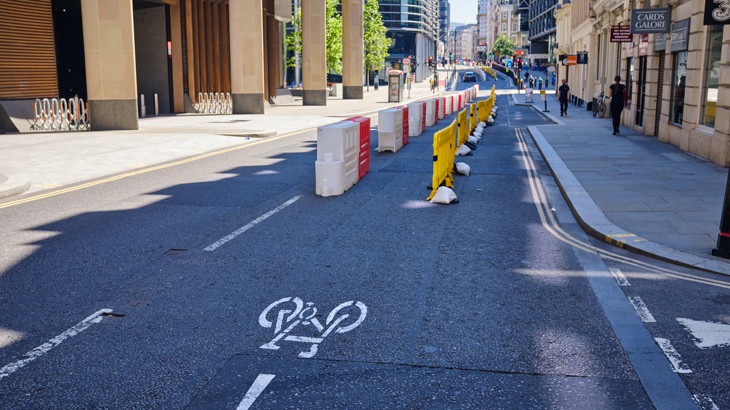 Building new infrastructure isn't enough to enable more people to walk and cycle so the benefits can be experienced fairly and by everyone.
The problem as we understand it
We often hear the saying 'build it and they will come', regarding infrastructure and the physical environment.
Certainly, that's what transport minister Chris Heaton-Harris thinks.
And the stats say that's true too. Build a cycleway and you'll see cyclists on it.
What the numbers don't show though is exactly who is using the new infrastructure.
Sustrans and Arup recently released a report and guide on inclusive cycling in cities and towns.
It outlines representation within cycling for transport and explores issues around diversity and exclusion.
We know that cycling is often seen as an enclave of the white middle classes. 
So how democratic is it to just build more cycleways? Why aren't some Londoners choosing to cycle? Is building more infrastructure enough? 
  
Barriers to cycling and walking still exist for underrepresented groups
Our report tells us that for many underrepresented groups, significant, and often invisible, barriers to changing travel behaviour remain.
Even if a protected cycleway existed along every street or outside every house, getting started with cycling would be harder for some than for others.
  
Behaviour change engagement as a solution
To begin to address these barriers, behaviour change engagement programmes that complement certain infrastructure projects should be considered.
According to a report by the Department for Transport:
"...One of the key hurdles to overcome when addressing barriers to change is whether your target population understands and accepts the rationale for change."
If not, then all too often the change is ignored and old habits continue. 
  
We need to support communities to take advantage of new routes
So next time, before we heat up the tarmac drum and begin paving new cycleways, we need to first plan to get into the heart of communities and support them to take advantage of new infrastructure.
This helps to tackle assumptions and perceptions. And it provides the tools and experiences that enable lasting behaviour change.
This is more critical than ever.
Especially as
communities, streets, and cities are facing fundamental changes to how they operate, all whilst adapting to new guidelines that aim to maintain safe social distancing.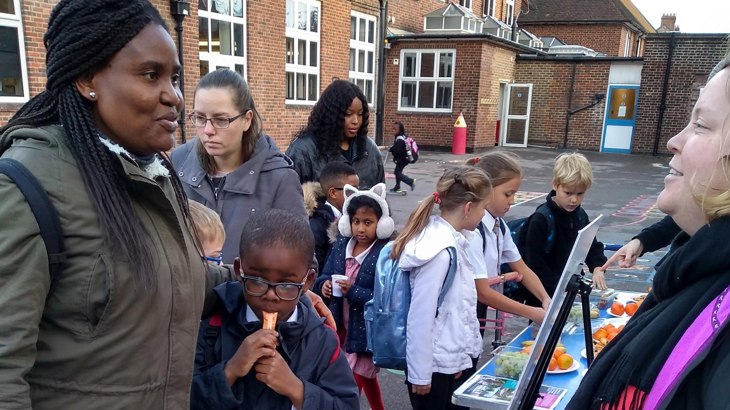 Supporting communities to use new routes helps to tackle negative preconceptions and enables lasting behaviour change.
Change in a post-lockdown world
Social distancing advice is driving a current trend away from reliance on public transport.
During the first lockdown, for a brief moment air quality improved, streets became quiet sanctuaries, and congestion was virtually eliminated.
But transport challenges abound as people shift how they travel and cities adjust by assigning more public space to support new patterns of movement.
Temporary measures, such as pop-up cycleways and an accompanying suite of rapid-rollout pedestrian spaces, have helped to accommodate more people who want to walk and cycle rather than use public transport.
However, not everyone has found it easy to simply jump on a bike.
  
Deprivation, disadvantage, and exclusion from cycling
We know that Covid-19 has disproportionately affected communities from ethnic minorities and those on lower incomes.
Frequently, these are the same people most affected by local environmental issues, such as poor air quality, as we have seen in the London Borough of Tower Hamlets.
The borough suffers from some of the highest levels of air pollution, but also has some of the lowest car ownership.
And it's these same communities that continue to be excluded from cycling, as demonstrated in our Tower Hamlets Bike Life report (p.5).
We know that no amount of cycling infrastructure alone can support this change.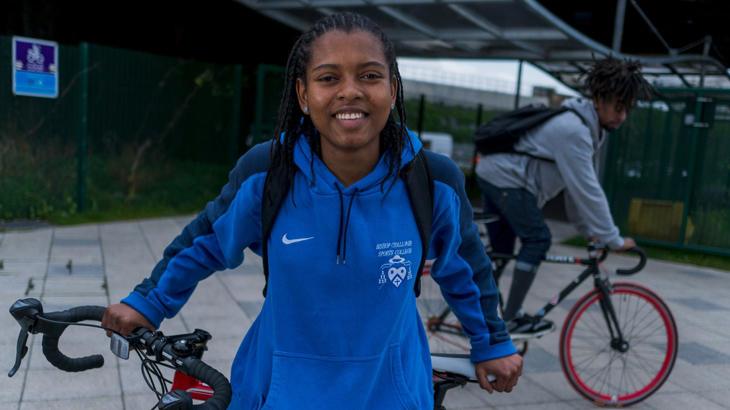 Combining new cycling infrastructure with behaviour change programmes can help to tackle issues such as poor air quality across the UK.
We need to work directly with real people facing real challenges
Carefully-tailored behaviour change programmes are key to tackling complex issues such as:
ensuring everyone can take advantage of cycling and walking infrastructure
overcoming major public health issues
and improving air quality.
Working directly with the people who experience the greatest barriers to cycling can empower them to get started.
Barriers range from storage and theft, through to cultural norms and perceptions of status.
These all act as barriers to communities who are less likely to cycle.
  
Build it and they won't always come
A perfect example of exclusion from cycling is found in the 'Future Streets' project implemented in Auckland, New Zealand.
A multimillion-dollar, award-winning infrastructure project to improve cycling has resulted in relatively few people swapping the car for a cycle, walking or public transport.
The project's key shortfalls included:
an absence of investment in developing a network of local people to champion cycling and walking
the introduction of soft measures first to introduce change slowly
and a lack of strong behaviour change programmes.
Researchers concluded that ultimately, the infrastructure investment was undermined by a lack of investment in addressing other barriers faced by the local community.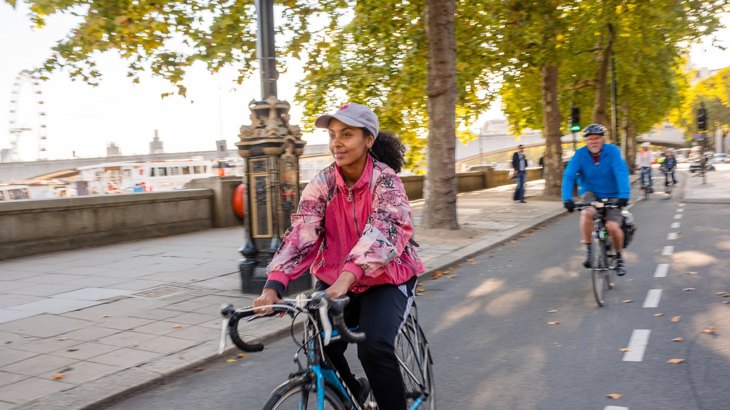 Working directly with the people who experience the greatest barriers to cycling can empower them to get started.
It's time to invest in behaviour change programmes
So how do we support people to take advantage of new infrastructure and get them to change the way they travel, especially those in hard-to-reach communities? 
The simple answer is by investing in targeted behaviour change programmes and policies such as social prescribing.
Evidence shows a strong return on investment for public health interventions, often as high as £14 to every £1 spent.
  
Sustrans' people-first approach
Our unique approach helps communities to cycle and walk more, by both delivering physical cycling and walking infrastructure as well as behaviour change programmes.
Our London Bike It programme and our work with TfL creating Healthy Streets are just two examples.
  
A better 'new normal' for active travel
We want the new normal to be better when it comes to how we travel.
It's important to see this time as an opportunity for growth in walking, wheeling, cycling and scooting.
Having space and the means to move around more actively and independently supports the Covid-19 recovery.
In the long term, active travel will also benefit people's health and wellbeing.
But supporting people to walk and cycle more must be done in a way that is inclusive so everyone can benefit.
By broadening our approach from just focusing on infrastructure and incorporating well-tailored behaviour change programmes we can address barriers, shift perceptions and change attitudes towards cycling for the better.
Read our blog by public health specialist, Lucy Saunders. She highlights
the importance of behaviour change measures if we are to see more people choose cycling and walking over driving
.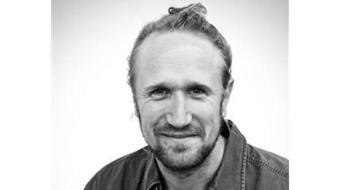 About the author of this blog
James Wheale is one of our project officers based in London who is passionate about behaviour change.
Focussing his work on the London Borough of Tower Hamlets, he sees the huge potential for active travel but only because there is so much inequality.
He would like to see more of everyone walking and cycling.