The Scottish Government's Strategic Transport Projects Review (STPR2) and the associated Infrastructure Investment Programme (IIP) was announced last week. Our Executive Director for Scotland, Northern Ireland and the Republic of Ireland, John Lauder, welcomes the direction of the programme and discusses what we need to deliver on these ambitions to decarbonise our transport over the next decade and beyond.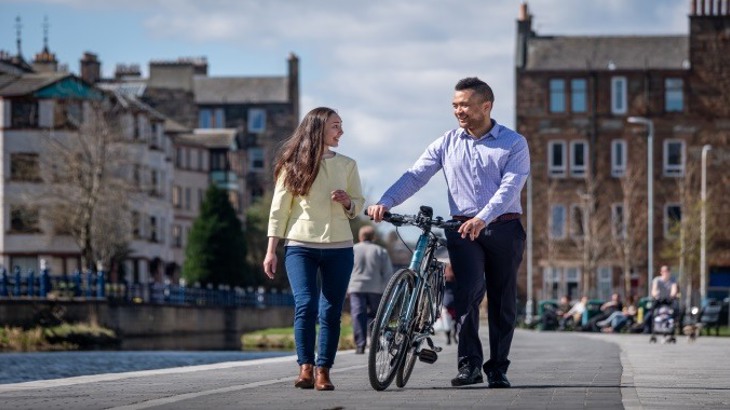 The Strategic Transport Project Review has the potential to shape the places we live in, how we travel, where we live and crucially how we decarbonise our transport over the next decade and beyond.
The Scottish Government's Strategic Transport Projects Review (STPR2) and the associated Infrastructure Investment Programme (IIP) was announced last week. 
Strategic Transport Project Review is important.
It has the potential to shape the places we live in, how we travel, where we live and crucially how we decarbonise our transport over the next decade and beyond.
I'm pleased that the priorities set out in last week's STPR seem to address this.
The Infrastructure Investment Plan (IIP) provides the fiscal energy to drive forward STPR2.
Just a few months ago, Sustrans joined a number of charities in expressing concern about the transport investment priorities set out in the draft IIP.
Last week's final version has made many improvements.
But it lacks detail and lacks funding commitments.
Clear funding commitments are hopefully set to follow when Phase2 of STPR2 is announced next year.
Looking at the stated ambitions in STPR2 on tackling climate change, improving active travel, delivering sustainable transport and delivering inclusive economic growth, Sustrans welcomes the direction and references to projects.


What change do we want to see?
Development and delivery of Active Freeways
Scotland needs a network of high quality active travel routes that allows people travel in the greenest and healthiest way possible.
Just as we have a trunk roads network, we should have the same for active travel.
We have submitted a detailed proposal for such a network to the STPR2 team.
I am hopeful we can discuss it in more detail as the Freeways concept takes shape.
Expansion of 20mph zones
A long-standing ask for Sustrans, 20mph speed limits make streets safer and encourage active travel.
20mph should be the default in every residential area in Scotland. At the very least, we'd like to see it in all our major towns and cities.   
References to smarter choices and community engagement 
It's positive to see frequent reference being made to the need to work with people and communities to encourage and engage on the need to switch transport choices towards healthy, less polluting and active modes.
Reallocation of roadspace for active travel 
Ultimately, we need a mix of high quality segregated off-road cycle lanes and greenways connecting into local neighbourhoods.
Where streets and roads welcome people travelling actively, much as local streets do in Northern Europe.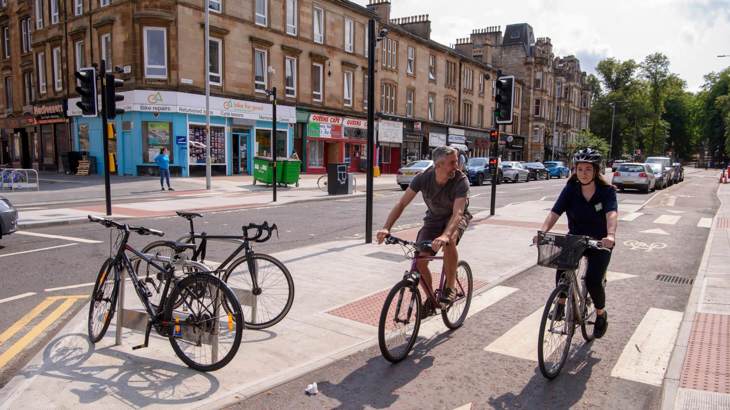 We need to enhance and repurpose existing infrastructure.
Goals for net zero and inclusive growth targets in the investment hierarchy 
I welcome, as recommended by the Infrastructure Commission of Scotland, that the sustainable transport investment hierarchy set out in the NTS2 is being actively applied in STPR2.
This will help with a green recovery.
Key to this is the focus to protect the environment.
We need to consider how to enhance and repurpose what we already have before building new infrastructure, increase sustainable access to labour markets and key centres for employment, education and training, and increase the mode share of freight by sustainable modes.
The reference to "transport's contribution towards placemaking principles in neighbourhoods" is intriguing.
I hope is a pointer towards the need to both reallocate road-space and calm traffic in residential streets through lowered speed limits and other measures.
All aimed at making it safer and easier to walk, wheel and cycle.   
But for these ambitions to be realised, they will need the right funding and to be embraced by the leaders of local authorities.  
This is where the gaps between the Infrastructure Investment Plan and STPR2 and central and local government become apparent.
The recommended STPR2 intervention spending on trunk roads is more than double the spending on active and sustainable transport, over the next 5 years.
Overall Trunk Roads spending is almost 10x that of active and sustainable travel if you count the whole Transport Budget.


Active travel limited new funding
There appears to be no new funding for active travel – with the budget remaining at £100m per year for the next 5 years. 
While I am clear this commitment is good, particularly in the midst of a pandemic, in real terms this means a decrease in funding.
This is during at a time when ambition will increase demand on funding infrastructure for walking, wheeling and cycling right across the country.
Sustrans is starting to feel this pressure as ambitious applications for funding support come forward, to be facilitated by a grant award from Transport Scotland, that I worry will feel inadequate quite soon.  
Active freeways – £50m from the Low Carbon Fund in 2025/26 is very welcome but short of what we estimate is needed.
We reckon this is £70M a year, or approximately £2 billion over 30 years to deliver a strategic network across the country.
To highlight this point, the extra £50 million for Active Freeways has been earmarked for delivery in 2025/26. 
This will be less than five years from when the Scottish Government is supposed to deliver 75% net zero carbon emissions.
To achieve this level of change, we need to start delivering on the ground now.
But, given the nod towards the network, we will look to work with the STPR2 team and continue to collaborate with local authorities and others.
Only through a national commitment and programme can such a network be delivered. All statutory bodies will need to work together.   


20-minute neighbourhoods
Regeneration and Place has received funding that shows the positive, if slow, direction that the Scottish Government is taking in investing in placemaking.
We don't yet know if some of the Regeneration and Place funding will be used to place active travel measures within communities (20-minute neighbourhoods). 
However, the implicit recognition that planning and transport need to work together will create better, and lower carbon places.


A national initiative for active travel
STPR2 and the IIP are central government initiatives.
Their creation over the past two years has been a model of collaboration and engagement between central and local government and their partners and stakeholders.
I would now like to see a cohesive delivery plan for active travel being developed and initiated.
Something that binds everyone together into a nationwide collaboration to get Scotland moving.
Local authorities need to be allowed to deliver projects that work for them and as statutory bodies themselves it is not possible for central government to dictate to local government.  
 The challenge for STPR2 and the IIP is how central and local government and their partners and stakeholders collaborate to deliver such a plan.
Fundamentally, conditions for active travel in your local area will reflect the commitment of your elected local authority leaders to walking, wheeling and cycling.
In Sustrans, we want to remain optimistic. 
Those of us who have been promoting walking, cycling and sustainable transport for many decades are encouraged by how the narrative has changed.
 It's no longer about whether climate change is happening.
The discussion is now about what we do about it, and with what level of urgency.  
But a change in narrative is not enough. 
Funding must match ambition.
The time for delivering on active travel and sustainable transport is now.