Dr Gemma Bridge, Running Mayor of Leeds, explains why running should be considered as a viable mode of travel and why we should aim to run at least some of our commutes and everyday journeys.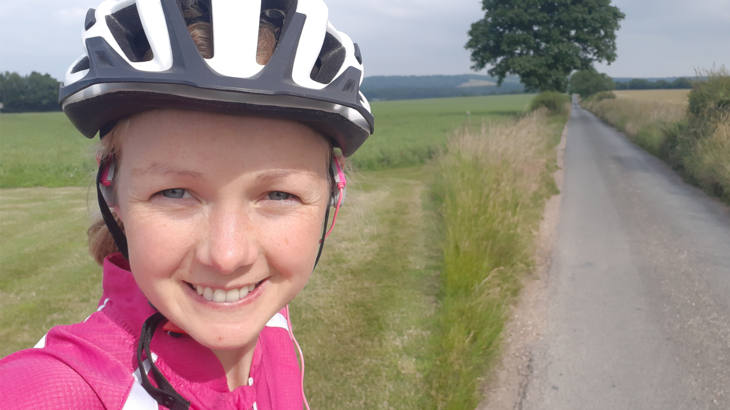 Dr Gemma Bridge is an independent researcher and writer, currently undertaking projects in public health, oral health and active travel.
The benefits of active travel
The benefits of active travel – walking, cycling and running instead of taking the car – are numerous; from cleaner air, and less congestion, to improved fitness and safer streets.
Many of us walked, cycled and ran more during the Covid-19 lockdowns, whether for fun, fitness or just to get out of the house.
The increase in physical activity is backed by data.
For instance, the Active Lives Adult Survey May 2020/21 Report, published by Sport England, stated that during the first lockdown, one in five UK adults ran regularly.
Reverting to old habits
During the lockdowns, many places across the UK invested in active travel neighbourhoods and cycle lanes to promote physical activity.
But, as Covid-19 restrictions were lifted, most of us returned to our old habits and the increase we saw in physical activity has largely diminished.
As more of us return to 'normal', it's important that we opt for more active travel.
It's good for our own health and the health and safety of the places where we live.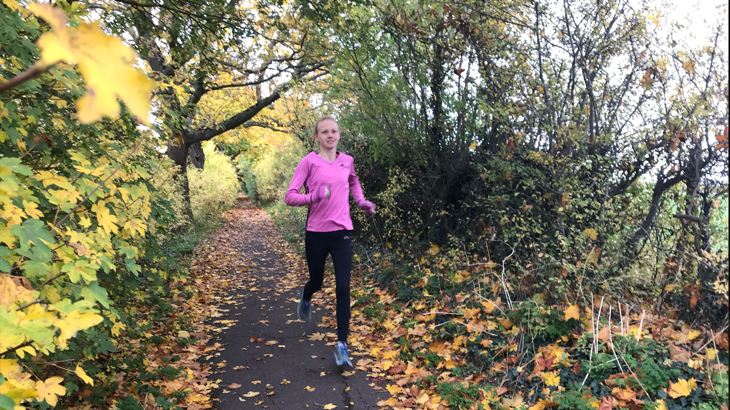 Running as a way of getting around
Walking and cycling are often the only modes of transport considered when talking about active travel.
While it's seen by many as just a form of exercise, running can also be an efficient mode of transport, either in its own right or as part of a multi-modal journey.
Getting around by running has many benefits:
it's affordable (you only need a pair of trainers)
it is fast (typically twice as fast as walking)
you don't need to find a parking space when you get to your destination
you won't have to sit in congestion
it has a very low carbon footprint
and it helps to boost mental and physical health-promoting cardiovascular fitness and muscular strength, relieving stress and boosting mood ('the runner's high').
But don't just take my word for it.
Running has also been promoted as a mode of transport by the World Health Organisation.
One can liken running's status as an urban activity today to the early emergence of cycling culture in cities such as Copenhagen 10 or 15 years ago. Once the widespread benefits for the city and citizens were legitimized, more and more urban initiatives to support it followed. I think we'll see this for running through high quality, dedicated urban infrastructure. Imagine the benefits to public life a dedicated runner's city could have in years to come!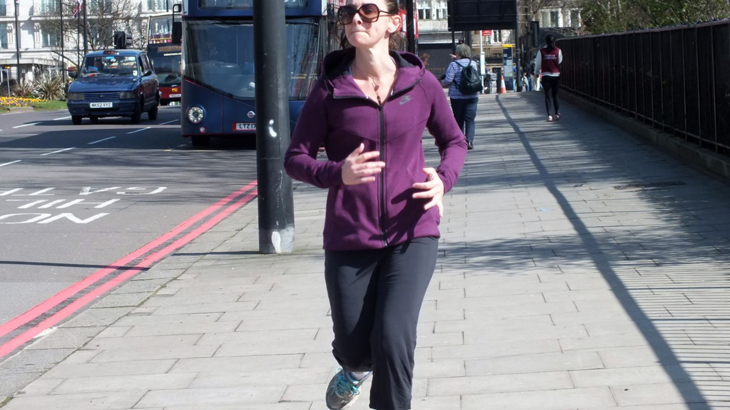 Woman running in London_source www.flickr.com ©Waterford Man
Running works well as part of a multi-modal journey
Whilst running all the way to a destination may be a bridge too far for some, running also works well as part of a multi-modal journey.
By combining running with other ways of getting around, you can cover greater distances than would be possible by just running while still enjoying the benefits.
When I used to work 20 miles away from home, I would run five miles to the station, get on the train, and then run the final mile to my office.
Once at the office, I would grab a shower and eat my breakfast, feeling refreshed and ready to face the day.
If your workplace doesn't offer showers, something that can be a barrier to run commuting, you could consider using facilities at gyms, leisure centres or hotels close to your office.
Or, if running before work doesn't sound like your cup of tea, you could switch things up and run home from work, giving you time to decompress after a long day.
The world's first Running Mayors
The RunSome campaign launched in late 2020 to advocate for running as a viable mode of travel.
The Running Mayors Network is an initiative of the campaign.
This team of passionate advocates work hard to make running a fun, safe and affordable alternative to jumping in the car for commutes, short errands and local trips.
As the Running Mayor of Leeds, I work hard to encourage more people to run some of their everyday journeys, errands and commutes, as well as to support more people to run for fitness and fun.
To do this, I work with members of the public to identify barriers to running and opportunities to get started.
I engage with groups such as the All-Party Parliamentary Groups to advocate for policy change and enable more people to run.
I also support businesses to include running, alongside walking and cycling, in their travel strategies and communication plans.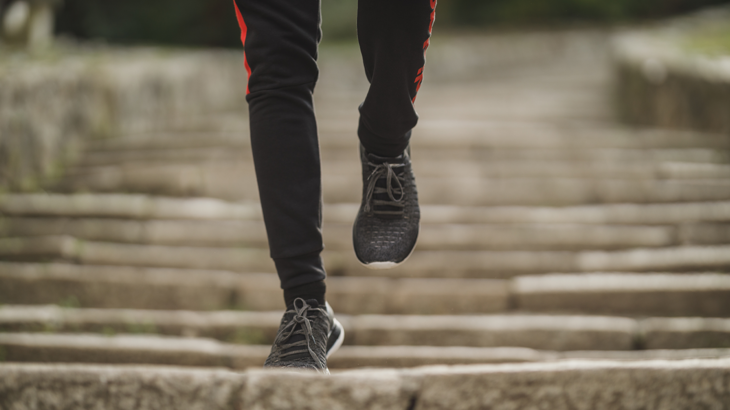 Running in the city_Source StockSnap
How to get started as a run-commuter
You may be thinking that running to or from work sounds good in principle but you aren't sure how, or if, you could get all the way to work.
Or maybe you're not sure if run-commuting would work as part of your existing daily routine.
If so, these tips may help you:
If you aren't yet a runner, or want to be able to run further, build your running fitness before attempting a run commute. 
Programmes such as Couch to 5k offer step-by-step support to get started or to run further.
Or, if you prefer training with others, find a local running group or go to your local parkrun and slowly build up.
When you can cover your commuting distance comfortably, give run-commuting a go.
You don't need to run the whole journey.
Instead, start by running some of your commute.
Over time, as you get fitter and stronger, you will be able to run more of your journey.
Running works well as part of a multi-modal journey as you don't need to worry about carrying a bike, and you can cover greater distances than walking in the same time frame.
So, why not run to the station or bus stop and complete the journey with a bus or train trip?
Inevitably, running to work will mean that you have some things to carry.
Invest in a good rucksack with waist straps and back support to make the journey more comfortable.
Just because you drive to work on busy main roads, it doesn't mean that you have to follow the same route when run-commuting.
Search for alternative routes to make the journey more enjoyable.
The National Cycle Network offers great routes on which you can run to work, or travel around the places where you live and work.
Running on the National Cycle Network
I enjoy running on the National Cycle Network.
It takes me to interesting places that I would not have otherwise found.
One of the routes that I particularly enjoy running on is Route 66, which boasts great traffic-free canal-side running, and goes all the way from Greater Manchester to Yorkshire.
I typically run on the 13-mile section between Shipley and Leeds, which is entirely traffic-free and is on the Aire Valley Towpath along the Leeds and Liverpool Canal.
This route, which takes you right into the centre of Leeds and is ideal for commuting, includes locks built over 200 years ago, beautiful views, and several options to turn off for a café stop.
Why not see what routes are near your house and workplace?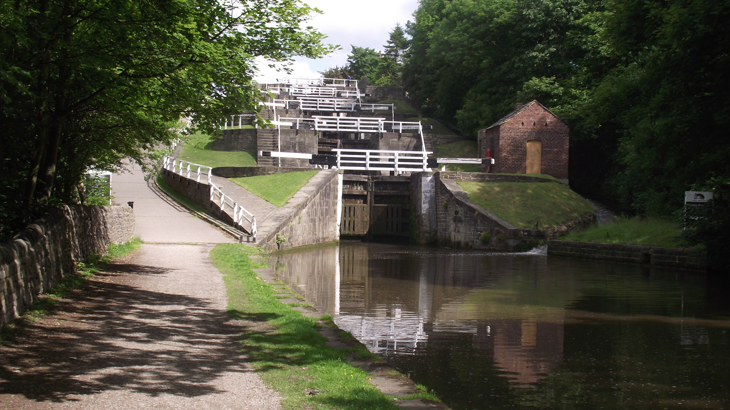 Photo credit: nicola-terry-2Xrl_kPMeZM-unsplash
Make a pledge
Just imagine if more of us ran just one or two everyday journeys a week rather than driving our cars.
Making this switch, alongside cycling or walking when possible, would be huge.
It would free up the roads, help us to navigate our cities more easily and enable us to breathe cleaner air.
Running is a viable, effective and fun mode of travel that is good for you and the planet.
Pledge to run some of your everyday journeys, errands and commutes.