Seven years after the tragic accident where a six-year-old boy was knocked down outside a school in Liverpool, road safety and congestion around schools in the city is still a problem. Joanne Starkey is Headteacher at a school in West Derby. Here, she explains why her school got involved in our School Streets programme. And she looks at the difference closing the street outside the school gates makes to teachers, pupils and families.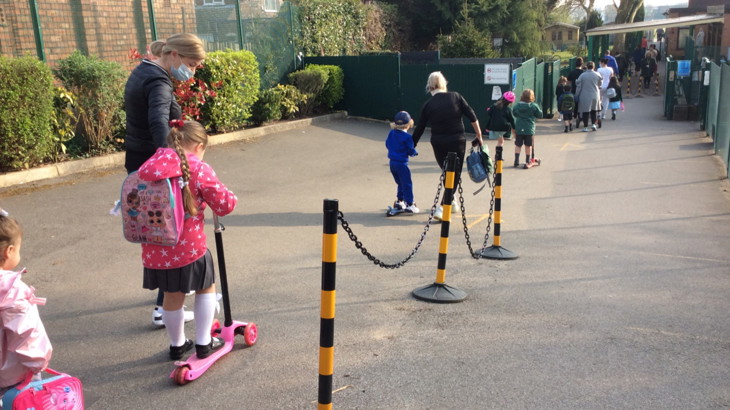 About half an hour before school starts and ends, cars crowd onto the streets nose to tail outside St Paul and St Timothy's Catholic Infant School and neighbouring St Paul's Catholic Junior School.
There isn't enough room for them all.
Sometimes they double park or block entrances to the school gate or neighbours' driveways.
Several cars wait with their engines on, fumes rising up at children's head height.
Families try to cross between the parked cars and some small children are completely obscured by the cars.
  
Monitoring air pollution levels
The school is part of Liverpool City Council's 'Lets Clean the Air' project which means the area is being monitored daily for air pollution levels.
Schools in the area have been working together for some time to try and tackle traffic and air pollution problems.
There's been an ongoing issue for years with regard to traffic congestion, with a lot of inconsiderate parking and idling car engines.
There is a 20 mph zone that covers a long stretch of the main road, but it stops just short of the spot where the children cross on a blind bend.
That bend is lethal. There used to be a crossing patrol but there's nothing at the moment. It's a miracle that a child hasn't been seriously hurt.
  
Slow Down for Bobby
A few years ago, six-year-old Bobby Colleran was knocked down and killed outside another school in the area.
Drivers couldn't see him because of parked cars.
It led to a Liverpool-wide anti-speeding campaign called 'Slow Down for Bobby' and numerous projects to improve road safety around schools.
But seven years later, and countless newsletter and poster campaigns from the schools, road safety and congestion around the schools is still a problem.
While the vast majority of parents are considerate there are those who would drive up to classroom doors if they could.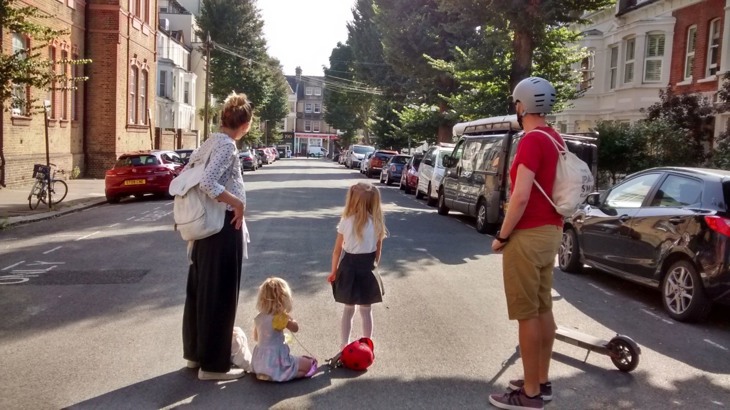 Putting the childrens' needs first
In 2019 St Paul and St Timothy's Catholic Infant School and St Paul's Catholic Junior school were amongst nine schools in West Derby which were selected as part of our project.
Funded by the Freshfield Foundation, the project helps make streets safer and healthier for families to walk, cycle or scoot to school.
Children worked with Sustrans street designers to identify the problems from their perspective and tell us what could be improved.
They said in their own words that they don't like the smell of fumes or the congestion on the road.
The designers used children's comments and ideas to create options where we could partially close or fully close roads.
They trialled the children's ideas and designs out with timed street closure events at drop off and pick up times to get feedback from residents and parents.
  
Turning the designs into a reailty
Both schools won further funding from Freshfield Foundation to implement the designs on the ground.
The schemes received some objections from local residents. They are now awaiting approval from the local authority.
St Paul and St Timothy's is now part of a group of eight schools across Liverpool city which are looking at road closures to calm school streets.
Both myself and Jamie, the Headteacher at St Paul's Catholic Junior School, received training to carry out road closures and the rest of the team are also being trained up.
  
Looking to the future
In the longer term, we hope our scheme will get permission to go ahead so we can close off the street during peak hours.
And we want to open up a safe pathway through a field on the other side of the school to help even more families walk, cycle or scoot to school.
We also want to upgrade our bike rack so we have enough storage facilities.
How School Streets helped
Working with Sustrans has really helped us raise awareness and inspire more families to change their travel behaviour.
We have quite a few families who wouldn't cycle and scoot before, who are now.
There are definitely more children and parents on bikes and scooters.
It's also helped to raise awareness with staff. One member of staff now travels by bike.
Many of our staff walk to school. I've been walking every day since Christmas, so we are promoting healthier travel options to families.
Events like the Big Pedal help to build that momentum and keep everyone interested.
It also helps us to monitor how people are travelling to school and reward those who choose active modes.
This week, hundreds of children walked, cycled or scooted their journeys.
We have tried a variety of approaches over the years, including a walking bus on a Wednesday, which was an effective way to engage with families, particularly in the warmer months.
  
Active travel can help with social distancing
Since the pandemic, the need to reduce congestion around the school gate has become even more urgent.
Staggered starts make a difference to the volumes of traffic, but it's still a big problem.
We were keen to build on the work we did with Sustrans a year ago and the recent resurgence of interest in walking and cycling.
A lot of people found themselves restricted in the amount of exercise they could take during Lockdown, so it's an opportunity to get out there again.
If we can change things now, we might be able to encourage more families to walk, cycle or scoot while the weather is good.
Hopefully, this change of habit might then stick throughout the year.